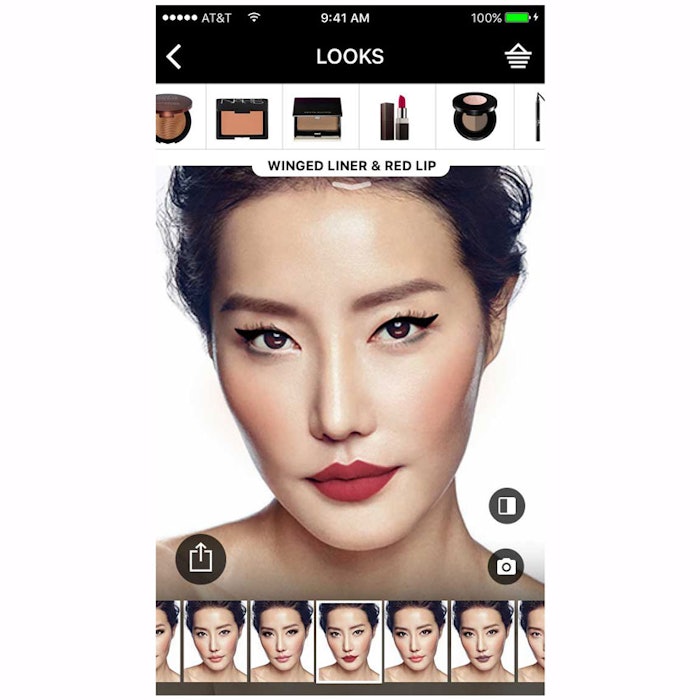 Beauty enthusiasts are probably already familiar with the Sephora Virtual Artist app. However, the app recently got a major makeover (pun intended) and now features an element that allows users to virtually try on thousands of eye, lip and lash looks.
Along with the influx of new makeup shades, the app offers expert looks to preview inspirational looks and three new virtual tutorials for brows, contouring and highlighting. 
Sephora Virtual Artist Eyeshadow Try On
Users can select up to three shades to place on the lid, crease and outer corner to select their favorite combination. They can save the looks to "My Looks" and share four combinations with their friends. Sephora Virtual Artist Expert Looks Users can
Sephora Virtual Artist Expert Looks 
Users can choose from seven looks, including Bright Lip & Cheek, Smoky Eye and Cut Crease, created by Sephora's team of experts. After selecting a look and one of four skin tones, the look is overlaid onto the face using a 3D live view. Products used by the experts are curated and can be purchased to recreate the look.
Sephora Virtual Artist Tutorials
Users of the app can follow virtual makeup tutorials, including Brows 3-Ways, Contouring and Highlighting. Using the 3D live view, looks are customized and animated to the user's face. Users can also take advantage of Split Screen, which shows the face before and after the makeup is applied. Pro Tips for each step in the tutorial and a list of product recommendations are also available.
Bridget Dolan, vice president of innovation at Sephora, said, "With these additions, Sephora Virtual Artist continues to put the power and expertise of Sephora quite literally in the palm of our clients' hands. Since launching Sephora Virtual Artist in 2016, our clients have virtually tried on hundreds of millions of shade combinations. It gives her the freedom to choose when, where and how she wants to shop as she creates customized looks and discovers the products that are just right for her."
The app was developed exclusively for Sephora by Modiface.