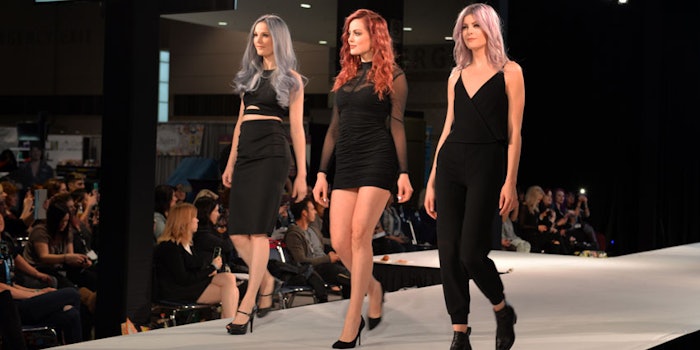 The final numbers are in for America's Beauty Show (ABS) 2017, and according to the show's organizers it was a "stunning success."
The event was held on March 25-27, 2017 at McCormick Place in Chicago and featured 410 exhibits (375 domestic + 35 foreign).
Skin and Nail Care
The International Esthetics, Cosmetics and Spa Conference (IECSC) was co-located with ABS for the first time ever
Cosmetologists Chicago launched the CIDESCO Section USA, an educational symposium focusing on skin typing systems, European facial massage and exfoliation of different skin types
The International Nail Technicians Association (INTA) rolled out the "Body of Knowledge" educational track to help nail professionals earn the title of INTA Certified Nail Professional
The Next Top Nail Artists (NTNA) was brought to ABS by Nails Magazine and CND
Hair Color and Texture
ColorFest 2017 highlighted new color trends, how to interpret them for clients in the salon, and how and when to raise salon color prices
Textured HairFair provided the latest on all hair textures and curl types, technical keys to service success and ways to implement new knowledge in the salon
ABS Global Image Award Winners
Avant Garde - Gonzalo Zarauza, Centro Beta, San Sebastián, Spain
ColorAmerica Colorist of the Year - Chrystofer Benson, CBC Chrystofer Benson Collective, Ogden, UT
Editorial - Sal Misseri, Kaizen Education / Reverie Salon, Chicago, IL
Haircutting - David Barron, Barron's London Salon, Atlanta, GA
Men's Cutting- Alex Azurmendi, Centro Beta, San Sebastián, Spain • Salon Team - Kaizen Education / Reverie Salon, Chicago, IL
Texture- Michael Jacobson, Michael & Michael, Chicago, IL
Student / Young Professional - Gunny Hastings, Brown Aveda Institute, Cleveland, OH / Reverie Salon, Chicago, IL
Listen. Support. Connect.
Offered at ABS was domestic violence/sexual assault training for Illinois cosmetology license renewal. This class taught professionals how to recognize symptoms of domestic violence and sexual assault as well as ways to provide resources to those in need of them.