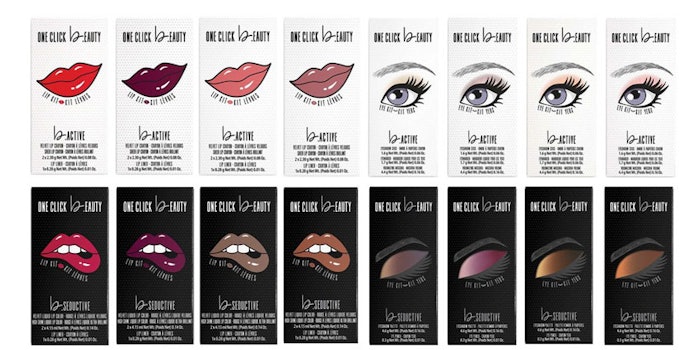 One Click Beauty has rolled out two curated makeup collections on Amazon.
The b.Active lip and eye kits are meant to provide a quick, fresh makeup look while the b.Seductive lip and eye kits offer a vivid, eye-catching look.
The lip kits include:
Precision lip liners
Complementary crayons
Liquid lip colors
Eye kits include:
Shadow sticks
Eye liners
Volumizing mascara
The 24 kits are available in four shade varieties.
To coincide with the launch, the brand introduced its #FaceTheWeek campaign, meant to encourage consumers to "start the day on a positive note and sharing that extra pop of color that helps energize them."
Additionally, One Click Beauty aligned with organizations that support and empower women in their everyday lives and implemented a buy-one-give-one donation for kits sold on Amazon during April 2020.
Jamie Glassman, CEO of One Click Beauty, said, "The simple notion of putting on your makeup for yourself each morning can be such a positive mood-altering force and we want to inspire people to take that little, routine, self-indulgence every day … Now more than ever, we see the need to build an empowered community of like-minded people who know the positive effect a simple thing like lipstick or mascara can have on your day."