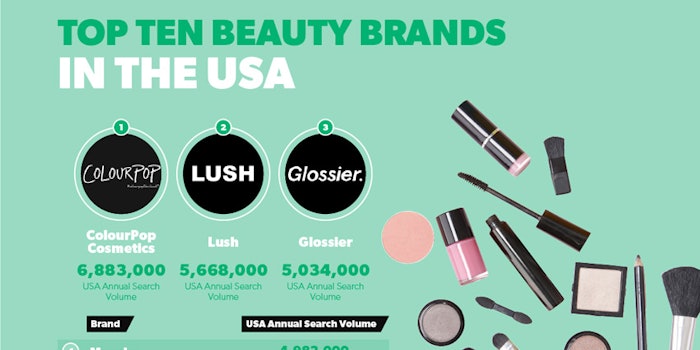 Cosmetify has identified the top 10 beauty brands in the United States*, as well as the leading brands in various beauty categories.
Previously: Cosmetify's U.S. Beauty Comparison Platform

In addition, Cosmetify has revealed the leading beauty brands state-by-state.
Top 10 Beauty Brands
ColourPop Cosmetics

Lush
Glossier
Morphe

Olaplex

The Body Shop

Clinique

Kiehl's

Estée Lauder

Beautycounter
Top BB Cream Brand
Top Concealer Brand
Top Eyebrow Kits Brand
Top Eyeliner Brand
Top Foundation Brand
Top Lipstick Brand
Top Makeup Palettes Brand
Top Mascara Brand
*Methodology, per the company:
We wanted to find out which are the biggest beauty brands in the USA. To do this, we looked at the same extensive list of several hundred beauty brands that were used for the Cosmetify Index and used Google Keyword Planner to collect the number of annual US searches for each brand. This allowed us to rank them in terms of most-searched, which we used as a measure for popularity.
We then wanted to look at the popularity of beauty brands from a different angle. We took the top one hundred beauty brands for national search volume and collected search data which combined the brand name with a product type. This allowed us to see which brands are the most popular across different product types, providing insight into why people search for different brands.
Next, we wanted to explore how the beauty brands compare when analysed on a smaller scale, such as by city or state. To do this, we collected the search data for each brand and brand-product combination for each US state as well as for the 50 most populous US cities. This was then presented in a visual format so that we could reveal how beauty preferences differ around the country, from state to state and city to city.