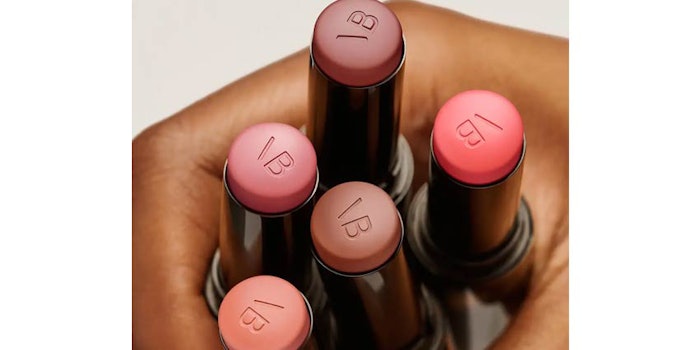 Victoria Beckham Beauty has launched the Cheeky Posh—a cream blush stick that comes in five shades for variable skin tones. It is inspired by Beckham's "cheekiest moments."
Related: Caliray Debuts with Mascara and Eye Definer
Cheeky Posh is dermatologist-tested, safe for sensitive skin, hypoallergenic, vegan, gluten-free, soy-free and nut-free. It is formulated with blue lotus wax, jojoba esters, surface treated pigments and ginseng extract.
Knickers is a light, peachy melon shade inspired by Beckham's answer when asked what she would wear for the rest of her life if she could only choose one thing.
Playground is a mid-tone terracotta nude shade inspired by Beckham's mother, who would say Beckham used to look "peaky" at the playground.
Major is a neutral pink flush shade, inspired by "any mind-blowing accomplishment or dare," which left Beckham saying, "this is major."
Miniskirt is a berry rose shade, inspired by Beckham questioning if her dress looks too short, and hiking up her miniskirt higher.
Rollerskate is a vivid coral pink, inspired by Beckham's daughter, Harper. According to Beckham, "She'll just roller-skate into the room during a product meeting, pick her favorite shade and roll right back out. A girl who has a point of view, like her mum!"
Cheeky Posh costs $42 per 5g/0.17 fl. oz.
On the brand's website, Beckham said, "My vision was to create a blush that looks and feels beautiful on everyone, to find the perfect pops of color that look effortlessly natural on any skin tone. Choose your favorites—I like to pick different colors depending on what look I'm creating.  Plus, the formula is creamy smooth, blends like a dream and is incredibly long-lasting—it truly never fades."