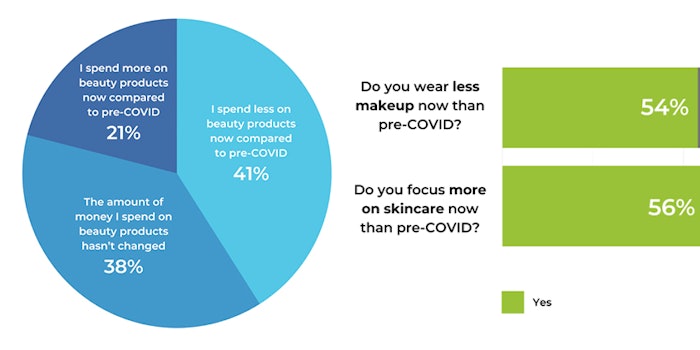 PowerReviews surveyed 10,646 consumers to shed light on the shopping habits and preferences of those purchasing beauty products, specifically makeup and skin care items.
Related: How COVID-19 Has Affected Americans' Thoughts on Sustainability
COVID-19 has caused lifestyle changes for everyone around the world, which has led to changes in beauty habits, too. For example, many consumers are cutting back on makeup use, likely because they're not leaving the house as much.
In fact, the survey found that 54% of consumers indicate they wear less makeup now than pre-pandemic with focus now switching to skin care, with 56% indicated they're more focused on skin care now than they were before the pandemic.
Even though consumers are wearing less makeup, 40% of those we surveyed said they're more likely to try new-to-them beauty products now than pre-COVID-19. This number is even higher for millennials (46%) and Gen Z (53%). When picking new products, 56% of consumers say they are swayed by the influencers they follow to purchase beauty products.
When shoppers are purchasing beauty products consumers are looking online with 53% buying more beauty products online now, compared to pre-COVID. The younger generations loook to online even more, with 66% of Gen Z shoppers and 58% of Millennials. 

For shoppers, the starting point of 44% is a beauty retailer's website such as Ulta.com or Sephora.com. Amazon has become a second choice, with 22% of shoppers indicating its where they start the online purchase journey for beauty products. This is a decline from 2019 when 47% of shoppers indicated they start shopping on Amazon. 
Online shopping has seen an increase due to the pandemic, but in-store shopping is on the rise again. In 2019, during any given month, just 3% of consumers spent more than $101 in a store on beauty products. In 2021, that number grew to 18%.