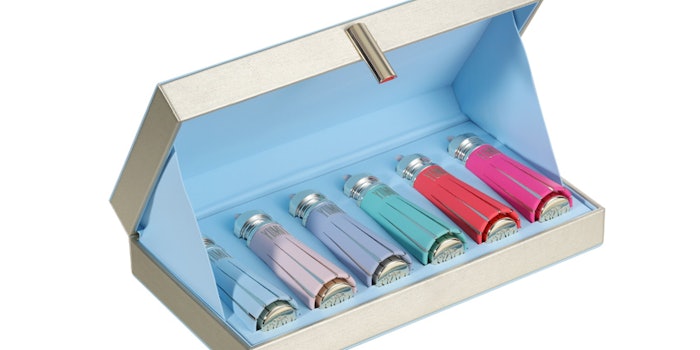 Yumee has announced its limited-edition Yumee x Jason Wu Collector's Set housing six signature Tassel Matt Lipsticks in a Jason Wu Beauty Clutch. The launch announces the next wave of innovation in C-beauty.
Related: Yumee by Wendy Yu Launches
Yumee's Tmall store launched on May 7, 2021, with the Collector's Set launching exclusively on the store on May 20, 2021.
As part of the launch, Yumee is donating $10,000 to China Institute, the mission of which is to support cross-cultural understanding between the United States and China through arts and culture, business programs and classroom learning.
Special report: Prestige Beauty Retail in China
Wendy Yu, founder and artistic director of Yumee, said, "Yumee is a beauty brand proudly created in China and for our first collaboration therefore, it was important to me to work with a designer who shares our roots. Jason and I are great friends, we have the same passion for creativity, fashion and Chinese culture. Launching on Chinese Valentine's day is symbolic of celebrating the power of beauty in honour of love and unity."
Jason Wu, founder and artistic director of Jason Wu, said, "I am so proud to work with Wendy on her debut Yumee beauty collection. The collaboration reflects the feminine, refined and sophisticated ethos that we both believe in."
Global Cosmetic Industry recently interviewed Yu about the launch and the larger trends in C-beauty.
Global Cosmetic Industry: What is your view of China and Chinese brands in the future of beauty?
Yu: What is most prevalent is the shift from "made in China," which for a long time has carried a negative connotation to "created in China."
We are seeing a new wave of creatives, brands and businesses emerge that are globally minded but are proudly crafting to a high standard locally and incorporating their heritage in their identity and brand story in a modern relatable way.
The Chinese consumers' perception of what is "good" is also changing; once upon a time Western brands were the primary source of aspiration. Today however there is an interest to also discover and support the Chinese brands that are setting a new benchmark.
The rise of C-beauty goes hand in hand with the upgrade of C-creativity and C-craftsmanship, and of course adhering to ever important global values such as cruelty-free and sustainable beauty.
Global Cosmetic Industry: What do you think about the prospects for Chinese beauty for international markets? 
There is so much potential for Chinese beauty internationally. We have a rich cultural heritage in beauty in China to include super ingredients and rituals that when modernized can be very compelling and effective.
The interest in and success of K-beauty and J-beauty are testament to what lies ahead for C-beauty, especially in skin care.
With Yumee, my vision goes further though in that I see the brand not only being a leader in C-beauty but also in C-luxury, marrying the best of East and West, inspiring through creativity and delivering to the highest of standards.
I want our global customer to trust in and love Yumee knowing that we represent the best in class.