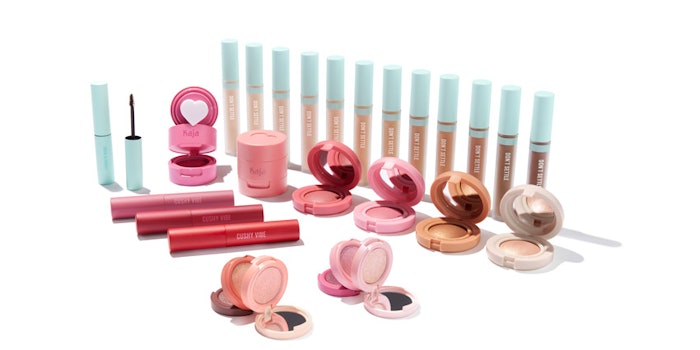 While U.S. beauty retailers have been offering an influx of K-beauty products to consumers over the past several years, Sephora has taken it up a notch by co-developing a K-beauty brand with global beauty platform, Memebox.
Kaja, meaning "let's go" in Korean, was created for the girl-on-the-go and offers bite-sized beauty products powered by the latest Korean technology and formulations, according to Memebox. Additionally, the line's 47 products—for complexion, eyes and face—were created to complement all skin tones.
Products range from $14-$24.
"We sought to create breathable, buildable cosmetics designed to enhance, not cover up," says Hyungseok Dino Ha, CEO of Memebox. "Our innovative applicators and easy-to-use formats can be used effortlessly with your fingers or makeup brushes, at home or on-the-go, with as little or as much product as you want for a wide range of looks. We want every moment with Kaja to be a feel-good experience—from whimsical packaging with playful components to unexpected textures in fun formats."
Alison Hahn, senior vice president of merchandising for Sephora, added, "At Sephora, we take great pride in cultivating new beauty experiences for our clients. Memebox and Sephora had a natural partnership with very similar traits; we're restless with a desire to lead trends and champion innovation with a cadre of beauty fans that give us real-time feedback. With that, we leveraged the best of our collective talents to create a truly unique color cosmetics collection featuring amazing new textures and formulas never seen or felt before."
Starting September 18, 2018, shoppers can purchase Kaja online at Sephora.com. The line will be available in 58 Sephora stores nationwide on September 28, 2018.