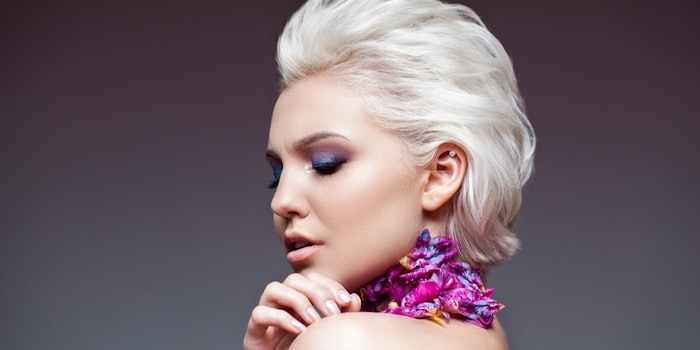 In the age of social media, beauty trends are born and bred on highly-visual platforms like Instagram and YouTube. So, it makes sense that Riviter, a company specializing in visual search solutions, teamed up with Cosmoprof North America to scan 66,000 photos and videos to discover the buzziest for Fall 2018. 
After gathering and analyzing the results, it would seem that glamorous makeup looks are making a major statement in social newsfeeds.
Top Looks for Fall 2018
Statement eyes paired with light nude lips grew in both shares and popularity. Riviter's forecast for this trend includes more cyan, contrasting complementary colors, metallics, and coloring outside the lines.
Sultry, bold eyes paired with light nude lips also grew in popularity. According to Riviter,  Autumn 2018 will see more dark nude and brown matte eyeshadows, plus the return of black kohl eyeliner.
One of the fastest growing trends on social media was pink/red statement eyeshadows with a frost finish. Riviter predicts candy frost and splashes of color will take over sculpted sunset eyes.
Likewise, purple eyes with a glittering, frosted finish also made waves. Riviter revealed that "white and silver highlights add depth and cosmic effect with more dimension than in years past."
"New York Pink" lips—think soft, barely-there color—are reportedly on the rise. Riviter credits the neutral shade's rise in popularity to "continued coverage by celebrities like Paris Hilton and Kylie Jenner."
Chestnut lips with a creamy/satin finish also gained popularity. According to Riviter, the autumn season kicks this warm tone into high gear.