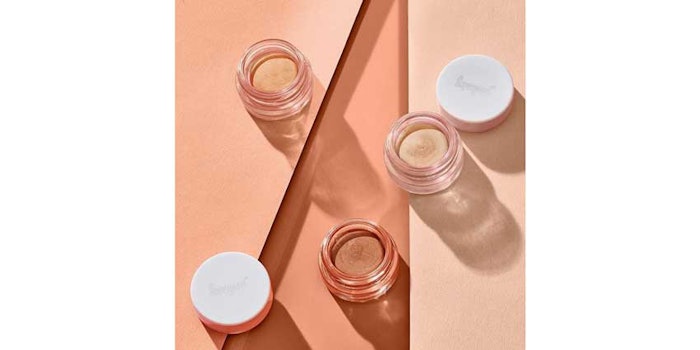 Supergoop's Shimmershade eyeshadow with SPF 30 is meant to keep eyes "pretty and protected."
Shimmershade is a long-wearing cream eyeshadow formulated with mineral and clean chemical actives to protect from UV rays, Supergoop states. The product was created to blend on the eyelid without creasing. 
The eyeshadow is available in four shades: "Sunset" (warm brown), "Golden Hour" (warm champagne), "Daydream" (rose gold) and "First Light" (pale gold). Key ingredients include rose, roman chamomile and sunflower. 
Shimmershade retails for $35 for .18 ounces. 
Active Ingredients: Zinc Oxide 20%, Octisalate 5% 
Inactive Ingredients: Golden Hour: Isododecane, Mica, Titanium Dioxide, Polymethylsilsesquioxane/Silica Crosspolymer, Polyethylene, Caprylyl Methicone, Iron Oxides, C18-38 Alkyl Hydroxystearoyl Stearate, Polyhydroxystearic Acid, Dimethicone, Trimethylsiloxysilicate, VP/Eicosene Copolymer, Polyglyceryl-3 Polyricinoleate, Polyglyceryl-3 Diisostearate, Triethoxycaprylylsilane, Norbornene/Tris(Trimethylsiloxy)silylnorbornene Copolymer, Helianthus Annuus (Sunflower) Seed Oil, Jasminum Officinale (Jasmine) Flower Extract, Anthemis Nobilis Flower Extract, Rose Extract, Tocopherol

Inactive Ingredients: First Light: Isododecane, Mica, Titanium Dioxide, Polymethylsilsesquioxane/Silica Crosspolymer, Polyethylene, Caprylyl Methicone, Iron Oxides, C18-38 Alkyl Hydroxystearoyl Stearate, Polyhydroxystearic Acid, Dimethicone, Trimethylsiloxysilicate, Silica, VP/Eicosene Copolymer, Polyglyceryl-3 Polyricinoleate, Polyglyceryl-3 Diisostearate, Triethoxycaprylylsilane, Norbornene/Tris(Trimethylsiloxy)silylnorbornene Copolymer, Tin Oxide, Helianthus Annuus (Sunflower) Seed Oil, Jasminum Officinale (Jasmine) Flower Extract, Anthemis Nobilis Flower Extract, Rose Extract, Tocopherol

Inactive ingredients: Sunset: Isododecane, Mica, Iron Oxides, Polymethylsilsesquioxane/Silica Crosspolymer, Polyethylene, Caprylyl Methicone, C18-38 Alkyl Hydroxystearoyl Stearate, Polyhydroxystearic Acid, Dimethicone, Trimethylsiloxysilicate, VP/Eicosene Copolymer, Polyglyceryl-3 Polyricinoleate, Polyglyceryl-3 Diisostearate, Titanium Dioxide, Triethoxycaprylylsilane, Norbornene/Tris(Trimethylsiloxy)silylnorbornene Copolymer, Helianthus Annuus (Sunflower) Seed Oil, Jasminum Officinale (Jasmine) Flower Extract, Anthemis Nobilis Flower Extract,b Rose Extract, Tocopherol

Inactive ingredients: Daydream: Isododecane, Mica, Titanium Dioxide, Polymethylsilsesquioxane/Silica Crosspolymer, Polyethylene, Caprylyl Methicone, Iron Oxides, C18-38 Alkyl Hydroxystearoyl Stearate, Polyhydroxystearic Acid, Dimethicone, Trimethylsiloxysilicate, VP/Eicosene Copolymer, Polyglyceryl-3 Polyricinoleate, Polyglyceryl-3 Diisostearate, Triethoxycaprylylsilane, Norbornene/Tris(Trimethylsiloxy)silylnorbornene Copolymer, Helianthus Annuus (Sunflower) Seed Oil, Jasminum Officinale (Jasmine) Flower Extract, Anthemis Nobilis Flower Extract, Rose Extract, Tocopherol