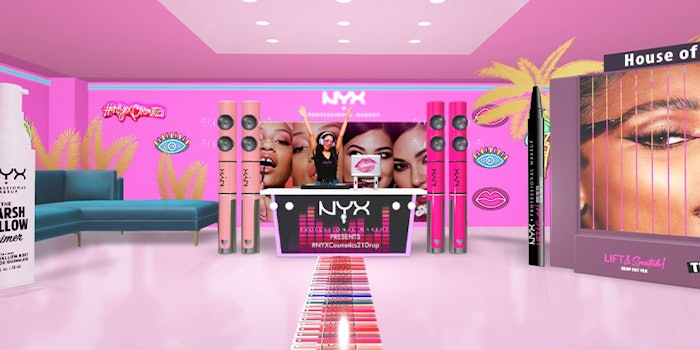 NYX Professional Makeup is collaborating with Triller and Snapchat for the first beauty Triller live concert by Bebe Rexha and Snapchat's first augmented reality cosmetics pop-up shop available in the music app. The digital experience is part of the brand's spring 2021 collection launch. 
Previously: [update] Sephora at Kohl's Omnichannel Partnership Coming in 2021
Users can access the NYX Professional Makeup virtual store environment through the custom branded Snapchat Lens in the Snapchat Lens carousel or in the Triller app, by using Snapchat to scan a Snapcode and using Snapchat to scan the Marsh Mellow Smoothing Primer product.

The free Triller concert is December 18, 2020 at 5 p.m. PST and will stream on Triller live on the @nyxcosmetics page, Twitch and YouTube.
Bebe Rexha will showcase NYX Professional Makeup's newest products while entertaining the audience. 
The Spring 2021 beauty drop includes vegan products across multiple categories in lip, face and eye, including Lift & Snatch! Brow Tint Pen, The Brow Glue Instant Brow Styler, The Marsh Mellow Smoothing Primer, and Shine Loud High Pigment Lip Color.

"As a digital-first beauty brand, we are always looking to surprise and delight our audience with new and exciting experiences," said Stephanie Binette, general manager of NYX Professional Makeup. "We are experiencing a very dynamic market and our approach is constantly evolving. With this first of its kind cross-platform virtual integration with Triller and Snapchat, we are shaping new digital and shopping experiences, while offering consumer entertainment in an accessible way."