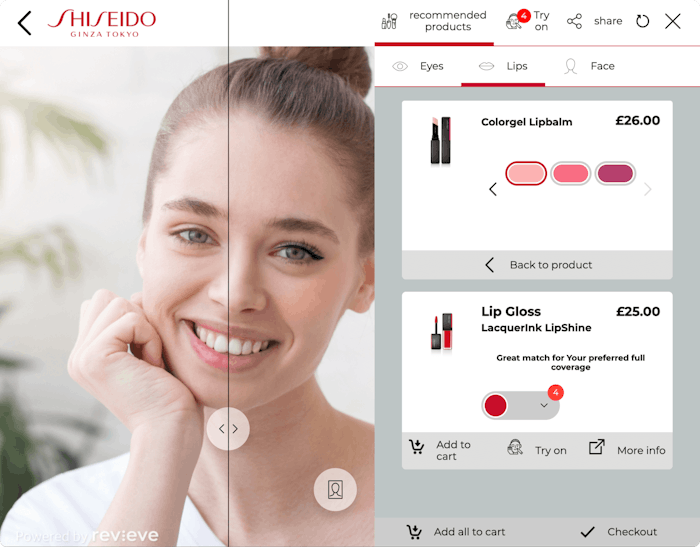 Revieve and Shiseido have partnered on an AI Makeup Advisor that uses Revieve's AI Selfie Analysis to offer personalized makeup recommendations and virtual try-on capabilities. The duo first demoed the technology at the end of 2021 and have been collaborating since the launch of the Skin Care Advisor in 2019.
Related: [interview] Anti-aging for a Modern Market with Tomonobu Ezure, Ph.D., Shiseido
The Makeup Advisor is designed to offer brands and retailers a stronger understanding of consumer data, including how they interact across all touchpoints.
Consumers can access the Makeup Advisor on Shiseido's website. The process starts by analyzing a user-provided selfie and answers to questions based on their desired beauty goals. Revieve's AI selfie analysis then delivers a personalized list of products based on a full makeup application. Any product can be tested via a virtual try-on before purchase.
Sampo Parkkinen, founder and CEO at Revieve, said, "Brands and retailers are connecting with their consumers in a whole new way. AI-powered technologies in a traditional industry like beauty and skincare will help guide brands in understanding their consumers and leveraging their needs to market and promote their products in the most tailored way possible."
Romain Carrega, Shiseido EMEA prestige director, said, "While our partnership with Revieve started in the skincare category, we are excited to continue this ongoing collaboration and expand to makeup. Shiseido's customers can now purchase new products with full confidence and discover a makeup routine that works for them. Delivering these innovations to consumers to pursue beauty and wellness have been part of the Shiseido DNA since day one."