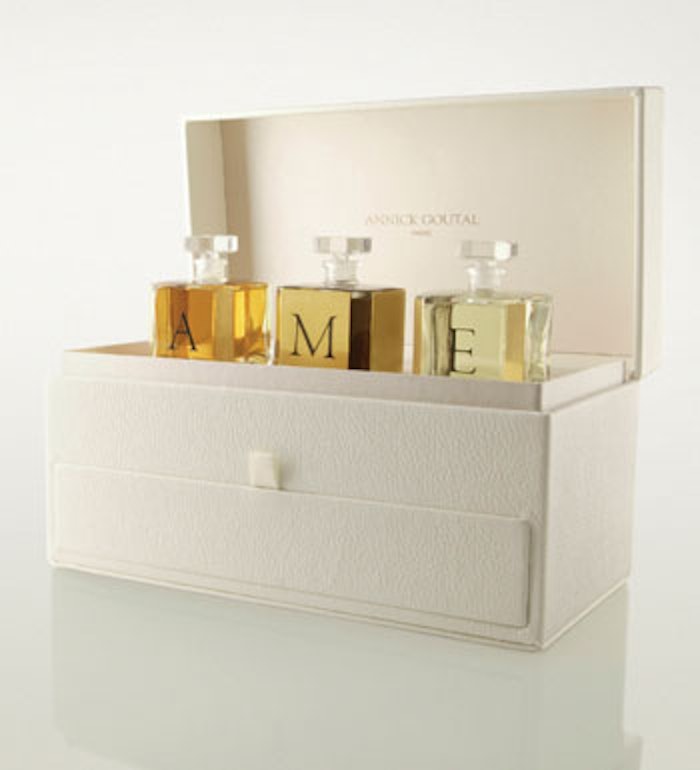 A murky cloud of flat sales hangs over fine fragrance like a fog that won't burn off, but marketers around the world are seeking, and finding, the silver lining in that tenacious haze. While robust expansion plans may be somewhat tempered by the economic downturn, brands large and small are building stores, venturing into growing markets and trying new sales channels.
Current Conditions
In the 2008 holiday season, spending was down in general, and luxury goods did not fare well. According to SpendingPulse, a macroeconomic report tracking retail and service sales in the U.S., total retail sales were down as much as 8% in November and December. The economy was not the only culprit, however, as lousy weather across the U.S. kept shoppers at home. As a result, e-commerce may have benefited from homebound shoppers' need to finish off those gift lists. Declines in 2008 online sales, when compared to 2007, were held to 2.3%, according to the report.
"As much as you try to be upbeat, the fact remains that fragrance sales are flat, in line with the economic downturn," said Rochelle Bloom, president, The Fragrance Foundation. "And because this is not a category that is discounted, it's hard to compete with the incredible discounts and sales being offered in stores at the moment. Fragrance can only compete if there is value, uniqueness or innovation that appeals to the consumers in this climate. Otherwise, they will pass. And it is not likely to change anytime soon."
The challenges for fine fragrance, however, do not begin and end with holidays or a bad economy.
Bloom indicts a lack of innovation for flat fragrance sales. "The prestige brands continue to nurture and cherish their classics: Chanel, Dior, Guerlain. [And these], keep in mind, drive the glamour and aspirational aspects of this market segment and therefore sustain customer loyalty—even generation to generation," she says. "Celebrity fragrances do create instant buzz and excitement, but come and go—as do the flankers in mass."
Further, Bloom believes retailers' demand for "new" outweighs consumer demand, which suggests that a new way forward for fragrance houses would be to spend a little more time in development for products that are more captivating and have longer lives. Many retailers have, of course, found gold in celebrity fragrances, but one retailer finds a mix of Hollywood sizzle and start-up ingenuity add up to success.
As was reported in GCI magazine's January 2009 issue, Perfumania opened 53 new stores in 2008, bringing its total to 388 locations. In 2009, the perfumery chain will unveil additional newly designed store prototypes in select U.S. malls. The expansion will feature more celebrity fragrance launches and relatively unknown fragrance brands developed by start-ups from around the globe looking for U.S. distribution.
"Fragrance is truly an international business," says Ray Piergiorgi, COO, Perfumania Holdings, Inc. "Because of our quality sales associates, we can take these 'unknown' brands and sell them in our stores. These relationships are why we have the widest selection of fragrances in the U.S."
Celebrity fragrance launches certainly capture the bulk of consumer and media attention, but it may very well be lesser known, niche brands that will keep bringing fresh ideas and repeat customers to the fragrance counter. Bloom agrees, noting that smaller, niche brands offer originality and creativity.
Annick Goutal is a good example. The Paris-based fragrance house grew out of the passion of its founder and namesake, and the company and its artisanal fragrances, now under the creative direction of daughter Camille and perfumer Isabelle Doyen, have grown into an international brand with an amazing growth curve.
Gary Farn Ltd. is the U.S. distribution arm for Annick Goutal. Its president, Alison Farn, says the brand's success lies in its artisanal beginnings. "Annick was a genius who collaborated with Isabelle Doyen, who is now with Camille Goutal," says Farn. "Having a true artist at the beginning, at the heart of the brand, is very important. A customer can feel that and knows that." Farn points out that in an economy such as the current one, there is value in being an artisanal brand. "The [luxury] category becomes representated by an artisanal brand, with more quality because it's the artistic expression of the category rather than a commercial opportunity. That's always the success we find with Annick Goutal—the attachment and connection a customer has with the brand is always based on emotion. Each fragrance is created for an intense moment in Annick's, and now Camille's, life."
Perfumers Go Public
Annick Goutal, the brand, has built a following that reaches back to the earliest days of its creator's vision and passion for perfume. That Doyen has been Annick Goutal's nose from the beginning adds to the brand's magic, and her contribution is certainly not kept secret. There are many who believe that bringing consumers closer to the perfumer and her art can add cachet to fragrance marketing. Bloom says,"It's interesting to see the trend toward brands hiring in-house perfumers and also to see these same perfumers now [having] a public face."
Jean-Michel Duriez at Rochas, Jean-Claude Ellena at Hermes and Matilde Laurent at Cartier are just three examples of in-house perfumers who are making news. As for perfumers getting a little face-time with consumers, Bloom points out the recent in-store appearance by Dior's Francois Demachy at Saks Fifth Avenue's launch of La Collection Particuliere. It certainly can't hurt to find new ways to add excitement to launches and help consumers build even deeper connections with beloved brands.
Expansion Plans
Despite the gloom on the sales front, a number of fragrance houses are launching new scents or are in the midst of expansion plans. By Kilian, a niche brand founded by the grandson of The LVMH Group's founder, reportedly will launch an eighth fragrance in 2009, and plans to expand U.S. distribution. Ferragamo Parfums—still glowing from a number of awards last year from organizations in Russia, Brazil and India—is in the midst of three new fragrance launches: Incanto Bliss, F by Ferragamo pour Homme Black and Ungaro Party.
Annick Goutal is also reportedly continuing an expansion plan that by press accounts will grow its freestanding store count from 11 to 40 during the next five years, and plans to introduce a new women's fragrance in February 2009. Distribution expansion plans in the U.S. market, it should be noted, have not been greatly impacted by the economy. "I don't want to say we're altering our plans due to the economy, but at the same time, we take one step at a time, and our strategy has not altered that much by what's going on in the economy," says Farn. "We build this brand, and have been building this brand, with the intention that every year will be bigger than the year before. We're going to be realistic and we're going to be sensitive, but we're not turning down the volume of our growth plan for Annick Goutal."
The Fragrance Foundation also expanded in late 2008. In December, Bloom announced the formation of The Fragrance Foundation Arabia (FFA), under the direction of Shahzad Haider as chairman, and Grit Pannier as president. "The interest of the top players in the United Arab Emirates (UAE) to be part of The Fragrance Foundation is very high," says Haider. "Everyone in the industry here sees the benefits of a central organization addressing the needs of all in the business," he adds.
While the group is not yet ready to offer memberships, response has been "tremendous," according to Haider. Key players in the Middle East fragrance industry—including retailers, manufacturers, international brands, raw material suppliers and media—attended the signing ceremony.
According to The Fragrance Foundation, the Arabian Gulf is the world's largest per capita consumer of perfume in its many different forms. According to data gathered from a variety of sources, including regional retailers and exhibition producers, the UAE alone boasts a high-end branded perfume market estimated to be worth $250 million. Still, the region has not gone untouched by the sharp decline in retail sales.
"The story is the same in this part of the world. Retail sales are experiencing a drop around 30–40%," says Haider. Local organizations are focusing marketing dollars on established brands rather than promoting new ones, due to the higher advertising cost for launches, yet results are still not meeting expectations. Further, according to Haider, the industry feels that the retail sales drop will impact new brands more than established ones, so budgets have been revised and new targets are in place.
Bloom says The Fragrance Foundation is excited to be part of the long history and tradition of fragrance use in the Arabian Gulf. "In a way, The Fragrance Foundation is coming home. Nowhere else are traditions and the history of perfume so much a part of daily life," says Bloom. "Nowhere else are consumers more aware and passionate about fragrances. In the Middle East, this business goes back to ancient times."
From those earliest days, perfumes were crafted with an individual in mind. Today, a growing number of options exist for fragrance lovers to wear their own truly signature scents.
Affordable Bespoke
From independent U.K. fragrance house Pecksniff's online and in-store offerings to Memoire Liquide, a recent addition to Henri Bendel and Studio at Fred Segal created by Robin Coe Hutshing and Jennifer Coe Bakewell, custom fragrance creation is catching on. At London's Miller Harris, customers can choose to spend a day with perfumer and company founder Lyn Harris in her laboratory creating a custom fragrance. Phoebe Manners, also in London, offers both ready to wear and bespoke fragrances. The latter start at £800 for first service and £68 for refills. At Cartier in Paris, in-house perfumer Laurent creates made-to-measure scents, where a three-to-five year supply reportedly can cost in the realm of $75,000. It is safe to say there is an option at nearly every price point, with more entries taking the field all the time.
Sue Phillips is president of Scenterprises, a global fragrance consultancy focused on product development, sales and marketing initiatives, as well as strategic brand development. She also is the U.S. distributor of The Perfume Studio, a U.K.-based custom fragrance purveyor. She believes that, despite frequent designer and celebrity fragrance launches, consumers are individuals who want how they look and smell to say something about who they are. "They are seeking more of a role in what they want to purchase and what their shopping experience should be—as opposed to buying only what fragrance companies dictate," says Phillips. "It allows customers to be emotionally involved with the product that they have created."
Custom fragrances have been around as long as there has been a fragrance industry, but remain a small percentage of the fine fragrance market—due, in part, to their relatively high cost. Yet, says Phillips, there will always be a small audience that desires something very exclusive and unique where price is no object. For everyone else, companies such as The Perfume Studio continue to emerge to help enthusiasts create their own fragrance. "Affordable luxury is what consumers want—and, particularly in this economy, women still want to look, feel and smell their best," says Phillips.
The Perfume Studio accommodates affordable luxury by producing events akin to wine-tasting workshops. Guests are taken on a "fragrance journey" by a fragrance expert, where they will experience 18 different perfume blends, all created by a master perfumer and designed to be worn in combination or alone.
Long-range Forecast
Even the nastiest weather clears eventually, and so too will the economy right itself in due time. Steps the industry takes now can help ensure a speedy recovery from these tough times and create a new way forward that answers the challenges it faces in general, and not just during cloudy weather.
In this down economy, Phillips reminds us, people are watching every dollar they spend. "They want their purchases to be meaningful, and not frivolous. Nobody needs another lipstick or fragrance, yet women still want to look and feel their best," she says.
"We need to continue to foster the mystery, allure and intrigue about fragrances and make them even more spectacular than they are."