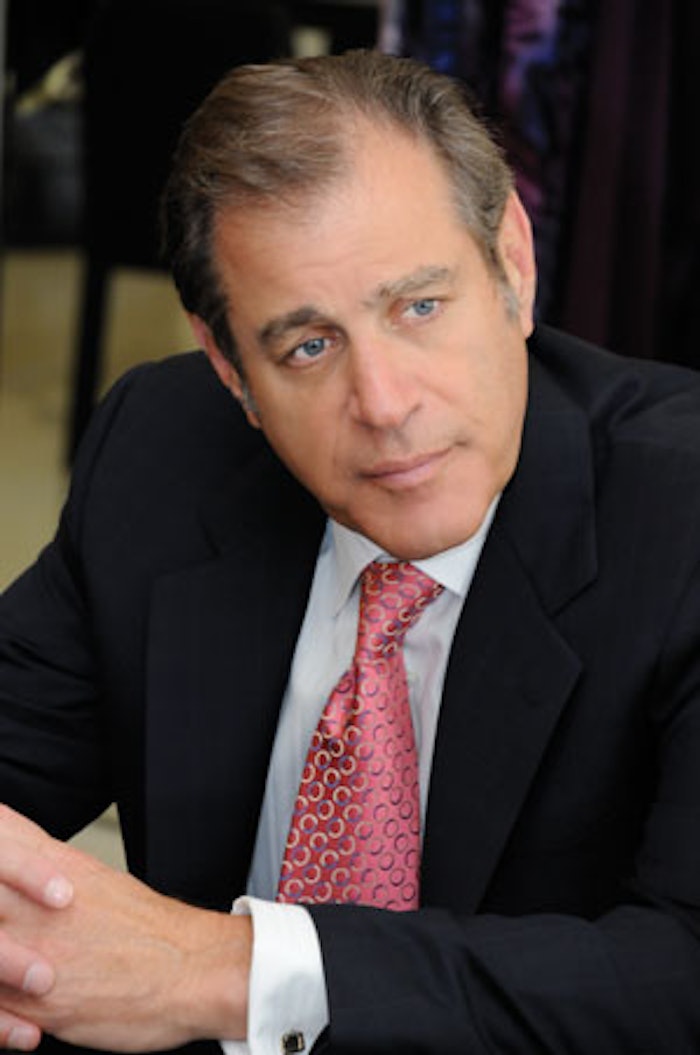 For a celebrity fragrance to succeed, consumers must identify with the celebrity.
Celebrity fragrances must play on consumers' desire for fantasy.
Fragrance launches and partnerships must ultimately expand the consumer base.
Neil Katz, chairman and CEO of Parlux, Inc., has a beauty business pedigree that goes back to 1973. A savvy New Yorker, the Bronx-born Katz has parlayed Parlux into a powerhouse in the fragrance industry with his unfailing eye for what's new and what's hot in music, style and fashion. The Parlux enterprise has launched an array of successful celebrity and designer fragrances under his leadership.
Katz began his career in the marketing research and planning division of Clairol, where he became director in 1975. In 1977, Katz became vice president of market research and trend forecasting at Revlon, followed by a position as president of Revlon's beauty care division in 1985. In 1991, he became president of Liz Claiborne Cosmetics and joined Parlux in 2006.
Shortly after his tenure began at Parlux, he was appointed CEO, where his ability to recognize and leverage the talents of diverse individuals in the areas of the arts and entertainment gave Parlux a unique standing in the world of fragrance and fragrance licensing. Katz—who earned a bachelor's degree in psychology and a master's degree in industrial psychology, specializing in management and communications—combined his academic background with an apparent innate ability to recognize new and resonant talent, drawing on practical, intuitive and business experience. "I consider the beauty business part of the whole business package, but it is one with a unique approach and a fashion aspect that distinguishes it," says Katz.
Celebrity and the Marketplace
"The Parlux portfolio," says Katz, "represents a diverse marketplace, and with the addition of each fragrance and celebrity, it touches a different audience. Certainly, the celebrity fragrance business is a key piece of the overall fragrance business today, and having the success of [the Paris Hilton fragrance] has also enabled the company to extend its reach, most recently to include Queen Latifah." Parlux, which has invested in building its U.S. department store business, has seen marked growth—both through its enhanced in-store presence, as well as its solidified platform for future growth. "We look at each celebrity as having an audience different from every other celebrity," says Katz. "When we choose a celebrity, it is because that celebrity brings a new customer to us. The strategy is to add something each time to our targeted groups out there, not to compete in the same groups. It is also important that the company has sales representatives who understand and fit the demographics."
I Love Paris
Paris Hilton won the coveted Fragrance Celebrity of the Year at the 2009 FiFi awards, the fragrance world's equivalent of the Oscars, for "a wardrobe of five fragrances that continue to enjoy unprecedented popularity." In introducing her at the gala, Katz noted that Hilton has a strong and a wide-reaching audience, which he attributes, in part, to the way she interacts with her consumer base and builds iconic imagery on top of her already iconic image—while also being an identifiable personality.
"Obviously, her major fan base is young people, and they enjoy her celebration of life," says Katz. "My personal belief is that to succeed as a celebrity fragrance, the celebrities must have a unique ability to have people identify with them, like them and want to help them. These three areas are what entice consumers to purchase celebrity fragrances. Sometimes this appeal has nothing to do with how great a singer you are, for example."
With her newest fragrance, Siren, launched in July 2009, Hilton conjures a fantasy mermaid. Katz recalled the film Splash, featuring Darryl Hannah as a mermaid living in two worlds. "Darryl Hannah did a great job as a mermaid in the film, and Paris does a wonderful representation of the mermaid for the Siren fragrance, in which she appears in the ad campaign," he says. "With its mermaid charm dangling from the neck of the bottle and its mermaid tail splash etched into the glass, it's the complete package."
The fragrance, created by perfumer Honorine Blanc, features top notes of mandarin and apricot nectar that flow into an aurora of frangipani blossom to meet a heart of honeysuckle, water lily and coconut orchid before combining with a base of vanilla bean, sandalwood and musk.
As Paris herself noted, the idea for the fragrance was based on legends of fantasy creatures that men can't resist through a modern interpretation. Katz agreed, saying, "Although Siren is inspired by ancient Greek tales of beautiful women, mermaids and water fairies who were incredibly enticing and tantalizing, it is also contemporary, and invites every young woman to jump in and have fun exploring the fantasy of being phenomenally desirable, the way only a mermaid could be."
And Katz understands the special quality of celebrity to play on consumers' desire for fantasy in their fragrance choices. "With Paris' fragrances we are playing on fantasies," he says. "With two of her previous fragrances, Can-Can and Fairy Dust, the fantasies have told a story. Whether it was the Folies Bergère or fairy tales, the people populating these scenarios are always pictured as beautiful or alluring, and there's a whole fantasy surrounding them."
Meeting the Queen
Always on the lookout for personalities who connect with an audience on a variety of levels, Katz says he recognized the special quality and audience possessed by Queen Latifah and envisioned a fragrance that would represent the confidence and radiance she projects. "When I first brought up the Queen Latifah license, it seemed to run differently from every other," he says. "Queen Latifah doesn't fit the size 4 imagery, yet she was named one of the top 100 beautiful people by People magazine in 2008, and I believe, is probably more representative of many of the women in our country who identify with her, aspire to be like her and appreciate her unique beauty."
Queen Latifah is quoted as saying, "Beauty really does start on the inside. It's like a state of mind, a state of love, if you will. So I see fragrance as just a natural expression of this state of love. Scent expresses a woman's confidence and sensuality; it's how she embraces her body, her mind and her strength." Katz concurred, "Every woman is a 'queen' in Latifah's world. With that sense of empowerment in mind, this first fragrance, Queen, naturally expresses not simply beauty and sensuality, but inner strength and an exuberant sense of confidence. [Queen Latifah, herself,] draws from both an urban and suburban demographic—as well as the hip-hop world, theater and film—and her fragrance is an embodiment of her style and charisma. She pulls in a multicultural audience."
The fragrance opens with a sparkling, sensuous accord, reminiscent of aged golden tequila, and blends with Italian bergamot and Mediterranean mandarin, to form the top notes. The heart notes are Baie rose, jasmine, cognac and Moroccan coriander. The base notes create a mysterious accord for the Oriental fragrance, with Indonesian patchouli, sandalwood, vanilla, tonka absolute and a fragrant finish of Egyptian incense and musk. The bottle is a ruby red faceted glass, edged with gold borders on a solid square shape, bearing a dimensional heart at its center to reinforce the message of beauty from within.
A Star-studded Venture
Katz spoke of his most recent Parlux collaboration—formerly introduced as the Iconic Fragrances partnerships and now renamed the Artistic Brands partnership—designed to include its licensees as company shareholders. The fragrance manufacturer and distributor has initiated worldwide licensing agreements with Grammy award winning and multiplatinum-selling superstars Rihanna and Kanye West, and has also completed negotiations with hip-hop mogul Shawn "Jay Z" Carter, while an as yet unnamed fourth member is planned for inclusion in the project.
The Artistic Brands partnership, according to Katz, is a unique collaboration. "I don't think any company has ever made any celebrity part and parcel of the actual collaboration," says Katz, referring to the fact that Carter and other partners each hold stock warrants in the company and, therefore, are invested in working toward success of the collaboration and brands. Under this partnership, fragrance launches are planned for the summer of 2010—and with an eye toward expanding the consumer base. "Again, we are bringing new and diverse consumers to Parlux," says Katz. "We believe that the implementation of this agreement, combined with the success of our core brands, will allow us to significantly increase revenues and improve our bottom line." Katz, who takes a 360-degree view of the beauty market, noted that total estimated value of the market is $140 billion in annual sales. Of that, approximately 42% of the business s done in the U.S., an estimated $60 billion. Within the U.S. beauty market, an estimated $12 billion of it is fragrance sales—including mass market, department stores, door-to-door and perfumeries. Parlux, according to Katz, participates in the prestige segment, which represents about 25% of that $12 billion, or about $3 billion in manufacture sales. Katz notes while the company is small compared to other public companies, the business is growing and is able to move quickly, as it is a smaller company.
Further, Katz understands that as celebrity favorites increasingly capture a larger segment of the market, the unique positioning of the Artistic Brands collaboration will have significant impact. Katz sees the company as positively positioned for growth, ultimately yielding a much bigger and more profitable company. In addition, Katz acknowledged that some of the newest talents in the categories of art, music and design, are represented in the Parlux portfolio.
Taken as a whole, the Parlux portfolio has uniquely tapped into some of the key personalities of contemporary culture, bringing style, fashion, and artistic expression to an enthusiastic public.
Nancy Jeffries is a contributing editor for GCI magazine, covering the industry from her New York vantage. Jeffries has been in the publishing business for more than 20 years. Her introduction to the cosmetics and personal care industry began as editor of GCI magazine from 1997–2000. bnjcasa@aol.com