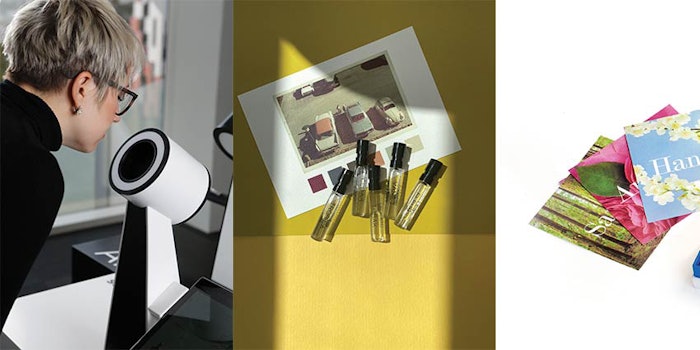 Beauty retail has pivoted rapidly in response to COVID-19, which has challenged the industry's try-before-you-buy traditions. Cosmetics testers, for instance, have disappeared overnight.
Instead, some retailers are now asking staff to test color cosmetics on a palette for customers, which the shopper can then examine/swatch up close. Staffers can also demo products on themselves while providing verbal education.
Most notably, virtual try-ons for visual categories such as makeup and hair color are increasingly common in-store and online. In addition, sample programs in-store and online have accelerated as brands seek new ways to get products in prospective buyers' hands.
Here, Olivia Jezler, consultant at Future of Smell, provides a closer look at a traditionally tester-dependent sector—fragrance—and surveys the emerging innovations that are helping brands connect with consumers. (Special report: Beauty and fragrance sales trends for the first half of 2020.) -Editor
The acceleration of digitization spurred by COVID-19 is transforming industries, including fragrance. Our new reality requires new safety measures that limit touch and, as visitor capacity and store hours are reduced, retailers and brands are forced to develop new solutions. Yet scent's unique sensory properties pose challenges and opportunities for fragrance discovery both on and offline.
With customers used to freely sampling products, the inability to touch testers in-store and the reintroduction of sales personnel to facilitate fragrance discovery at a 6-foot distance may not be ideal.
Individual spray samples could be an answer, yet they are costly. With the currently available solutions, the true challenge lies in creating a safe and elevated experience across the omnichannel that is true to a brand and allows it to better serve its customers. For this, digitization is key.
Digital scent solutions can enable the unique experiences consumers seek. Scents can be synched to branded content like videos, music, games and immersive elements like AR. Every interaction can be tracked and analyzed while more easily keeping with new safety requirements.
Imagine waving your hand over an in-store sensor and lowering your nose to smell a true representation of a fragrance in the form of perfumed air. Digital scent diffusion technologies have been around for well over a decade. Their main use has been for ambient scenting through HVAC systems, which allow the scent to evenly disperse through an environment without leaving residue in the air or on surfaces.
Due to the nature of these being digitally enabled interactions, every interaction and sniff can be tracked and analyzed.
When adapted for fragrance sampling, customers can smell a fragrance in the form of a concentrated flow of air. An advantage is that this dry mist of fragranced air can reduce olfactory fatigue, allowing customers to sample a wider variety of fragrances and eliminate cross-contamination in a space.
Customers, however, are used to exploring a fragrance on blotters, infused ceramics, peel-off samples, scented-filled domes or on their own skin. These are more or less "static" scent experiences.
The invisible and concentrated flow of air from a sample diffuser may require design cues to indicate that a scent is in fact flowing and that it is safe to lower one's nose to a scent dispersing hole that another customer may have previously touched.
Even with such measures in place there could be an adaptation curve to learn to place ones nose close enough to a hole without touching it and believe that this invisible air is truly a direct representation of a fragrance.
This system can hold more than 100 fragrances, stand alone, and spray a fragrance directly onto a blotter or onto skin.
Fragrance marketing companies like The Aroma Company in the United Kingdom create custom fragrance experiences for point-of-sale as well as out-of-home installations. The company is now offering the use of proximity sensors instead of push buttons for a contactless experience.
Air Parfum and the Aromashooter integrate a scent diffuser with a touch display or infrared motion sensors that can be programmed to capture hand movements like pointing, swiping and clicking, allowing the customer to interact with the interface without touching it.
Due to the nature of these being digitally enabled interactions, every interaction and sniff can be tracked and analyzed. We are at the infancy, yet—if designed to do so—each installation can anonymously gather customer insights that can be used to improve products, better target campaigns and improve conversion.
This is better than surveys, which can be tedious and flawed. Another example is a fragrance sampling system by Sniffy Technologies that analyzes customer responses to a fragrance based on facial recognition using emotional artificial intelligence. This system can hold more than 100 fragrances, stand alone, and spray a fragrance directly onto a blotter or onto skin.
Retailers like Ulta and Sephora, which could offer a solution at scale, group fragrances by broad olfactive categories that require a certain level of prior fragrance knowledge.
This mechanism is used predominantly in the air care category to dispense scent in a space. When adapted to fragrance sampling, it allows a customer to experience a fragrance in a form that is closest to its end use.
It can be sprayed on, smelled and worn over a period of time. A different approach can be seen with Arcade Beauty's ScentTalker, which can be docked onto an existing display. All a customer has to do is pull on a tab to obtain an individual peel-off scent sample. This presents a hygienic solution for in-store sampling. 
Arcade-backed Abeo can also provide similar samples directly to consumers by engaging targeted prospects on social media, sending them samples and addressing their questions in order to manage a simpler path to purchase, per the company.
Beyond the Store
As retail stores limit store hours and customers avoid non-necessary browsing in retail settings, a new opportunity emerges for standalone activations in public spaces and kiosks to sample scent without even entering a store environment.
For instance, Vengo has launched its end-to-end contactless sampling solution for its beauty vending machines. The prospective shopper enters the Vengo machine number into their smartphone. On the phone's browser, the consumer selects the desired item, which will launch an interactive brand experience. Vengo verifies that the shopper is a real person, then the kiosk dispenses the sample.
Brands and retailers can get targeted consumer information from sample recipients who have opted in and are ready to share their preferences and try new products.
At-home Discovery
People instinctively distrust things they can't see, touch, understand or in this case smell. This poses an interesting hurdle for fragrance e-commerce. Yet once the hurdle is surpassed it allows for a slow and intimate immersion into the world of a fragrance in the privacy of one's own home, where it can even be shared with loved ones. 
Reimagining magazine samples
One tradition-skewing solution comes courtesy of Shiseido, which recently announced an exclusive partnership with iD Scent's Scentouch sampling technology. iD Scent argues that its recyclable paper-based sampling tech offers a "realistic, delicate experience." The design features an applicator loaded with perfume, which can be smelled or applied to the skin (or both).
The partnership has kicked off with the press campaign for Shiseido's Narciso Rodriguez Eau de Parfum Ambree perfume. The program will comprise more than 6 million ScenTouch samples distributed in more than 60 magazines in about 20 countries throughout 2020.
E-commerce & DTC
E-commerce and at-home discovery are connected. Both moments are about storytelling; however, in order to purchase a fragrance that has not been smelled, requires trust. Trust in the description and trust in oneself to be able to translate it into an olfactory image in one's own mind.
It is no doubt that in this new reality, direct-to-consumer brands have an upper hand. They own their customer relationship with a direct communication channel and are often mission-based, which further garners trust.
Discovery sets
Since COVID-19, Phlur noted an increased time spent on its site, with a 50% rise in time spent on the brand's ingredient page. Even so, Phlur does not use an ingredient-driven approach but instead paints the sensory world of each fragrance in its collection through immersive visuals and Spotify playlists.
Brands like Phlur and Henry Rose offer discovery sets to reduce friction in their online sales process, where the amount of the set can be used as a rebate toward a full-sized bottle. This yields with a conversion rate in the high double digits, according to Henry Rose.
Experiential design
These brands also understand the importance of the unboxing experience because it is the first physical contact a customer has with the brand. Therefore, they invest accordingly. Niche brands like Maison Crivelli offer an element of magic. Each fragrance has a custom blotter. Once the white blotter is sprayed, it reveals a perfume raw material in color as if seen under a microscope.
Each perfume in the Maya Nje collection is inspired by a single photograph and a color palette extracted from the photograph. This photograph and color palette are sent together with the sample vials to connect the consumer sensorially to each fragrance story in a high-touch, highly visual manner.
Fragrance Discovery
Pinrose and Hawthorne for Men offer a quiz—the e-commerce equivalent of a sales assistant—to determine what scents will best suit shoppers. This is helpful in a single brand context; however, to navigate the fragrances landscape across brands in such a way isn't currently available.
Retailers like Ulta and Sephora, which could offer a solution at scale, group fragrances by broad olfactive categories that require a certain level of prior fragrance knowledge. No further guidance is given to learn or to explore nuances within each category. Customers new to fragrance shopping remain excluded in this system and the sensory gap between the smell of a fragrance and the visual e-commerce interface remains.
Fragrance discovery services like ScentBird and Sommelier du Parfum ask for information like key ingredients, the context in which the fragrance is intended to be worn and favorite season. Once a customer makes a purchase based on the questionnaire results, they can rate the fragrance or purchase a full sized bottle.
Once a significant scale is achieved, highly personalized real-time experiences can occur, which take customer experience to a new level.
This improves the algorithm of the fragrance finders. The key, however, is to create an engaging experience that builds trust and offers value—in this case the value of learning about fragrances and finding a scent that one likes while trusting that the service's process is in fact guiding one toward the right selection.
These experiences can be made even more immersive and data-rich by making the most of audio and visuals. Numerous academic studies have identified sensory correlations between our senses, which correlate certain sounds, colors, shapes and textures with certain scents. If we used these as a basis to depict fragrances online, customers could learn about fragrances more intuitively and be even more likely find a new fragrance they truly love. 
Data as the Driving Force
Companies that seize this opportunity to digitize their fragrance experiences to empower and keep their customers safe, will stay relevant and position themselves for long-term growth. Data is the dominant currency of the marketplace and the driving force of the technological change that is happening today. How it is used by brands will continue to play a critical role in customer trust and adoption.
Data gathered today can be used to better target customers and for cross-sell and upsell opportunities. Once a significant scale is achieved, highly personalized real-time experiences can occur, which take customer experience to a new level.
Imagine walking up to a sales counter and having the sales assistant offer you a fragrance you love or having your custom-blended fragrance for the upcoming week appearing on your doorstep or your home scenting device knowing exactly which fragrance to order and play at precisely which time of day, depending on your mood and needs.
In this way, customers and digitized brands can become empowered. And this is how every fragrance company, either knowingly or unknowingly, will become a tech company and pave the way for intelligent fragrance experiences of the future.