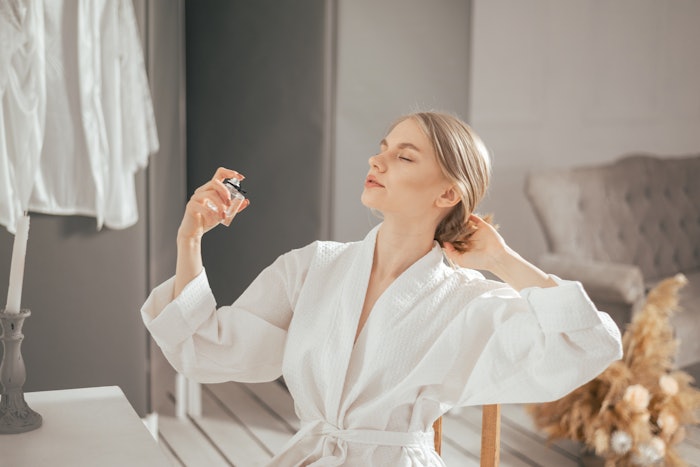 Global Cosmetic Industry spoke with industry insiders to explore fragrance ingredient trends and recent launches into the beauty space.
Indian Sandalwood Oil
Vanessa Ligovich, chief marketing officer, Quintis, says, "Indian sandalwood oil is widely recognized for its scent in fragrance and its ability to transform a fragrance [and]has been admired globally for many centuries. In recent years, we've seen this trend re-emerging. Data from Michael Edwards' "World of Fragrance" indicates that the number of fragrances launched with Indian sandalwood notes has increased over the past 30 years. In 2021 alone, there was a 43% increase in the number of new fragrances launched containing Indian sandalwood, which includes some of the world's leading brands and perfume houses. The unique properties of Indian sandalwood and fixative harmonizing qualities cannot be replicated. Vogue France refers to sandalwood as the 'mystical olfactory note bar none … captivating and super chic.' It has a woody and warm long-lasting base note that can add depth and sophistication to a fragrance. This re-engagement with Indian sandalwood oil in fragrance is linked to the availability of a sustainable and responsibly managed supply of Indian sandalwood in Australia through companies like Quintis, which began harvesting a few years ago. We have over 5.5 million trees which means perfumers have a reliable source of sandalwood well into the future."
Ana Prieto, products manager, Quintis, says, "We develop truly authentic and pure sandalwood products and our raw Indian sandalwood products are created using 100% pure heartwood obtained from trees. A key strength of the business is our ability to provide customized blends of pure 100% Indian sandalwood oil based on customer requirements—whether it be woodier or greener or creamier, etc. Quintis is in a fortunate position to work closely with our customers (typically the consumer brands or manufacturers of these products) to provide customized natural oil as they respond to the demand for transparency, which sees suppliers needing to provide evidence of their supply chain practices."
For the full article, check out Global Cosmetic Industry's June 2022 digital magazine.