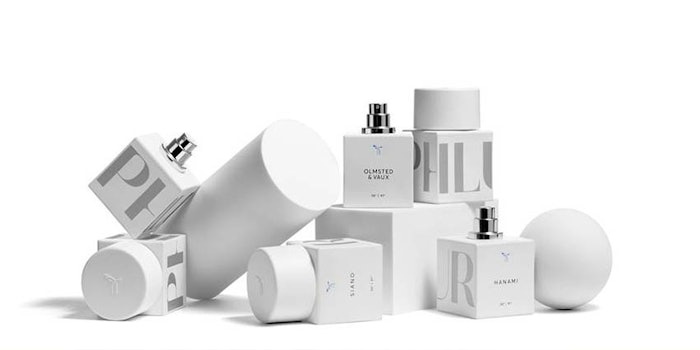 The code for selling fragrance online has been a tough one to crack. Recently, Scentbird raised an additional $2.8 million in funding for its perfume and cologne subscrption service and a la carte offering.
Now, Austin, Texas fragrance startup Phlur (presumably a phonetic twist on the French word for flower) has announced that it has raised a total of $4.5 million to fund its own disruptive take on digital fragrance marketing. Founded by the former president of Ralph Lauren digital and e-commerce, Eric Korman, the 100% digital company has rethought the fragrance browsing, sampling and purchasing process.
How it Works
Phlur currently offers six scents on its site. Visitors can browse the scents, each of which features a brief description that eschews traditional concepts like notes and ingredients and instead focuses on the feeling evoked by the composition.
For instance, Hanami is described as "bold without being loud, weightless but grounded. It's stirring. It reserves its most lasting, most memorable notes for those you allow to get close. It has a reverent subtlety and a warm embrace, inviting and complex at the same time."
Each fragrance description is accompanied by a compilation of visuals that further evoke the concept of the fragrance, as well as a soundtrack of music that reinforces the scent's emotional impact.
The thought, according to Phlur, is that the public can better connect to emotional cues than a simple laundry list of fragrance notes. (Interestingly, Phlur does call out the use of environmentally sustainable synthetic materials, making it somewhat unique among marketers.)
Once a visitor has determined which scents they are interested in, they can order a pair of samples for $10. This amount can later be applied toward the purchase of a full bottle, which costs $85 for 50 mL/1.7 oz. By allowing consumers to "audition" scents for a period of time, rather than sniffing them on a sample blotter for a few seconds, Phlur hopes to upend the typical fragrance shopping experience.
Ethical Positioning
The company donates "a portion" of every sale to non-profits such as the Central Park Conservancy and International Union for the Conservation of Nature.
In addition to highlighting the use of sustainable synthetic ingredients, Phlur's product design includes recycled glass bottles and vegetable-based paint, as well as biodegradable corn-derived secondary packaging.
Plur will use its latest funding to fund existing operations and launch new scents and products.
"Having successfully launched our business on time and on budget, and achieving all of our major milestones, we have closed on the pre-existing commitments of our investors from our initial round last year as planned," said Korman. "While we are now only several weeks now past launch, we are off to a wonderful start. We completed over 1,000 orders in our first 30 days alone, and we are gaining momentum every week. All of which signals a strong customer reaction to our unique concept of how to create, package and experience fragrance in an entirely new way."