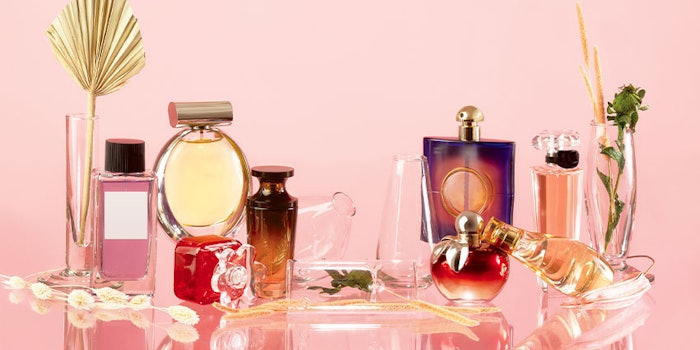 Fragrance Direct has compiled a list of the top searched fragrances in Google for the past 12 months, which contains data from all over the world. 
Related: Firmenich Identifies 5 Fragrance Trends to Improve Wellbeing
Estee Lauder Estee tops the list at 962,710 searches. The classic fragrance was launched in 1968 and features notes of jasmine, rose and ylang-ylang.
In second place is Versace Eros with 281,270 global searches. Rounding out third place is Carolina Herrera Good Girl with 186,180 searches.
Related: Givaudan Introduces MoodScentz Fragrance Technologies
The top 20 list also features:
4. Marc Jacobs Daisy (168,240)
5. Davidoff Cool Water (134,990)
6. Dior Homme (123,070)
7. YSL Libre (115,620)
8. Lancome Idole (105,280)
9. Narciso Rodriguez For Her (104,430)
10. Calvin Klein Euphoria (103,930)
11. Lancome La Vie Est Belle (100,330)
12. Montblanc Legend (82,980)
13. Joop Homme (76,600)
14. Gucci Bamboo (75,110),
15. Lolita Lempicka (74,000)
16. Versace Pour Homme (72,400)
17. Jean Paul Gaultier Le Male (72,310)
18. Dolce And Gabbana Light Blue (67,970)
19. Carolina Herrera 212 (66,750)
20. Marc Jacobs Decadence (63,460)
Hers and His Top 10s
The top searched fragrances for women rank as follows:
Estee Lauder Estee
Versace Eros
Carolina Herrera Good Girl
Marc Jacobs Daisy
YSL Libre
Lancome Idole
Narciso Rodriquez for her
Calvin Klein Euphoria
Lancome la vie est belle
Gucci Bamboo
The top Googled fragrance for men is Davidoff Cool Water, which made the top five in over 40 countries.
The top searched fragrances for men rank as follows:
Davidoff Cool Water
Dior Homme
Mont Blanc Legend
Joop Homme
Versace pour homme
Jean Paul Gautier le male
Givenchy Gentleman
Diesel Only The Brave
Boss Bottled
Prada l homme
Nosing out Notes
Rose came in as the top featured note in the most fragrances, including the number one, Estee. Jasmine sambac comes in second with usage in 106 fragrances, including Marc Jacobs Decadence and YSL Libre.
Other popular notes include bergamot, peach, mandarin, iris, raspberry, mint, orange blossom and lemon.