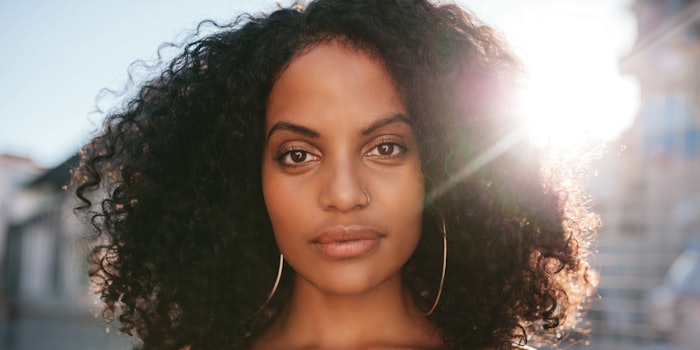 The frustration of having curly hair is that you never really figure it out. But, if you're in the business of curly hair care, the beauty of curly hair is the same: you never really figure it out.
Over the past six months, Teresa Christensen of Osceola, Wisconsin, says she's bought more than 20 new products, ranging in price from $3 to $20. She's always looking at new reviews online and checking out what her favorite influencers are trying.
Recent purchases include products from Cantu, SheaMoisture, LA Looks, DevaCurl and Herbal Essences. On any given day, she says she uses a shampoo, conditioner, mousse/foam, curl activator and a gel. She might add a little hairspray if she's going out at night.
"Right now, I have 40 total products in my cabinets," says the curly-headed Christensen, who keeps duplicates of her Holy Grail products at both her home and her lake house.
Dayne Neufeld, a 3b curly, spends between $50 and $125 each month on hair care staples and new products she wants to try: "I probably have well over 100 products in my cabinet, I'm embarrassed to say."
A Massive Hair Care Spend
By now, the industry is well-aware that women with curls, coils and waves purchase more products than their naturally straight-haired peers. What's surprising is that, according to NaturallyCurly's TextureTrends report a, 30% percent of textured-haired consumers are still trying to find a Holy Grail product, and 43% of women who have found their Holy Grail products continue to purchase other products in the hopes of finding the next best thing.
Forty percent of those surveyed purchased products seven or more times over the past six months, compared to 26% of women with naturally straight or relaxed hair. Those with curls, coils and waves spend on average 63% more on hair care products than their naturally straight-haired counterparts—$306 vs. $188. That's an annual spend of $31.6 billion among all US women with textured hair.
Women with curly hair spend more than those with coily or wavy hair. Forty-two percent of those with curly hair purchased hair care products seven or more times over the past six months, spending an average of $348 per year.
Out of all product types, the textured-hair consumer spends the most on conditioners and styling products. Over a six-month period, she spends on average $48 on conditioners, compared to $31 for those with naturally straight or relaxed hair, and $43 on styling products, compared to $29 for those with naturally straight or relaxed hair.
Opportunities for Brands
The TextureTrends data explains why consumers with textured hair make up the majority of hair care purchases, why the number of products being developed for these consumers has skyrocketed and why more retail space is being dedicated to this category.
The textured hair category has been one of the fastest growing and most dynamic in the beauty industry. Since NaturallyCurly's inception 19 years ago, the number of products on the market has grown exponentially. Two decades ago, few products existed for textured hair, even though more than 60% of the population has wavy, curly or coily hair.
Dozens of new brands designed specifically for curly hair launch each year, and every major hair care brand now offers products for textured hair—from mass to professional brands. One buyer for a major mass retailer says she looked at more than 800 new product SKUs over the past year for the textured-hair consumer. It's no wonder Unilever recently purchased Sundial Brands, a market leader in the textured hair category.
What's Trending in Textured Hair Care
The 2017 Texture Trends findings revealed several key trends shaping the category.
Dryness & frizz
Dryness (54%) and frizz (43%) continue to be the top hair concerns among those with textured hair. One in four of these consumers doesn't feel that these concerns are being addressed by products currently on the market.
Oils are still hot
Fifty-seven percent of textured hair consumers have used an oil in the past six months. This is mainly driven by those with coils, which makes sense because dryness is their number one concern.
Top purchase drivers
Easy application, appropriate price and accessibility are the three most important purchase drivers across all texture types.
Natural is not a trend
Among those who have relaxed their hair in the past, only 3% stated they transitioned to go along with the trend. Forty-seven percent say they transitioned to their natural texture to embrace the texture they were born with.
Ingredients matter
Those with textured hair are more likely to avoid certain ingredients than those with straight/relaxed hair (82% vs. 62%). However, the avoidance of many ingredients has steadily declined since 2014, mainly driven by those with wavy hair.
aThe TextureTrends Survey (www.texturemedia.com), which focuses on findings by texture for consumers of all ethnicities, is produced annually and provides immediate access to key demographics, top hair care concerns, shopping habits and purchase behaviors of the textured-hair consumer. With roughly 3,500 respondents committing to the 40-minute survey, and four years of trending data, the study is one of the most comprehensive in the industry.
Michelle Breyer (michelle@texturem­ediainc.com) is the co-founder of content and ecommerce platform Naturall­yCurly.com and TextureMedia (https:/­/corp.naturall­ycurly.com). By engaging beauty enthusiasts through original content, branded entertainment, social media, product reviews and commerce, TextureMedia influences up to $5 billion in hair care sales each year. Its monthly social, consumer reach is 26 million across a portfolio of digital brands, including its Market Research & Insights division, CurlyNikki and Naturall­yCurly.