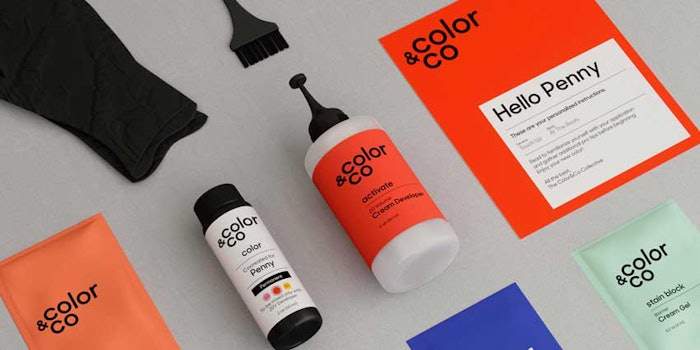 Color & Co is a new L'Oréal startup partner borne from the company's innovation incubator and is set to deliver a new direct-to-consumer solution for personalized hair color. Olivier Blayac, general manager of Color & Co. notes that the current model for at-home color has the consumer purchasing a selection in a store aisle based off of an image on a box and then inevitably finding that the preset formula often fails to mimic the promised results. The other option is for the shopper to go to a salon and rely on a colorist to ensure results, which even in the best circumstances can take time and money.
Color & Co was designed to solve the time/means issue, says Blayac, and to deliver the results the consumer expects.
He adds that hair color is a "high-commitment" category, which was an opportunity to address shoppers reluctant to take risks. By removing the uncertainty of results, Blayac argues, the company is able to resolve a key pain point.
Looking ahead, L'Oréal could potentially explore similar models for skin care and sophisticated makeup products.
How it Works
The Color & Co system allows users on the brand site to speak to a live color consultant via video for 10-15 minutes. During that process, the colorist gets to know what consumer's hair history is, their natural color, current color, hair goals, etc. The colorist then prescribes a color formula, which the shopper can then purchase for delivery in three to four days.
Blayac explains that colorists will warn away clients if their want is too risky, for instance, a drastic hair change that should only occur in a salon.
When the color set arrives, the Color & Co kit provides personalized instructions and a video how-to to ensure the application process is as easy as possible, further ensuring the quality of results.
If the shopper prefers not to engage in the video consultation, the site can lead them through a quiz that elicits similar info as the video consult and generates recommendations.
In either case, says Blayac, Coor & Co is able to deliver an "infinite" palette of color results.
Shoppers can make one-time orders ($26.19) or get color subscriptions ($19.90) that automatically generate retouching kits.
Points of Difference
Blayac acknowledges that Color & Co is far from the first direct-to-consumer brand to offer personalized at-home hair coloring products but believes current survey models used by some brands may run the risk of self-reporting data in which the consumer may not provide accurate data.
At the same time, Color & Co's video consultations give the brand a clear point of difference, along with the technical formula expertise available via the wider L'Oréal organization.
Color & Co is able to deliver a team of colorists via an Uber-like model in which colorists make supplemental income by providing consultations. Blayac says that the careful scale-up of the program is required to ensure shoppers are able to access the consultants when needed.
The brand is building a network of colorists who speak different languages or have experience with working with textured hair types to ensure a truly universal service for all consumers.
Reactive, Independent
Color & Co was founded independently but incubated at L'Oréal. The brand was able to leverage L'Oréal's massive infrastructure advantages without moving through its layers of bureaucracy. Blayac notes: "You have to be reactive and close to your customers." He adds that this system allows Color & Co to deliver strong technology and formulation solutions; for instance, digital experts from L'Oréal brands contributed to the development of the startup's system.
Color & Co runs independently and is focused solely on at-home color and direct-to-consumer, with no plans to deliver product to store aisles or salons.
The Future
Color & Co is rolling out with mostly digital marketing, to begin with, primarily via Facebook, Google keywords, etc. Blayac explains that the brand doesn't want to grow too fast, too quickly, and seeks to manage consultant resources and scale up evenly.
At the same time, its AI quiz is learning from results to make the quiz more and more accurate.
Color & Co is reaching into the male category by addressing the "shame effect" men feel about color changes that may be too perceivable. The company is working to deliver "undetectable results," he says, for instance, sheer coverage that can progressively shade in the grays. Meanwhile, direct-to-consumer allows shoppers to engage in color without having to stand in line holding a box.