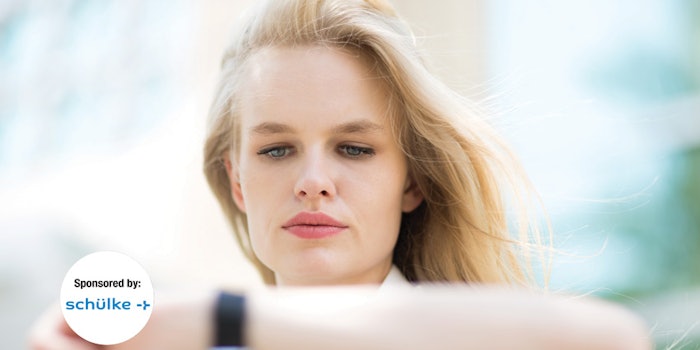 You can create an outstanding hair care line that gives consumers runway-worthy hair. You can tout your company's commitment to sustainability and eco-friendly practices. But, can you give consumers the one thing they really want—time?
Earlier this year, OnePoll conducted a survey on behalf of Garnier Fructis and found that American women are reportedly feeling even more time-crunched than ever before.
Not only did the survey reveal that the average woman feels she needs 82 more minutes per day to accomplish everything she would like, half of the women surveyed said they've given up a personal hobby due to lack of time. And one in 10 women said they'd be willing to give up their significant other for more time.
Brands and suppliers that deliver beauty products to beat the clock are onto something—especially when it comes to a task as time-consuming as hair care. And, as consumers are unwilling to compromise on a product's eco-friendly stance or its efficacy, a brand that can provide it all will find they're right on time.
In-Shower Innovations
For most women, a great hair day starts in the shower—and it's a huge perk if the shampoo process is quick and easy. Enter the Foaming Shampoo formulation from Lubrizol, a water-thin, sulfate-free formula with creamy lather and conditioning properties.
"This formula is intended to be packaged in a stone foamer so the formula goes straight to a foam—and thus a lighter, easier-to-rinse formula that allows you to spend less time in the shower, consuming less water," explains Amanda Rehker, global marketing communications manager, Lubrizol.
When the effects of hair washing are long-lasting, that's fantastic. And when the effects of hair washing are visibly seen in the end style, that's even better. Garnier Fructis Sleek Shot In-Shower Styler, which launched earlier this year, brings styling into the shower and cuts down on the time, effort and energy of straightening tools.
"The in-shower technology with argan oil and plant protein wraps every hair strand evenly from root to tip, leaving behind no residue for a smooth, fast sleek look," says Louise Horgan, vice president of marketing, Garnier Fructis. "Simply add Sleek Shot to Sleek & Shine Shampoo at a one-to-one ratio, rinse and follow with conditioner, then blow dry as usual. Sleek Shot leaves hair smooth and sleek, allowing users to skip the flat iron and get on with their day."
The Dry Shampoo Revolution
Though not a new innovation, dry shampoo has caught on like wildfire in the past decade, providing a quick and easy fix for the time-crunched and the trendsetters alike. Many find that the ease of use, natural ingredients and great results just can't be beat. It's no wonder that the Mordor Intelligence (www.mordorintelligence.com) market research firm reports that the global dry shampoo market is projected to grow at the rate of 6.25% between 2019 and 2024, largely driven by dry shampoo sprays.
A favorite among dry shampoo converts is the Not Your Mother's Dry Shampoo line, created by DeMert Brands. Among the existing SKUs are Clean Freak refreshing spray, Plump For Joy body-building spray and Beach Babe texturizing spray.
"Not Your Mother's dry shampoo has a super fine formulation that absorbs oil and boosts volume," says Sarah Kieny, senior brand strategist, DeMert Brands. "There's a great variety of products to help add texture and volume, as well as a unique unscented formula."
New to the U.S. market is longtime Israeli brand, Natural Formula. This past summer, the company launched its collection of dry shampoos in the United States, emphasizing that the products are free from salt, SLS, talc and parabens.
Included are the Dry Shampoo for Dry or Colored hair, which is made with rejuvenating Moroccan oil to provide nourishment and moisture; and Dry Shampoo with Keratin, for straightened or keratin-treated hair, designed to keep hair smooth, soft and straight.
One Step Further
Brands are also going beyond dry shampoo to deliver quick and eco-friendly hair styling. In August 2019, Not Your Mother's added Glisten Up and Part Time to their lines.
"Glisten Up is our high shine, dry oil finishing spray—the perfect complement to dry shampoo," explains Kieny. "As you absorb oil at the roots, this spray adds life and vibrancy back to the midshaft and ends of hair."
She adds, "Part Time is our new air dry accelerator. This product helps dry hair noticeably faster while reducing frizz and enhancing hair's natural wave."
Both products not only lessen (and sometimes eliminate) the energy usage of styling tools but cut down on water usage as well.
Reducing Water Usage
"Using dry shampoo between washes as opposed to shampooing every day can save on average 17.2 gallons of water with each wash day skipped," says Kieny. "On average, dry shampoo users can save around 86 gallons of water a week."
And, in parts of the world where water is a scarce resource, that's especially important. This past spring, Procter & Gamble launched its Waterl
The range, which was designed to cater to all hair types without needing to use a single drop of water, includes a lightweight Foam Dry Shampoo, a residue-free Dry Shampoo Spray and Dry Conditioners. The line also features innovative, alcohol-free Hair Refreshers, which are designed to give hair an odor detox and provide instant refreshing and nourishment.
"With South Africa battling severe climate change, we are excited to partner with P&G Beauty to provide consumers with this world-first innovation in waterless hair care that will not only help them reduce their impact on the environment, but change the way they look at hair maintenance," said Jamie Lane, head of trade at Clicks.
The Future is Trending Greener
"Hair Care Ingredients: Flexible Formulations for Evolving Consumer Preferences," a 2018 report by Euromonitor,a found that consumer concerns over ecological issues and safety have merged to drive a widespread shift in ingredient innovation.
The report notes that natural, biodegradable and responsibly sourced products are increasingly popular among global consumers, most notably in Asia Pacific, Latin America and Europe. Among leading concerns are natural ingredients, plant/botanically derived materials and free-from claims, according to the Euromonitor report. Also notably large are the numbers of consumers focused on elements such as water efficiency.
Furthermore, the report notes that ingredient innovation has followed three key pathways: milder surfactants and preservative systems, plant-based materials, and food-inspired ingredients which have both cultural and eco-friendly credentials.
Footnotes:
aAvailable via Euromonitor's proprietary data and insights platform; www.portal.euromonitor.com.
Lisa Doyle was formerly the associate editor of Global Cosmetic Industry and is a freelance writer in the Chicago area. Her work has also appeared in Skin Inc., Salon Today, Modern Salon, Master Barber and Writer's Digest.