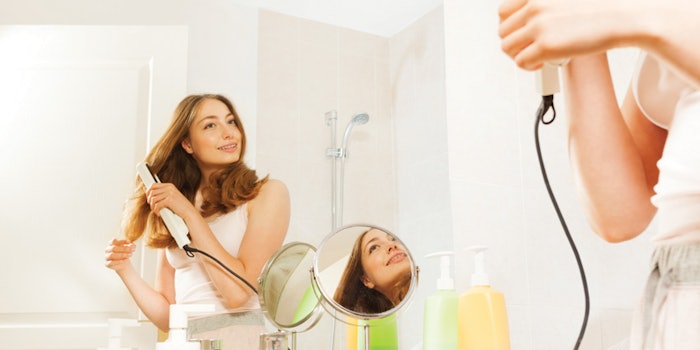 Recently, there has been a strong movement for men and, especially, women with wavy, curly and coily textures to wear their hair in its natural state. Natural in this case means avoiding damaging chemical processes such as relaxing or other chemical straightening techniques.
However, there is still a large population across all hair types that is straightening its hair with heat styling appliances for diffusing, flat ironing or blow-drying to achieve a temporary straight look. With the use of hot tools still going strong, there is a need for heat styling ingredients in formulations to provide flexible hold, protection, restylability and the flawless look that consumers are desiring in their hair care products.
Flexible, Restylable and Invisible
No longer are the days of the "hard-hold helmet head" looks we remember (or try to forget) from the 1980s and 1990s. Today, consumers are looking for more flexibility in their styles and searching for products that help showcase the hair's natural movement. In fact, the number of hair care product launches in the United States and Canada showcasing claims of "flexible hold" and "restylability" has increased 35% from 2018 to 2019 (GNPD, 2020).
Unlike the heavy, rigid products of the past, flexible hold formulas are workable and made for anyone who wants amazing styling results without feeling like they have product in their hair. This "invisible" trend has been gaining traction as well, and according to a 2019 Mintel GNPD reporta, 17% of 18-24-year-olds in the United States do not like the way that styling products feel.
The quest is on for a flexible hold that will still allow natural curls to bounce and straight strands to tousle. For those with curly hair, flexible hold keeps curls in place but is adaptable enough for restyling. The key is a workable style that can be adapted quickly with minimal effort.
Needs Between Washes
It's also no secret that people are washing their hair less frequently. According to Mintel's "The Future of Haircare, Styling & Colour: 2020," 34% of hair care users in the United States agree that frequent washing can damage their hair, so they avoid it. Consumers want to protect their hair and scalp from over-washing and try to maintain some of the natural oils they produce, while avoiding product buildup.
As consumers' wash days are becoming less frequent, a need emerges for lightweight products and ingredients that can offer the ability to style with hot tools and then restyle without having to go through the whole cleansing process all over again.
In addition to a flexible hold and lightweight feel, consumers are looking for added benefits like frizz control, taming flyaway hair and heat protection. Restylability performance claims indicate to the consumer that the product will help them achieve these goals. A soft, touchable finish with a long-wearing, natural-looking hold is the priority, with other benefits expected from the product performance.
For the full article, check out Global Cosmetic Industry's October 2020 digital magazine.