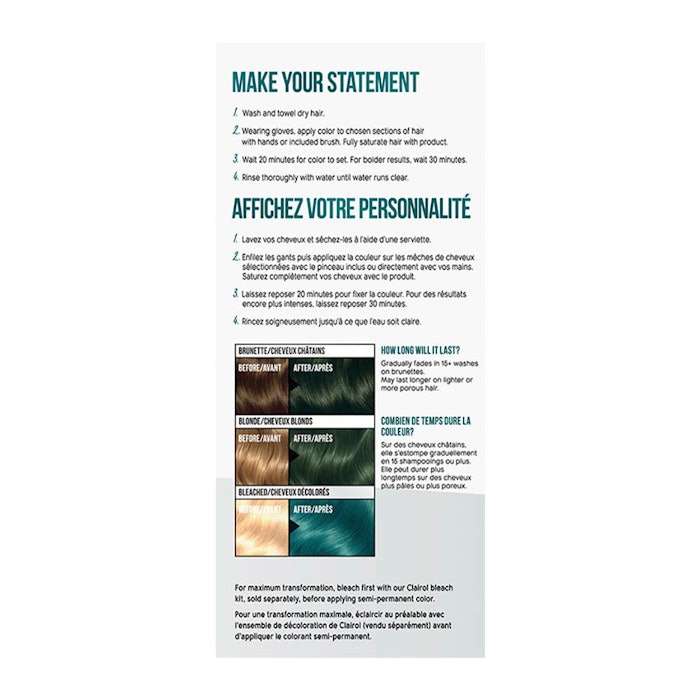 As Clairol unveiled the launch of its Color Crave Hair Makeup and Color Crave Semi-Permanent Color, Jeb Gleason-Allured, editor in chief of Global Cosmetic Industry, interviewed Heather Carruthers, VP, global and U.S. marketing, Clairol, to discuss the brand, its evolving consumers and what's next in the hair color sector. Here, we present Carruthers' first-person insights.
Experiment with No Limitations
Color Crave Hair Makeup is a washable hair color option that was created to achieve on-trend looks without the commitment of permanent color or the investment in time and money required to achieve these looks at a salon. It features 3D micro-crystals that temporarily bond to the hair's surface and coat each strand.
We created this knowing that there are consumers who want to play with hair color as often and as easily as they play with their fashion or color cosmetics, for example, like trying on a different shade of lipstick every day. They're looking to play with color to help express themselves and for that instant gratification. With Color Crave Hair Makeup, they can experiment daily with no limitations.
Easy Application
We wanted the application process to be as easy as possible, even for people who have never colored their hair. We created a squeezable tube with a sponge tip applicator tool that makes the application process quick, easy and fun. Just shake, swipe and blow dry to seal in the color.
Quick and Easy Semi-Permanent Color
Color Crave Semi-Permanent Color offers high-definition color for non-permanent wear with a creamy, no-mix, no-drip dye that coats the hair's surface. We created the formula to make the process quick and easy for the consumer.
Inspiring Confidence
In terms of packaging, one of the biggest barriers with home coloring is wondering how the results will look on your current hair color. We felt it was important to include in the packaging how it would look on blonde, brunette or bleached hair to help consumers choose and apply even the boldest colors with confidence.
Unapologetically Experiential
Compared to Gen X and Baby Boomers, Gen Z express themselves through fashion and beauty on a daily basis. They're more unapologetically experiential in these areas compared to older generations. Gen Z wants to experiment with hair color as often as they experiment with makeup, with the freedom to switch up their look on their terms.
Total Control
This young consumer is constantly craving new looks to complete her unique style. She doesn't necessarily see at-home color as a chore, but more of part of her beauty regimen to express herself and be in total control. She wants options for day-to-day when it comes to hair color and wants the option to change it up without a heavy investment of time and money.
Event-ready Hair
Most recently, hair color has been in demand among festival goers and, through social media, festival style is driving trends even for consumers who aren't attending. Leading up to Coachella we saw every trend, from holographic hair to highlighter hair.
Young consumers are very much making decisions per event, and most decisions around hair color are driven by temporary looks using hair chalk or wigs, which is why our new Color Crave offerings are more relevant than ever.
In addition, consumers want to accentuate their hair color for big life occasions such as prom, sweet 16, graduation or their 30th birthday bash. Consumers are eager and looking to change up their hair looks, and these products give them the freedom to experiment on their terms.
Bold, Expressive and Safe
As consumers are looking to be more expressive with their color, they're also increasingly concerned with the health of their hair. They want to feel good about the products they're using and how they'll affect the look and feel of their hair in the long run.
As the color expert, it's our job to constantly innovate to feed their cravings for natural looking color and bold, expressive looks, while developing formulas that address their concerns about damage and preserving the health of their hair. Color Crave is a major step forward in expanding their options and giving them new ways to experiment with color that are limited only by their creativity.