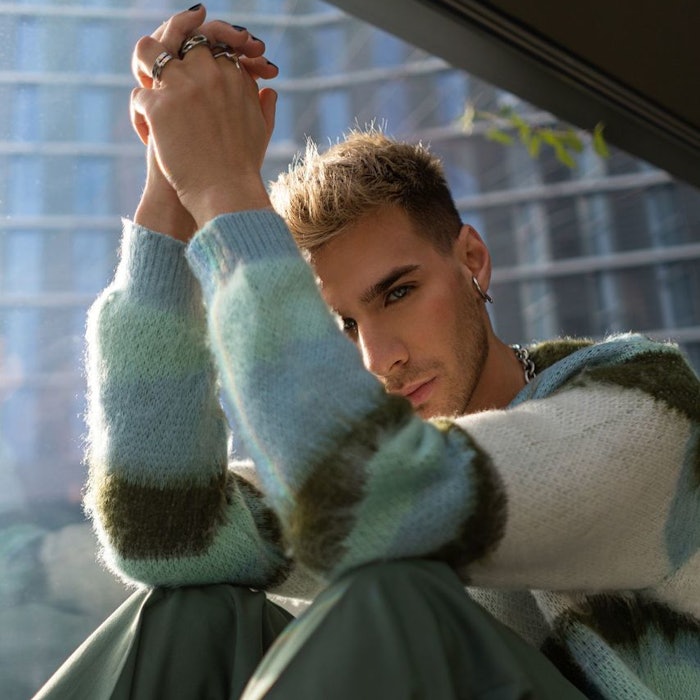 Tik Tok influencer Brad Mondo, founder and CEO of Xmondo Hair and Xmondo Color, describes his Tik Tok content as a blend of comedy, hair education and reaction videos. Mondo's goal is to educate people on hair, make them laugh and forget about life for a bit.
He enjoys posting videos that have an impact and help people laugh along with him. In this interview, Mondo shares his thoughts on how to create viral content, how to decide on the best brands to collaborate with and the different things that inspire him.
Mondo wants to show another side of himself as he grows on all platforms. He looks forward to being his raw, authentic self and working on more innovative product launches along the way. He encourages others to be themselves and, for those seeking to become influencers and entrepreneurs, one needs to put in the work and really want it.
How would you describe your Tik Tok content?
[BM]: My Tik Tok content is a blend of comedy and hair education and reaction videos.
What is the mission of your Tik Tok content?
[BM]: My mission with the content I put out on Tik Tok is to educate people on hair in an easy to digest manner. Also of course, to get people to laugh and forget about life for a few minutes.
What drew you to Tik Tok to begin with?
[BM]: I was bored during quarantine and heard of this new app that was getting popular and decided to give it a go. I really thought nothing of it at first. I definitely didn't think I would grow so quickly on it.
What do you enjoy posting about the most?  
[BM]: In the beginning I did some dancing videos. I had a lot of fun doing that. It was so different for me and really funny to record. People also for some reason really liked them, but since then I've retired from my Tik Tok dancing career. Now, I enjoy posting reaction videos. They're so easy to film but they're super impactful and allow people to have a quick laugh with me.
How often do you post? 
[BM]: I try to post on Tik Tok four to six times a week.
What's involved in creating viral content?
[BM]: A lot of strategy and a lot of absolutely no strategy. Some viral content is very contrived and some is not. There's definitely a formula for what's going to get attention, but sometimes I like to just post something that took me two seconds to produce and sometimes that works even better than the super planned stuff.
I sit down in a meeting once a week with my social media manager to talk strategy for Tik Tok and all other platforms. We look at what performed well, what did not and why and we conceptualize new content for the week for both me and Xmondo. 
When it comes to making a viral Tik Tok, it's all about catching people's attention quickly in the first one to two seconds of the video. If you can do that then the video will probably do well. People also love controversy, unpopular opinions, things that are shocking, or anything else that makes you feel a strong emotion. Content that makes people want to talk in the comment section about what they just saw really helps push engagement as well.
What inspires you? 
[BM]: Everyone else on Tik Tok. I love seeing so many creative people doing so many different things. I follow other hairdressers and I even follow people who make cool objects out of wood. I just love watching people be passionate about stuff. That's what inspires me to keep going and keep pushing on my own craft and continue to get better and better.
How do your fans respond to sponsored posts versus regular posts? 
[BM]: They respond well to sponsored posts. I'm extremely selective when it comes to sponsored posts. The brand I'm working with really has to align with me and my personal brand. I've never been someone who just takes every deal with a dollar sign attached to it. I've always been really conscious about how my followers will respond to a particular brand. If you bombard people with ads constantly it comes off very disingenuous and I've always been very conscious about that.
How do you decide which brands to collaborate with?
[BM]: Sometimes the process can take weeks, maybe even over a month. There is so much that goes into it. First, I think about if the brand aligns with what my beliefs are. Is this something that I would actually use or already use? Is this something my followers would like? Those factors are definitely [a] priority. 
After that, I always have to try the product for a few weeks before committing to actually introducing the product to my followers. I have to really understand the product and know what I'm trying to sell. After that we have to see if the budget is there. Fortunately, I've gotten to the place in my career where I can be more selective when it comes to deals because I have my own hair care brand Xmondo and my own things going that support me financially. So, the partnership really has to be worth my time.
What are some of your long-term goals as an influencer?
[BM]: I want to venture into other avenues besides hair. I love hair and Xmondo is my passion, but there's so much more to me than that. I want to show people another side of me. Other than that, I of course want to keep growing on all platforms. I want to continue to push out as much content as possible and keep reinventing myself.
What can your fans look forward to this year?
[BM]: More of me being my raw, authentic self. I plan on vlogging a lot more and showing the real Brad. I also have so many new hair color and product launches coming up this year for XMondo that I'm so excited about. We are continuing to work on new, innovative products that will really excite people.
Who do you follow?
[BM]: So many different types of creators. I follow people who bake cakes, fashion influencers, hairdressers, comedians, F boys, dancers—you name it, I follow it.
What advice do you have for aspiring influencers and entrepreneurs?
[BM]: Post a lot of content and be yourself. Being yourself seems like such a no brainer but so many people try to be something they're not on social media and people can see right through it. Just be authentic. Share your unpopular opinions and don't be scared of a tiny bit of controversy. Post four or more times a day. You're going to have to put in a ton of work in the beginning, but it will be worth it. You have to really want it. Try all different kinds of video content until one catches attention and make more of that, then start to niche down.
What makes a marketing partner fun to work with?
[BM]: When they're chill. I love when a brand comes with a good one pager of what they are exactly looking for from me, with great detailed yet concise notes. After that, I like to be able to produce what I want to produce because after all, I know what my followers respond to best. I love when a partner knows when to step back and let the influencer do what they were hired to do.