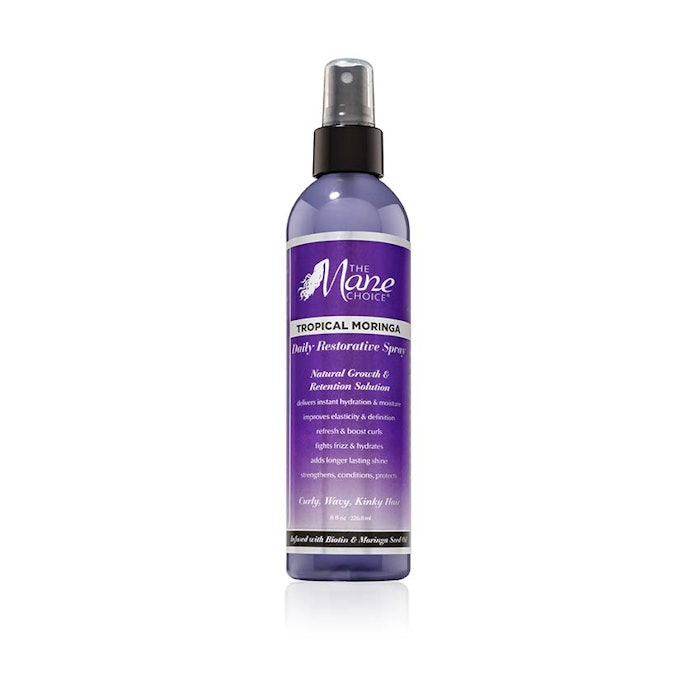 Cosmoprof North America 2017 hosted 1,278 exhibitors and more than 36,000 visitors. This year, the event enhanced its focus on emerging brands in the consumer and professional space, multicultural beauty as well as a significant focus on 49 "green brands."
What's next: • Belleza y Salud Bogota, September 27-29, 2017 • Cosmoprof/Cosmopack Asia, November 14-16, 2017/November 15-17, 2017 • Cosmoprof Bologna, March 15-18, 2018 • Cosmoprof North America, July 29-31, 2018 • Cosmoprof Mumbai, September 10-11, 2018 • July 29th through 31st, 2018.
The Mane Choice is a "healthy hair growth" company, said CEO and founder Courtney Adeleye. The brand has launched everything from shampoos and conditioners to complete hair-healthy vitamin supplements. "Everything is designed to transform the hair," she said.
A former nurse, Adeleye's search for better products that would allow her to grow out her hair led her to develop her own line. Her first product was a deep conditioner, which garnered media and consumer attention and made a name for the brand. Adeleye noted that seeing her then homemade product in an Essence magazine spread alongside large brands showed her that The Mane Choice could compete in the market. That was four years ago.
Adeleye explained that she learned to trust her gut instincts: "If it's your brand and you stand behind it … if you can believe in it you're going to push it."
She added, "Presentation is everything, so don't cut any corners. If it means you have to take a step back or take a little bit longer [to launch a product] then do that. Because sometimes you only get one shot."
The brand launched to retail roughly 18 months ago and is now featured in more than 20,000 stores in the United States. Adeleye noted that The Mane Choice has been growing about 300% per year as a result of this rapid expansion.
The company's team has grown to support growth, but Adeleye continues to oversee product development and consumer engagement. She explained that many of her consumers pick and choose products among a wide range of brands in order to formulate the perfect hair care cocktail for their needs.
In response, Adeleye has worked to create a brand comprised solely of products these shoppers can believe in.
The Mane Choice has several lines, including Pink Lemonade for curly hair, Ancient Egyptian for anti-breakage and repair, a moisturizing range, a growth range and a kid's line. The company has also moved into the body care segment.
Adeleye explained that a single consumer may use products from multiple lines depending on their circumstances day to day and that she continues to respond directly to consumers' questions via social media.
She concluded, "They're coming to you for a reason, so answer their questions because it might determine whether they purchase a product or not." She added, "This consumer is reading the labels. They want to know about particular ingredients and whether they're necessary or harsh."
As for what's next, Adeleye noted that The Mane Choice is about to launch its male grooming line. In addition, while the brand sprung from the multicultural market, The Mane Choice is preparing to roll out a more general market hair care line.