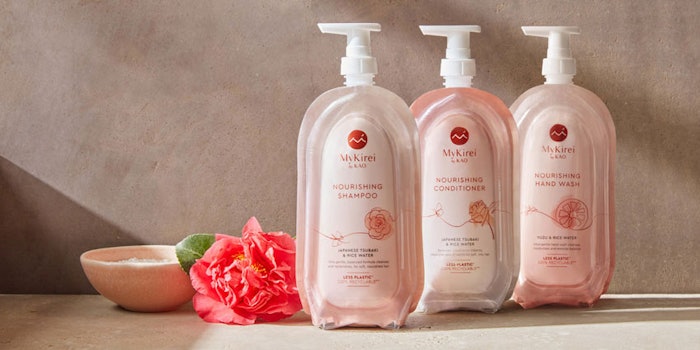 Kao USA, Inc.'s MyKirei is a collection of personal care products created to promote sustainability and simplicity.
According to Karen Frank, president Kao USA, "In Japan, Kirei has many meanings. It can describe beauty and cleanliness, as well as simplicity, balance and sustainability. The Kirei sensibility has always been unique to and treasured by the Japanese people. With MyKirei, we are bringing this wisdom to the Western consumer with innovation for a gentler, more sustainable way of living."
The company stated that MyKirei products contain vegan, plant-based formulas that are 95% biodegradable and packaged in innovative, eco-friendly delivery systems. Products include MyKirei Nourishing Shampoo, Conditioner and Hand Wash, each containing Japanese ingredients, like yuzu fruit, rice water and Japanese tsubaki flower.
The products' packaging reportedly uses up to 50% less plastic than traditional personal care bottles. Kao explained that MyKirei bottles gain their rigidity through an air fill, allowing them to stand upright, like a traditional bottle. The bottles were created using a watertight design that prevents contamination and also allows the user to use nearly every drop. According to Kao, its competitors leave up to three times more product in more traditional packaging.
Additionally, Kao has partnered with TerraCycle to create a program to allow consumers to recycle the package and the pumps post-use.
Kao plans to expand its MyKirei collection later in 2020 with new formulas and packaging.