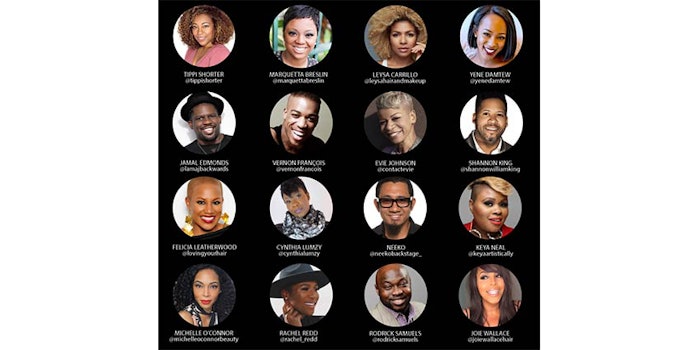 The Fabric of Change online event, by Sam Villa, highlighted the following 16 Black artists and educators, and raised over $7,500 to benefit the National Black Justice Coalition (NBJC) which helps to support equality and end racism, homophobia, and LGBTQ bias and stigma.
Related: Clean Beauty Steps Up for Black-owned Businesses
This group of artists represent a cross-section of some of the best-known educators in the industry. Their talents range from precision cutting, barbering, styling and finishing, specialty color techniques, business building/coaching, extraordinary editorial work and celebrity styling.
"The way for us to be better is to come together, and at Sam Villa we are committed to becoming more inclusive," Sam Villa, co-founder of Sam Villa and global artistic ambassador for Redken, said. "To do this, we must support and respect Black hairdressers and all textures and types of hair. We started with the Fabric of Change online event and will continue to share and support these amazing artists and others while demonstrating diversity in our future events. These educators deserve to be given a higher profile and stronger voice in the industry. Together, we understand the importance of removing boundaries and changing perception through education. If you aren't already following these artists, we encourage you to connect with them on social, tune into their digital events and experience their artistry live at future shows and events. I know you'll be inspired and expand your knowledge!"
Villa continued, "The beauty industry has an important role and responsibility in breaking down barriers and promoting equality. We at the Sam Villa Company are committed to creating change. Rodrick Samuels expressed this relevant quote from Wayne Dyer, 'When you change the way you look at things the things you look at can change.'"