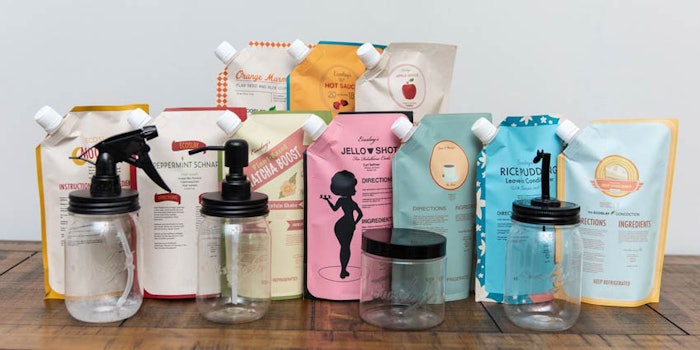 Ecoslay has moved away from plastic bottles to multi-use plastic mason jars and kraft paper refill pouches for all its hair care lines. This packaging update is said to reduce its plastic usage by 80%.
Related: Rosie Huntington-Whiteley Launches Rose Inc.
The mason jars are dishwasher safe, approximately the same size as the brand's previous full-size bottle and feature an embossed Ecoslay logo. Consumers have the option to use their own containers. 
The kraft paper pouches are spill-proof and recyclable, falling within category #7 of recyclable materials. The pouches are lightweight, which reduces shipping-related emissions. They have a removable cap, allowing the product to be dispensed in mason jars or other containers. 
The kraft paper can be kept in the fridge until ready to be used, and the paper expands at the bottom, letting it stand unsupported in the fridge.
"Our hope is that this change sparks additional small eco-friendly changes that our customers can make," said founder Adria Marshall.
Ecoslay's latest products:
Orange Marmalade: made with flaxseed and agave nectar extract, aloe vera juice and sweet orange essential oil.
Banana Cream: combines banana, avocado, okra and coconut cream.
Ginger and Moringa Tea: teatime detox that is said to boost hair benefits including sealing in moisture, increased style longevity, manageability and strength.
Moonshine: includes jojoba, avocado, sweet orange, ginger, cinnamon and lemongrass.
Matcha Boost: The green tea-derived extract combines hydrolyzed quinoa and keratin.