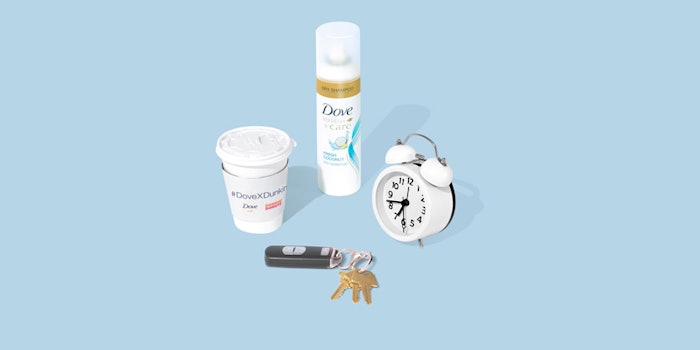 Thanks to the inevitable snooze button, jam-packed work schedules and busy social lives, today's women need some extra help getting out the door in the morning and making it through the day. Dove and Dunkin' have announced a partnership "to celebrate ladies who are running on coffee and dry shampoo" in honor of National Coffee Day. Still think diamonds are a girl's best friend? 
On October 1, 2018, Dove and Dunkin' will host a pop-up styling café at Flatiron Plaza in New York City, from 7 am to 3 pm. Visitors to the Dove x Dunkin' Styling Café will receive a free small hot or iced Dunkin' coffee—while supplies last—and a complimentary mini-styling appointment using Dove Dry Shampoo. Also available at the pop-up will be exclusive Dove x Dunkin' merchandise, including tote bags, hair ties and travel cups.
Additionally, the partnership will offer a chance to win a year's supply of Dunkin' coffee and Dove Dry Shampoo. The brands are asking contestants to submit a photo of their busy morning and share why they run on coffee and dry shampoo via Instagram, Twitter and www.DoveXDunkin.com., using hashtags #DoveXDunkin and #DxDSweepstakes. Entries are open until November 8, 2018. 

"Social media has exploded with women sharing how coffee and dry shampoo are their secrets to getting up, out and on with their day... taking them from the gym, to the carpool, to the boardroom," says Piyush Jain, vice president of Haircare for Unilever. "We're excited to bring together this unlikely but perfect pairing in a surprising collaboration between Dunkin' and Dove Dry Shampoo." 
"This National Coffee Day, we're excited to be running with Dove as we show our appreciation for busy, on-the-go women who turn to coffee and dry shampoo to fuel their days and save time," said Patricia Healy, senior director of integrated marketing for Dunkin'. "As a brand that's all about unparalleled convenience, we celebrate life hacks like this that get and keep people running each and every day."