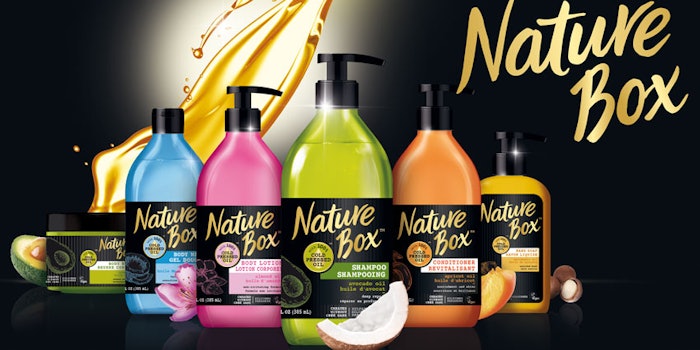 Henkel has announced the launch of its new beauty brand, Nature Box.
Henkel explains that Nature Box was created by combining cold-pressed oils and sustainably sourced ingredients. The brand features five product lines comprising hair and body care offerings, including shampoo, conditions, hair treatments, body wash, body lotion, body butter and liquid hand soap. 
The cold-pressed oils used in Nature Box are reportedly neither refined nor processed and come from coconut, avocado, apricots, almonds and macadamia nuts. 
Additionally, all Nature Box packaging includes a How2Recycle label, meant to provide consumers with the information needed to properly complete the recycling process.
Product lines include:
Avocado: Meant to replenish skin;
Coconut: Meant to hydrate skin;
Apricot: Meant for glowing skin;
Almond: Meant to moisturize sensitive skin; and
Macadamia: Meant to nourish skin.
Product prices range from $3.49-$8.99.