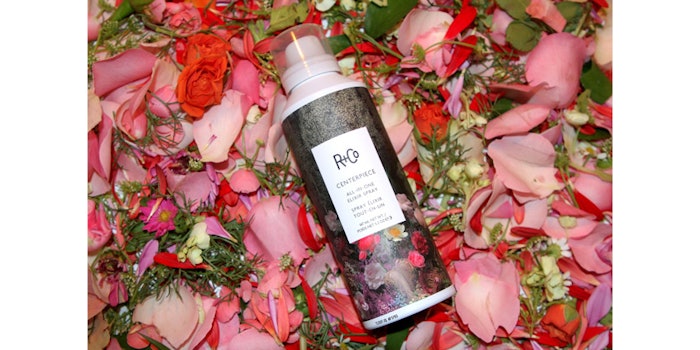 R+Co's Centerpiece All-in-One Elixir Spray was created to be "a single product that does it all."
According to the company, the lightweight, multi-tasking styling spray is meant to fight frizz, hydrate, repair and fortify hair. 
Key ingredients include sea buckthorn seed oil, lemon peel extract, hyaluronic acid and sugarcane extract. The spray's fragrance, Dark Waves, contains notes of cardamon, pineapple, tangerine, lavender, bamboo and blonde woods. 
Users are instructed to spray the product onto clean, damp hair, comb through and style as usual. 
During the upcoming Beauty Accelerate, event attendees will be given the opportunity to participate in a roundtable session with R+Co's CMO, Elizabeth Maul. Maul will host "Thought Leadership from a Multi-brand Professional." 
The 2019 Beauty Accelerate Pre-show Program is now LIVE! Check out what is inside here.