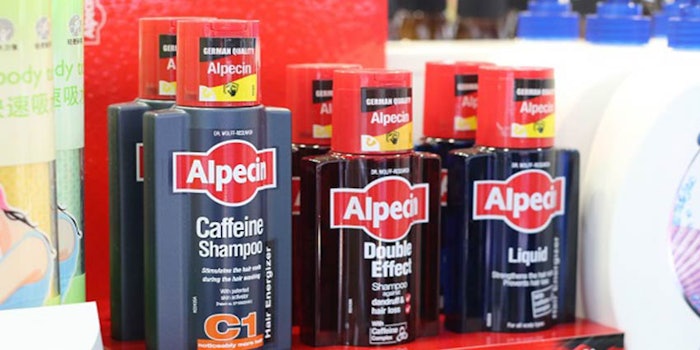 DKSH, which was recently appointed by Edgewell Personal Care to provide marketing, sales, distribution and logistics services for its personal care products across Malaysia and Singapore, has introduced Dr. Wolff Group's hair care brand Alpecin in China.
The brand is already a hair loss shampoo leader in Germany, Switzerland, Austria, Great Britain, Romania and Hong Kong, and has been introduced in Malaysia, Singapore, Taiwan and Thailand.
"The business performance of our brand in the Asian market has been tremendously successful"
The first three products introduced will be sold exclusively at Watsons. DKSH Business Unit Healthcare will provide registration, importation, sales, distribution, logistics and collection services for Dr. Wolff's products in China.
"It is our honor to work with Dr. Wolff and expand our collaboration to China," said Teresa Chen, regional vice president, business unit healthcare, DKSH China, Hong Kong, Korea and Taiwan. "We have a proven track record for successfully helping our clients to grow beyond traditional healthcare channels, leverage the growing potential of retail channels and expanding their market shares across Asian markets. With our in-depth understanding of the local consumer markets and broad capabilities, we will help Alpecin expand in the way that best fits the local shopping behavior and retail environment."
"The extension of our partnership with DKSH to enter China shows our confidence in the collaboration," said Eduard R. Dörrenberg, managing director, Dr. Wolff Gruppe. "The business performance of our brand in the Asian market has been tremendously successful. There is no doubt that the strategic thinking and diligent operation of the DKSH team have contributed to the substantial growth and penetration of Alpecin in the Asian markets,"