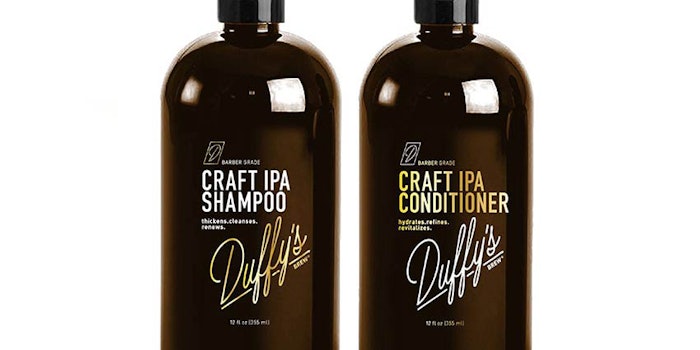 Duffy's Brew "Original Craft Beer Shampoo," the signature brand of the Boston Grooming Company LLC, has launched a new look and feel to the brand, as well as reformulated shampoo and conditioner containing grains and botanicals.
The brand, formed in 2010, has also brought in new partners and investors "to gain market insight and reinvent the brand." Bret Williams, former owner of Vermont Hard Cider Company and current board member of Montauk Brewing Company, has invested in the brand and is advising the founders on expanding the personal care line.
The repositioning of the brand focuses on artisinal quality.

The company's new image was produced by Resource/Ammirati, An IBM Company. The repositioning included an apothecary bottle with a new label that focused on the craft IPA ingredients and retro logo.
"We've experienced unprecedented growth over the last six years," said Ashley Carrier, co-owner and CEO of the Boston Grooming Company. "As more studies reveal the harmful effects of chemicals in everyday products, the move towards buying healthier consumables are in greater demand. New segments of buyers purchasing Duffy's, including women ages 21-45 that comprise half of our annual sales, meant that it was time for us to reintroduce Duffy's Brew to the marketplace."
She added, "Duffy's is poised to make a significant shift in the personal care industry and compete with well-known brands. Our authentic formula, and all-natural products being unveiled, play an important part in how buyers are evolving past the big name conglomerates in favor of holistic, artisan ingenuity for healthier, more impactful living."