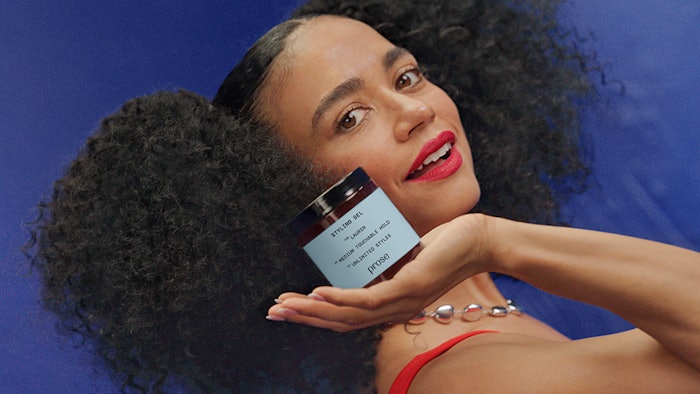 Prose has launched the Custom Styling Gel multi-use styling formulation that reportedly adapts to the user's particular hair texture.
The gel comprises 97% ingredients from natural origin, particularly aloe vera, okra and sea moss, to deliver lasting hold, versatility of looks, curl definition, hydration and frizz prevention.
It retails for $30 and is available in three hold levels: soft, medium and strong. It also comes in a range of fragrance options made-to-order in the United States and Canada on Prose.com. 
The formulation was developed in cooperation with curl experts Giovanni Ferrer; The Quann Sisters, Cipriana Quann & TK Wonder; founder of Naturally Curly, Michelle Breyer; and hairstylist and curl expert, Ona Diaz-Santin.
These experts have joined Prose's Haircare Advisory Board, which also features celebrity hairstylist and founder of hair scholars, Camille Friend.
The brand is launching the gel with a Curl Outside the Lines campaign featuring its first brand ambassador, Lauren Ridloff, the first Deaf actress to play a Marvel superhero in the Eternals.
Ridloff is depicted in the campaign creative featuring curly and coiled hairstyles.
"At Prose, we believe that curls have no limits and we're proud to introduce this incredible new Custom Styling Gel, specifically catered to curly and coily hair types," says Prose CMO Megan Streeter. "We are honored to spotlight Lauren Ridloff in this campaign—she authentically embodies our 'Curl Outside the Lines' mantra in her everyday life and is an inspiring advocate for expressing individuality, and the freedom to style and experiment. We hope this helps encourage our community to continue using their hair as a form of personal expression."
"When my hair is natural and I have the freedom to play with it, I feel most comfortable," says Ridloff. "Go big, go slicked back, go braided, go crazy. I honor my hair and that is how I style it. I love my hair. My hair doesn't understand rules, doesn't understand rigidity. It isn't wild or crazy or difficult—my hair is natural. And to be natural is revolutionary. That's why I'm thrilled to work with Prose, a company that celebrates all unique personalities, hair types, and expressive freedom."