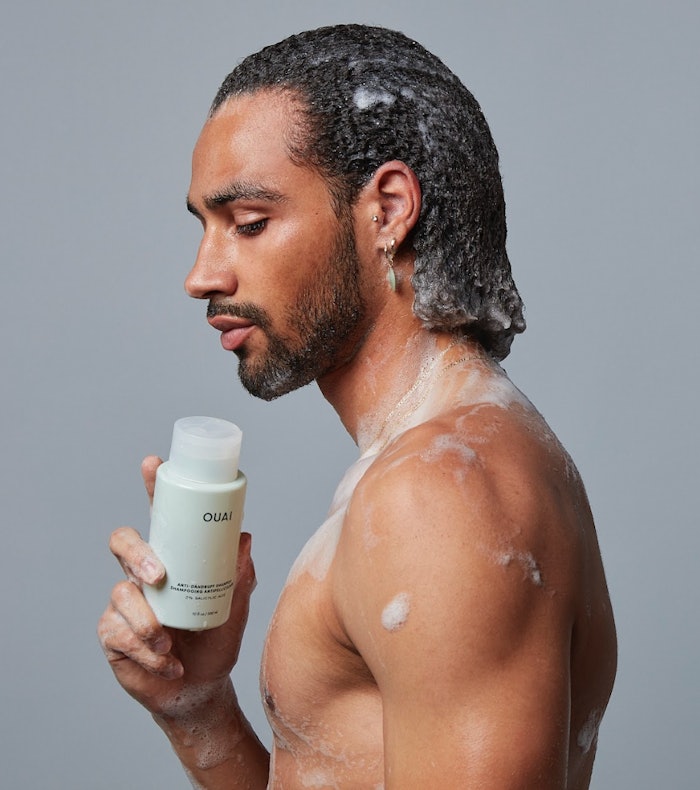 Ouai's new Anti-Dandruff Shampoo, its first containing an FDA approved ingredient, 2% salicylic acid, is formulated to relieve dandruff symptoms and break down dandruff-causing bacteria to soothe the scalp. The scent and packaging design are tooled to elevate dandruff care above the medicated, functional norms of the category, per the brand. 
Users will reportedly experience reduced flaking, itching and irritation.
In addition to salicylic acid, the formulation comprises propanediol caprylate, which has been shown to deactivate Malassezia for dandruff control.
The shampoo's "spa-like" Cape Town scent features notes of ginger, basil and spearmint.
The gender-neutral packaging is reportedly 100% recyclable. 
In a consumer study of 103 participants over 28 days, 92% of users purportedly reported that their dandruff had improved after using Anti-Dandruff Shampoo. 
The shampoo ($36; 10 fl oz/300 ml) is debuting today, December 12, 2022, on the Sephora App. It will appear on Sephora's and Ouai's websites on December 13. The brand will launch in-store at U.S. Sephora stores on January 6, 2023.
"Our goal with Anti-Dandruff Shampoo is to break the stigma of dandruff," says Ouai founder Jen Atkin. "One in five people has dandruff, yet it's still very taboo to talk about it. We are here to take the shame, embarrassment and discomfort out of having dandruff. From our formulation and clinicals, packaging, campaign, and especially fragrance, we are here to help you stop being flakey."
The launch originated from consumers sliding into Ouai's DMs, seeking help with dandruff.
"When we launched our Detox Shampoo, we received countless DM messages about whether it could also help stop dandruff, and while it's an incredible cleansing and purifying shampoo, it actually does not treat dandruff," explains Diana Prataziewicz Barnao, Oauai's director of education. "The launch of [the] Anti-Dandruff Shampoo quite literally was inspired by what [went] down in our DMs, and so we developed a specific anti-dandruff formula (made from FDA-approved 2% salicylic acid) that can also bring dandruff to the conversation that people tend to hide away from."
The product design was tooled to stand out in the category, Prataziewicz Barnao shares: "The product smells good, while the gentle formula works to reduce flaking, itching and irritation associated with dandruff that leaves hair feeling clean and soft."
The education director continues, "People come to Ouai to demystify topics that are confusing and we love to take products that aren't luxe, and elevate them to the next level. For example, Ouai took apple cider vinegar, commonly used in clarifying shampoos, and added Ouai's fragrance Melrose Place to Detox to elevate it. Now Ouai is doing the same with [its] Anti-Dandruff Shampoo."
Prataziewicz Barnao continues, "One in five people has dandruff, yet it's still very taboo to talk about it, and a big percentage of that are men. Our goal with [the] Anti-Dandruff Shampoo is to break the stigma of dandruff. This is the first time we're using a man in a product campaign because we understand the concern amongst the male community and want to offer a solution that's different from what's currently available today."
As for why the hair health sector is so hot right now, the educator has some theories: "Consumers have become more conscious about scalp care and how the scalp is key to healthy hair as well. The interest in hair—and the scalp category as a whole—has increased dramatically, with the top two hair concerns being hair thinning/loss and dandruff."
Prataziewicz Barnao concludes, "We've really noticed this demand from our community and wanted to act, giving them solutions. With Anti-Dandruff Shampoo, we've seen incredible clinical results, with 100% of users reporting that their dandruff had improved after using Ouai Anti-Dandruff Shampoo over 28 days, and 92% of users reporting improvement from our consumer perception studies. Earlier this year, we launched Ouai Scalp Serum that nourishes the scalp and prevents shedding, resulting in fuller, thicker hair, addressing the other top concern in hair health right now."