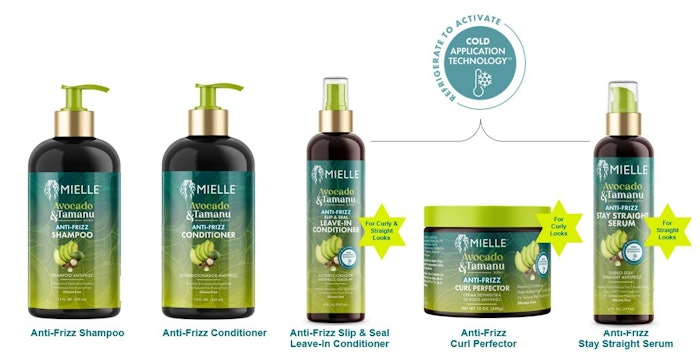 Mielle, which was acquired by P&G in January 2023, has launched the four-step Avocado & Tamanu Anti-Frizz System ($12.99 each) for textured hair, targeting frizz triggered by damage, dryness and humidity. 
According to spring 2022 Spate data, there were 2.4K average monthly searches for anti-humidity spray, a gain of 58.9% year-over-year, reflecting interest in frizz-fighting products.
Other rising search terms included "anti frizz spray" and "anti frizz serum," alongside terms such as "heat protectant."
At the time, Spate advised, "Brands should also consider the needs of different hair types and textures that react to frizz differently, and may require custom options." Mielle appears to have done just that. 
The range comprises the brand's skin-care-inspired refrigerate-to-activate Cold Application Technology closes hair cuticles tightly in place to block out humidity, per the brand, leaving the hair smooth.
SKUs include the Avocado & Tamanu Anti-Frizz Shampoo, Conditioner and Leave-In, and the Curl Perfector for curly looks or Stay Straight Serum for straight styles.
Key ingredients include cuticle-sealing avocado, which comprises potassium and magnesium for a smooth and shiny frizz-free appearance to the hair, and healing, follicle nourishing and shine-inducing tamanu oil, which is rich in nutrients like alpha-linoleic, oleic, palmitic and stearic acids.
"Finding new, innovative and effective ingredients for textured hair has always been a passion of mine," said Monique Rodriguez, co-founder and CEO of Mielle Organics. "We have been researching the combination of avocado and tamanu for some time now, considering their incredible benefits for beauty use. With the launch of Mielle's brand-new Avocado & Tamanu Anti-Frizz System, we are not only bringing them to the forefront of hair care but also fusing avocado and tamanu with our proprietary refrigerate-to-activate Cold Application Technology. It's the perfect marriage of science and nature."