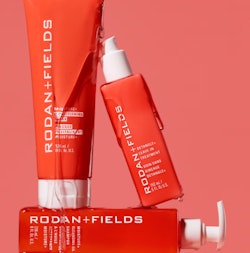 R+F ecommerce page
Like a growing number of its skin care peers, Rodan + Fields has expanded its hair care category offerings with what the brand describes as a "scalp-first approach."
The new Moisture+ Regimen joins the Volume+ and Smooth+ ranges, launched in 2022.
The Moisture+ Shampoo comprises rambutan seed extract for moisturization and scalp/hair defense, coconut oil for additional moisturization, luster and frizz control, and an amino acid blend to condition and support color retention.
The Moisture+ Conditioning Mask features the brand's signature RF TriEnergy Complex to boost the scalp's cell energy and strengthen its skin barrier, skin peptides to repair and protect hair, while also adding shine, coconut oil, and silk peptides for hair shine, repair and protection.
Finally, the Detangle+ Leave-in Treatment features the RF TriEnergy Complex and silk peptides, coconut and botanical oils for shine, slip and frizz control, and jojoba and sunflower extracts to boost manageability and reduce breakage. 
To support growth in the hair care sector and generate education and content, the brand has partnered with celebrity hairstylist Bridget Brager, as well as stylists Suzette Boozer and Denise Madrigal.
"As we reach the one year milestone since launching R+F Haircare, our newest category continues to represent a significant opportunity for our R+F community to change more lives through reaching new consultants and customers," said Dimitri Haloulos, CEO and president, Rodan + Fields. "We are thrilled to bring this latest innovation to market and continue on our path of providing dermatology-created products to deliver demonstrable results that customers need for the best skin and hair of their lives."
"Working with Rodan + Fields over the past several years has been an incredible experience in helping to develop regimens that deliver real results while educating and giving people access to products that provide a strong entrepreneurial opportunity," said Brager. "I am thrilled to work with the entire team at Rodan + Fields to bring the Moisture+ Regimen to everyone."