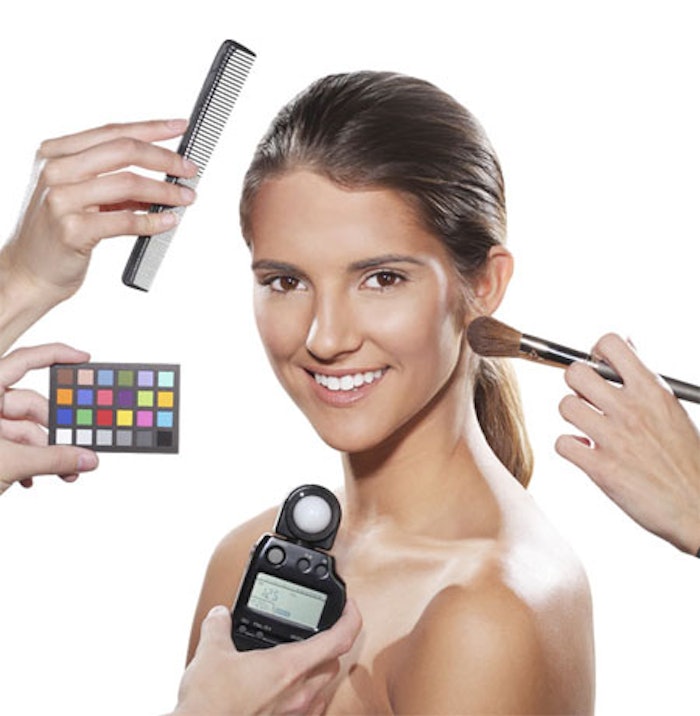 Good research can help you understand the mindset of consumers and develop images that will appeal to their sensibilities.
Since the model is the visual ambassador for the brand, choosing the correct face is crucial.
Even the most beautiful face can look harsh under the wrong conditions, so beauty photography, therefore, requires total control of the environment.
Even with all the preparation, on-set technique and postproduction magic involved in a beauty photo shoot, the audience ultimately needs to be able to identity with the image of beauty presented— even if it is idealized.
Photographer: Jesse Hill; Art Director: Aniko Hill; Model: Amanda Riley/Ford Models; Makeup and Hair: Hilla Peer; Photo Assistant: Stephanie Cottle
Watch the video of the set-up.
To create a successful brand campaign, all the touchpoints must be in harmony to communicate a consistent and meaningful message to the consumer. One of the keys to successful branding is developing an emotional connection between the brand and the market, and out of all the brand touchpoints, photography can be a one of the biggest elements in making this connection possible. People are inherently drawn to images of other people, and the photographic image that represents the brand can be the difference between whether a consumer will relate to the brand or not. The specifics and details of the photographic image are critical as the image will ultimately be one of the most direct and clear expressions of the brand that the consumer sees.
Producing a successful photo shoot is an endeavor no matter what the category, but a beauty photo shoot is a unique specialty. There are many layers, moving parts and essential ingredients involved in producing a professional shoot, and the stakes are high­—not just due to cost but because of the importance of the end result. Much like other creative projects, it's similar to baking a cake: if one ingredient is off just a little, the whole project can "fail to rise" and you'll have to throw it out and start over—at your expense.
Although good photography is highly nuanced, hard to measure objectively and has no fixed rules, understanding the basics of the process is the first step to achieving success with the end image—and ultimately with the desired emotional connection to the consumer.
Research
Before any brand development work takes place, the most important phase is research. Research is often overlooked, but is actually the essential blueprint for your brand and can actually save you a lot of time and money down the road. Research serves as a reference point and source of inspiration as your brand's image evolves. It is critical to analyze what your competition is doing and saying to define and maintain your competitive edge and to fully understand your customers before you can begin communicating your brand message to them.
If thorough research is done in advance, this information will be invaluable when casting the appropriate representative for your brand in beauty photography. In addition to identifying a brand's target consumer, good research can help you understand the mindset of consumers and develop images that will appeal to their sensibilities. Models that embody this mindset can then be cast to best express the brand personality and appeal directly to your target audience.
Casting
When it comes to beauty images, the face is everything—especially in advertising. It should quickly communicate the mood of the brand's message and embody the target market's mindset before the viewer has a chance to read the copy. Since the model is the visual ambassador for the brand, choosing the correct face is crucial.
A professional casting session with an art director and photographer team present is the most reliable method of selecting talent. In addition to selecting the right face for your brand from a strategic point of view, an experienced team can see how models will perform on the shoot day based on how they interact with the camera. Since the models will show up in street clothes and with unstyled hair and no makeup, an experienced photographer and art director can spot difficult or unreliable faces and accurately envision the final result. Casting from model cards alone can be unpredictable. In its work with clients, The Kitchen Collaborative has had models come to castings that have dramatically changed their hair, weight or overall appearance so much that it makes them unrecognizable in comparison to their model cards. If not caught early, an unexpected appearance can sabotage a carefully planned photo shoot, and the model is often impossible to replace at short notice.
When putting together a casting session, it is also critical to consider where the models are represented. Professional models that come from reputable agencies are worth their day rates because they are professional, have invaluable experience and can deliver strong, targeted, on-brand looks consistently. By working with leading agents, a casting session can be quickly produced, yielding dozens of new faces in a single day. It is also possible to hire up-and-coming future stars if casting from reputable agencies in Los Angeles and New York (many of the models The Kitchen Collaborative has worked with on smaller jobs have gone on to become the faces of national ad campaigns).
Working with discount agencies or casting from sources such as Craigslist.com is inherently risky; in general, if models are truly qualified for a professional campaign, they will be represented by a reputable agency. The "you get what you pay for" cliché can't be stressed more here: The model is the most public and recognizable representative for your brand, and good talent is worth their weight in gold. In some instances, companies may actually seek out raw talent if that particular look and feel is needed for their ad campaign. For example, American Apparel is known for utilizing amateur models and photographs in its marketing collateral to achieve its offbeat and edgy brand message. Other famous campaigns, such as those from Abercrombie & Fitch, have utilized talent that was cast "off the street," but weeks of scouting are required to achieve this objective, which requires a lot of time and billable hours. For this reason, the most economical, professional, efficient, and reliable route for casting is through reputable agencies.
Team
Photo shoots can be one of the more costly elements in a brand campaign as there are a lot of people, specialized equipment and miscellaneous elements involved in making them successful—and the bulk of the responsibility for the end result is on the photographer's shoulders. It is critical to hire a photographer who specializes in beauty and is supported by an experienced team—including lighting and digital assistants, stylists, makeup artists and retouchers. Even within beauty, most photographers have a specific visual and lighting style, but some are more versatile and can achieve a variety of looks. The former may be a good choice if you are seeking a specific look for a single campaign, and the latter is harder to find but can be incredibly valuable for a long-term relationship. Beauty and fashion photographers generally have a larger team of professional beauty associates, and can deliver on deadline, on brand and in tune with current beauty trends. A proven track record and established supporting team is insurance that the shoot will be executed to the best possible standard.
Assembling a fashion team is an art unto itself. A fashion team is generally comprised of makeup artists, hair stylists, manicurists, colorists and wardrobe stylists. Ideally, your photographer has worked with all the players before or has vetted their capabilities and knows what to expect with both their creative styles and on-set sensibilities. Whether or not you have worked with the fashion team before, make sure you have a pre-production meeting to ensure everyone is on board with the precise direction. Hair and makeup can last two or three hours in a shoot day, so adequate planning and clear direction is essential.
Pre-production
Arranging all the specifics of a shoot that is to be completed in a single 10- or 12-hour day requires meticulous planning and coordination. Producing a photo shoot is similar to planning an elaborate special event—several days or even weeks of pre-production can go into the production depending on the scale. On a larger photo shoot, a producer handles and coordinates models, casting, photo assistants, digital-techs, retouchers, location scouts, locations, permits, insurance, studio rentals, lighting and camera equipment, hair and makeup artists, stylists, props, prop stylists, wardrobe, wardrobe stylists, rental vehicles, transportation, travel, lodging, catering, equipment rental and set construction. Creation of a call sheet with identification and critical contact information for talent, crew and client—along with additional relevant information such as parking or special instructions—is essential. Keeping everyone on set is crucial; if you don't schedule lunch and breaks, cast and crew are forced to leave the set to eat, which can disrupt the flow and productivity of the day.
On Set
The morning of the shoot requires the models and fashion team to be the first in the studio, with two to three hours of hair and makeup before any shots are taken. During this time, the photographer and assistants are completing their final test images and readying the set for the first shot. If multiple models are planned, then multiple makeup artists, hair stylists and wardrobe stylists may be needed. Typically, the lead makeup artist handles the application of the makeup while an assistant makeup artist may handle the on-set maintenance.
The lighting in the makeup room is critical. Traditional mirrored lights aren't enough when showing the fine details of the face; on The Kitchen Collaborative's shoots, there have been numerous occasions where the model had to be sent back into makeup after shooting the first test image. Today's cameras are of such high resolution that every little mistake is amplified, and when the big lights go off all the imperfections are revealed. Sending models back and forth from set to makeup is incredibly time-consuming, and this is why it's advisable to provide extra lighting in the makeup room for beauty shoots.
A well-planned shot list is also essential in achieving all the images of the day. The photographer needs to know what equipment is needed for each specific shot and how to pace the day. To ensure that the shot list is executed as planned, it is important that the set operate smoothly. In general, the photographer is the only person who should verbally direct the model on set. This method keeps the model from getting distracted or confused, which in turn can slow down the day. It also ensures that the goals are communicated consistently and effectively; photographers are best accustomed to directing people and understanding the nuances of posture and facial expression.
Professionalism and focus are also critical elements, and it's recommended that cell phones and small talk be kept to a minimum on the set and in the makeup room.
Location
Oscar Wilde famously stated, "No object is so beautiful that under certain conditions it will not look ugly." This idea is particularly true in beauty photography; even the most beautiful face can look harsh under the wrong conditions. Beauty photography requires total control of the environment, and proper lighting is both an art form and a science—this is why most beauty shots are done in a studio. Although lighting can be done beautifully using a combination of natural and synthetic light sources, there are so many factors involved in the production that being in a studio makes the process more reliable and efficient.
A carefully selected location can add a sense of lifestyle and mood to the image of a beauty shoot. Location selection can be as comprehensive as a casting, and can require weeks of planning and scouting. Location photography is much riskier and often more expensive than studio photography. In addition to the extra rentals needed for a mobile production, there can be uncontrollable variables such as weather. If shooting at a private residence, public beach or park, or commercial interior, adequate planning needs to be done in advance to secure permits and releases for all production elements.
Postproduction
Before digital photography, the editing process was much more elaborate and time consuming. Now, the preliminary selection of the final images is often done on the set with the client as the images appear on the screen. From there, the ultimate selection of the final "hero" image should be done very carefully, and is usually left to the art director and client. The image then comes to life through retouching and color correction.
The use of Photoshop to enhance or correct images is well-known, but good retouching is when the viewer doesn't notice it. In fact, current research shows that women are very aware of the false imagery out there in the beauty world and are actually more likely to identify with a brand that shows a more realistic interpretation of women. More recently, the trend has shifted away from unnatural, "plastic" faces, and imperfections such as visible age lines are now seen in advertising photography. Dove is one brand that has embraced this concept, having recently completely repositioned the brand and now owning the idea of embracing "real" women. Regardless of trends, the amount of retouching should be appropriate to the product—a skin care shoot, for example, may require a more natural look while an edgy fashion or cosmetics shoot may require more stylized retouching.
Karl Lagerfeld once said: "There is no beauty without strangeness." To us this means in order for beauty to be believable, it has to be authentic. Even with all the preparation, on-set technique and postproduction magic involved in a beauty photo shoot, the audience ultimately needs to be able to identity with the image of beauty presented—even if it is idealized. If the image is manipulated too far beyond realistic standards of beauty, it can lose its emotional connection to the audience.
Jesse Hill, photographer and art director of The Kitchen Collaborative, realized his passion for photography during extensive travels through Europe and the Middle East, and attained his professional experience in large-scale photography productions working on premier advertising accounts such as Skyy Vodka, L'Oréal and Revlon. His photography is globally syndicated through Getty Images, and his images, including portraits of Oscar-winning actors and Grammy-winning musicians, have appeared in publications such as Cosmopolitan, Glamour, Rolling Stone and Time.
Aniko Hill is the founder and creative director of The Kitchen Collaborative, a boutique branding agency that works to create premium lifestyle brands. She has worked on branding projects for Boeing, Disney, Master Foods, Sony, Ketel One Vodka and Red Bull, and has taught advanced courses on branding and packaging design at The Art Institute of California. In 2008, Graphic Design USA recognized Hill as one of its People to Watch.