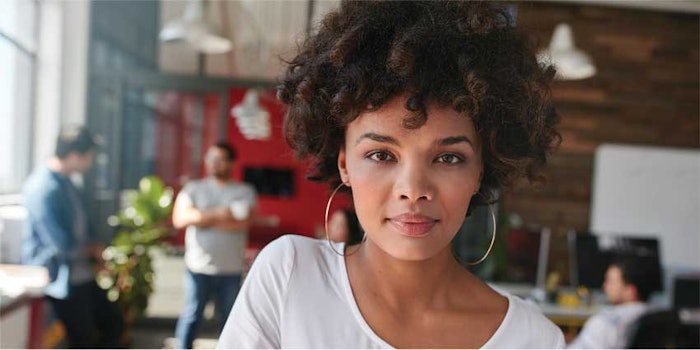 Themes of empowerment are at the core of many ingredient and formulation concepts presented at this year's NYSCC Suppliers' Daya, reflecting a broader social movement, shift in consumer sentiment and, naturally, a parallel marketing trend.
Recently, Clairol introduced Nice'n Easy's Color of Confidence campaign, which encouraged women to "color fearlessly," highlighting how a small change, like dyeing one's hair, can boost feelings of self-confidence. The brand's research focused on the real-world benefits of newfound confidence, including a greater tendency to speak up at meetings and show self-assurance at work. One woman—a consumer, not a professional model—told the brand that she had felt enough courage post-coloring to ask for a raise. (She got it.)
Elsewhere, prestige hair color brand Madison Reed vowed to use raw, unaltered photography in its advertising, similar to efforts by CVS' Beauty Mark program, which dispenses with retouched imagery in an effort to set more realistic beauty standards.
These are but a handful of the many examples of a shift in brand and marketing practices and align with consumer sentiment. During a presentation at in-cosmetics Global, Lia Neophytou, associate analyst at GlobalData, noted that about 33% of surveyed consumers claim social media has made them more self-conscious about their appearance. In addition, 53% of respondents sought out beauty products for a no-makeup or natural look that enhances, rather than masks, their features.
In a separate talk, Kseniia Galenytska, senior analyst, beauty and fashion, Euromonitor, noted that the way brands talk about aging or anti-aging is changing to avoid alienating consumers who feel left out by traditionally aspirational marketing messages. Therefore, marketing is increasingly focused on protecting and enhancing the looks of older consumers and preventing skin damage among younger consumers, rather than hiding or "fixing" the signs of aging.
Consumers are ready for a change. The industry is ready.
Get Your Brand Funded
One last note. The 2018 Cosmoprof North America conference in Las Vegas will introduce "Beauty Pitch: Angels" in collaboration with the Professional Beauty Association. The program allows independent cosmetics entrepreneurs with revenues between $500,000 and $5 million to present 15-minute closed-door pitches to investors looking to help bankroll up-and-coming businesses. The format will allow angel investors to hear several new ideas in a single forum. For more information, email [email protected].
Jeb Gleason-Allured
Editor in Chief
@GCI_Magazine
Footnote:
aLook for our show coverage online at www.gcimagazine.com and in the July/August edition of Global Cosmetic Industry.