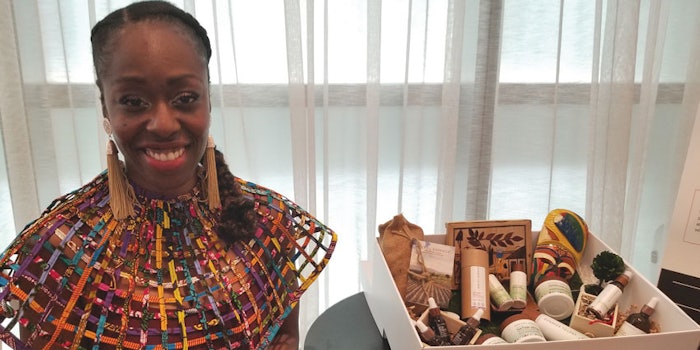 Indie beauty's explosion and its repercussions for investors, brands and retailers was the focus of this year's Beauty & Money Summit in New York. The event featured a range of brands focused on key consumer trends, including ethical commerce (Kreyòl Essence), inclusive beauty (Urban Skin Rx), natural formulations (Olive+M) and on-the-go lifestyles (Recess). It also offered insights from the key players that are shaping beauty's most dynamic sector.
Protecting Your Time & Money
Youth to the People attracted attention early on with its strong Instagram engagement and its position as a plant-based and clean beauty brand that had a unique urban, gender-neutral feel, compared to many other players in the market. Brand co-founders Joe Cloyes and Greg Gonzalez found that their early success led to unexpected growth—and unexpected costs. Now on the other side of a successful minority investment from Strand Equity, the founders encouraged other brands to raise more money than they think they need in order to establish a financial cushion.
Cloyes and Gonzalez also stressed the importance of protecting one's time by limiting commitments and projects as much as possible, noting "every yes takes up bandwidth." This means learning to say no, even when presented with engaging ideas that are, nonetheless, out of the scope of the brand's immediate needs and goals. They concluded by warning: "everything is always going to take more work than you think ."
Be Persistent & Go Bicoastal
Scentbird, a perfume subscription service, failed several times before perfecting its model. CEO and co-founder Mariya Nurislamova said that along the way she learned to stop focusing on getting yeses from prospective investors. She explained that she would push herself to reach out to 100 people and to understand that getting a "no" does not mean you are failing; it means you have to try again.
When selecting a partner, Nurislamova explained that the investor's values are as or more important than the funding they represent because an alignment of vision between brand and partner is critical to success. She also encouraged the New York crowd to consider raising money in the West, particularly Silicon Valley, where there is ample money and engagement with startups.
Finally, the CEO urged small brands to be sure to always have a plan B, C and D. When brands enter potential investor meetings with alternate plans, they are empowered and therefore more comfortable sitting at the table simply because a backup plan is in place. She added that brands must never hide things from early stage investors. Those resources are precious and can pitch in during a crisis. Alienating key relationships through omission or dishonesty can harm brands long-term.
Know Your Retailers: Ulta and Cos Bar
During a retail panel discussion, moderator Ariel Ohana, managing partner of Ohana & Co. Inc., noted that it is critical for brands to invest behind their retail presence because sales don't simply materialize on their own. She added that brands must learn the rules of each retail partner to ensure the partnerships are successful on both sides of the equation.
Heather Connelly, CosBar's buying and merchandising manager, shared the retailer's approach to assessing and working with new brands. She explained that, when reviewing new products or brands for the retailer, she focuses first on the packaging quality and design, then reviews the qualities of the formula(s) and, finally, considers the brand's points of distribution. If these all meet the CosBar's standards and fit within a strategic category it's hoping to expand, Connelly will take the conversation to the next level.
Connelly expressed disappointment that some brands aren't open to having a store carry only part of a product range. She said she often suggests that small brands start small, build their competency and then expand as they master each stage of growth. She added that slow growth across physical locations or even migration from online to in-store can teach brands valuable lessons before scale becomes an issue.
As for what CosBar is focused on now, Connelly noted that the retailer is dipping its toe in the supplement category, working with brands like Moon Juice, as well as developing its range of natural beauty, including brands like Kosas, and gender-neutral players like Aesop and Grown Alchemist. She added that while CBD products are on the radar, they aren't yet an area of focus for the retailer.
Meanwhile, David Kimbell, chief merchandising and marketing officer at Ulta, explained that while the retailer hasn't found a pricepoint—luxury or mass—that can't work for its customers, there are still some key considerations for brands. For instance, Kimball suggested, like Connelly, that often it makes sense to start with a limited range of a brand's SKUs to get a sense of what works for the Ulta shopper and what does not.
Critically, he explained that brands must be upfront with retailers about supply chain issues and never suggest that they can deliver more than is possible. He added that partnerships benefit when brands are clear and open with merchandising teams about what they are currently capable of, as well as the capacities they are building for the future. He warned that overpromising can significantly damage a relationship and get brands into trouble.
As for what's next, Kimbell said that innovation is coming onto the market faster than ever. Current growth opportunities, he explained, include men's brands and cruelty-free offerings.
The Future of Beauty Investments
The indie explosion has ushered in a new reality for the beauty industry, a panel of equity and strategic investment experts concluded during a closing panel. With the rules being written on the fly and the biggest deals primarily a thing of the past, the discussion turned toward what's next.
The panel consensus appeared to be that more money seems to be chasing brands than vice versa. And, sometimes, indie brands may even shy away from certain types of investments, such as those from legacy brands. At the same time, some investors have shown a willingness will overpay for a what they perceive of as safe bets.
Carla Ruiz, VP of business development at Johnson & Johnson Consumer, said that having a strategic investor as an early supporter won't necessarily hurt an indie brand's chances of receiving later rounds of buy-in from other parties—particularly if the strategic investor holds a minority stake and the brand's results have been positive.
She continued, saying that strategic minority investments are the new normal, but that she couldn't point to an existing example of a strategic investor acquiring an up-and-coming brand that has already received an investment from a multinational competitor.
An audience member asked whether strategic investors/buyers would eventually begin launching their own "indie" brands under their existing umbrellas, thereby sidestepping external opportunities. Gillian Gorman-Round, general manager of the Revlon Incubator, suggested that, for legacy companies, it is simply easier and "more legitimate" to invest in and incubate external partners.
Gorman-Round also suggested that brands consider starting relationships with potential investors early on, gathering valuable advice and counsel well before any money is invested. She also warned brands not to start calling investors "five minutes before you run out of money."
Regarding Amazon, she noted that brands "can't fight the beast" and should instead put in the effort to understand where the e-commerce platform fits into their ecosystem.
Check out the November 2018 digital edition for the full version of this article.