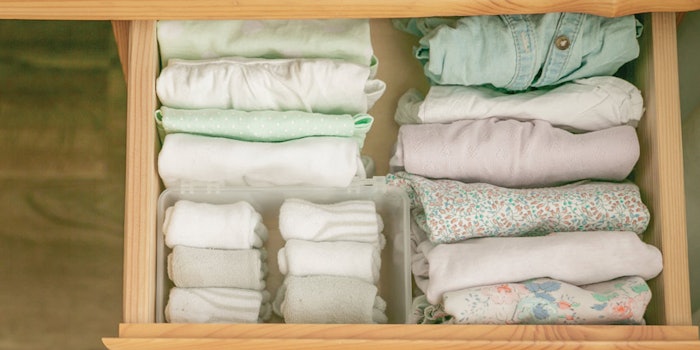 In 2019, less is more.
Nearly 10% of Americans rent a self-storage space, translating to 1.7 billion square feet of storage, or 5.4 square feet per persona. Meanwhile, U.S. municipalities are scrambling to respond to China's recent refusal to accept "foreign garbage." This country, like many other developed nations, has a stuff problem.
It's no surprise that minimalism first came of age in the 1960s, a direct reaction to the unprecedented consumer culture that had reshaped the post-World War II world. Today, a new minimalist wave is spreading, reflecting anxiety over everything from excessive materialism to sustainability to industrial production to generalized stress related to the speed and more-ness of contemporary life. Marie Kondo has emerged as a leading light in the movement, though the bestselling author's philosophy notably focuses on "sparking joy" more than it does the mere elimination of stuffb.
Beauty has been a leading indicator of this trend in recent years, featuring austere packaging and design that allows for lots of white space; low-energy processing and manufacturing; spiritual- and wellness-oriented brand concepts; simplified ingredient labels, with each material's purpose overtly justified in marketing; zero-packaging product design; scaled-back SKUs that streamline and clarify product selections; and multifunctional ingredients and products that allow consumers to do more with less.
To illustrate the market opportunity, the "WGSN: Big Ideas 2021-Beauty" report encourages brands to "streamline products [and] offer better formulations featuring higher active ingredients and multiple benefits," and notes that water scarcity will increasingly impact product developmentc.
While the beauty industry inevitably necessitates consumers purchasing physical goods, innovative suppliers and formulators, product developers and designers, and brand leaders are finding ever-more ways to deliver newness that requires fewer resources and offers shoppers an opportunity for a guilt- and stress-free purchase.
See you next month.
Footnotes:
awww.sparefoot.com/self-storage/news/1432-self-storage-industry-statistics/
bIt may be comforting to know that Kondo's own beauty regimen for her hit Netflix series is anything but minimal, featuring products from Tatcha, Herbivore, Laura Mercier, Clarins, Tom Ford and Smashbox; "Marie Kondo Has an Extremely Organized Skin-Care Routine," www.thecut.com/2019/01/marie-kondos-beauty-and-skin-care-routine.html
cwww.wgsn.com