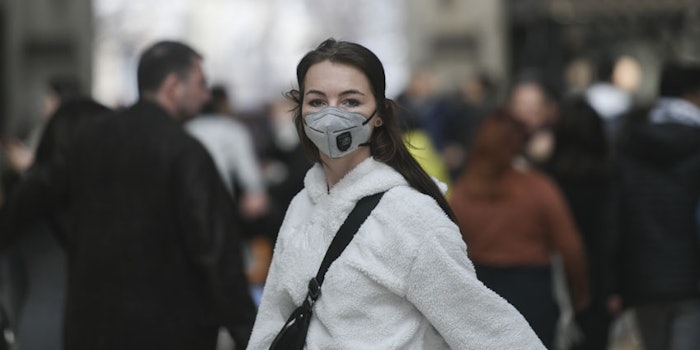 Featured insiders include Babor, Corum, Grande Cosmetics, HighOnLove, Jojoba Desert, Olaplex, Pharmacopia Natural and Organic Bodycare, Quadpack, Signum Bio, StriVectin and Sweet and Kind.
The impact of the COVID-19 outbreak changes daily, creating unprecedented ripple effects across the global economy—not to mention the immense toll the disease has taken on people's health, lives and livelihoods.
The current crisis has some brands seeking fulfillment alternatives to Amazon.
The impact of the COVID-19 outbreak changes daily, creating unprecedented ripple effects across the global economy—not to mention the immense toll the disease has taken on people's health, lives and livelihoods. To get a sense of how the beauty industry is responding to the pandemic, Global Cosmetic Industry surveyed a range of suppliers, brands and other stakeholders to get a sense of how they are addressing this unique moment in the industry's history.
One Brand's Action Plan
When asked to share her brand's COVID-19 response, Lisa Levin, CEO and founder of Pharmacopia Natural and Organic Bodycare, shared her step-by-step plan:
Applied for SBA (Small Business Administration; www.sba.gov/funding-programs/disaster-assistance) disaster loan from the government to help with payroll and other expenses.
Cutting our salaries so we can continue to pay our vendors.
Ramped up advertising on Amazon.
Hired digital ad team to ramp up ads on Facebook.
Hired marketing consultant to help us with messaging.
Shifting our spend. Delaying or eliminating non-essential spend. Increasing essential spend (online marketing).
Launching an e-commerce website for direct selling in addition to our Amazon storefront.
Dealing with potential inventory shortages by looking at other inventory we can keep selling online. Expanding our offerings by bundling items.
Setting up online wholesale sales portals like RangeMe.
Researching alternative fulfilment options so as not to rely on Amazon.
Addressing the Disruption
"The recent era is characterized by the growing concern over the spread of COVID-19 and uncertainty causing stress and anxiety," says Lee Reuveni, CEO, Jojoba Desert.
Like all businesses operating in the global market, this unfamiliar situation poses new challenges dictating behavioral changes."
Reuveni adds, "With borders having been closed, supply of raw materials challenged and uncertainty of the industry regarding demand for cosmetics products, we have adopted a new approach and methods in order to provide our customers with support on innovative formulations adequate for these times. We are also required daily to re-examine ways of communication and shipping in order to secure a stable supply ... By maintaining availability of raw materials in warehouses worldwide and constant online communication, this allows us to provide our customers with uninterrupted professional service."
Mary Katherine Schenkel, co-founder, Sweet and Kind, shares, "We are still shipping products for our DTC customers, but all of our brick-and-mortar wholesale partners are closed until the virus is under control, as well as the pop-up spa events we've had planned. Lots of eyes are on social media right now, so we are ramping up our posts to include giveaways to essential workers and nurses to promote their self-care during this stressful period. We are committed to give away over $1,000 in product. We're looking at this time as an opportunity to really connect with our community."
"First and foremost in our minds is the wellbeing of our StriVectin employees—our greatest resource as an organization," says Joan Malloy, CEO and executive chairman of the board, StriVectin. "All StriVectin employees—from our NYC-based corporate team to our field-based colleagues around the globe—are currently working from home. Like many companies, we're utilizing a bevy of remote working tools and technologies to stay connected."
Malloy adds, "We are constantly taking time to share information and lift one another's spirits—from virtual town halls to digital team-building events to providing EAP support; however, we believe that the most impactful thing we can do as an organization is to maintain employment for our staff, for the duration of this crisis. While none of us can predict the future, based on the available information today, we are confident we can and will deliver on that commitment."
The executive continues, "We believe that the choices we're making today to forgo or postpone non-essential expenses in the short-term (e.g., cutting back on media, creating digital content in new lower-cost ways) will not only help us to keep our commitment but ensure that when the crisis has passed, we'll be able to 'go' full speed ahead again."
As for customers, says Malloy, "We understand skin care may or may not be top of mind for everyone right now, but for those who are looking to keep up with self-care and routines during this difficult time, we are working hard to maintain service and accessibility via our online shop and dedicated customer care team."
Malloy also highlights what StriVectin is doing for the wider community: "Like everyone around the globe, we're sending our love and gratitude to the health care professionals on the front line of the COVID-19 fight, who are putting their own health at risk to help others. We've seen and heard their stories of how hand washing, sanitizing and gloves have taken a toll on their skin, so with the help of our friends at @DonateBeauty, we have already donated over 2,000 Volumizing Hand Creams to 11 hospitals in the New York area, and in other cities around the United States, and will continue to make product donations as a small way to help during the crisis."
Tim Eaves, CEO and cofounder of Quadpack, says, "Like everyone else, our priority is, first and foremost, the safety of our employees, partners, clients and their loved ones. Most office staff are now working from home. As a global business, with departments dispersed across countries, our people are used to working together remotely. They are just doing it a lot more than usual. Our business technology team has done great work to ensure the global team has the tools required for collaborative working."
Eaves adds, "The factories are where most measures have been required. While our Spanish factories have had to close this week by government mandate, our German factories are 86% operational. There, we are taking special safety measure, for example: each worker's temperature is taken on arrival; everyone wears masks and gloves; everyone works at a distance from each other; shift changes are timed to avoid overlap, in order to minimize contact; the equipment is thoroughly disinfected between each shift."
The executive concludes, "In these uncertain times, it is vital to stay open and transparent. We are communicating our operational status in real time via a new COVID-19 dashboard on our website."
Jodi Cioffi, senior manager, communications, Zotos Professional says, "Any employee that can work from home is being directed to do so. Our employees' safety during this time is a priority. With many parents having to teach their children at home we are being creative in meeting times and working hours. (Hello, midnight emails!) We are working with our partners to ensure they have what they need from us for the ever-growing on-line sales whether it's product, on-line how tos, etc."
Ling Liao, a marketing specialist for Corum, notes, "As a personal care ingredient supplier situated in Taiwan, just 81 miles from mainland China, Corum is blessed from our government with rapid response to the crisis and sound National Health Insurance system to implement precautionary principles and allocate preventive masks since the Chinese New Year holiday, which have effectively contained the community spread till now. We follow the Central Epidemic Command Center's (CECC) epidemic prevention guidelines related to control of COVID-19. All persons entering at Corum gateways are alcohol hand sanitizer sprayed and temperature checked. Employees are measured and recorded temperature every morning and afternoon. Visitors and employees are required to wear a medical mask, keep social distancing, take any signs of illness seriously and seek medical attention if needed."
Liao adds, "Business travels are temporarily halted and replaced by webinars. The safety and wellbeing of our team members is our top priority. Corum's production lines are all in Taiwan and keep running smoothly. We conduct a systematic management to ensure the safety stock and sourcing ability. We will keep comprehensively monitoring and evaluating the supply chain, production lines and logistics in response to this crisis."
The Insurer's Perspective
Foundation, part of the Brownyard Group, offers specialized liability insurance to cosmetics manfacturers. The group shared its perspectives on the current moment in beauty.
"The Foundation team (and all of Brownyard Group) is continuing to support our customers in cosmetics manufacturing through the COVID-19 crisis. We are fully operational and working remotely—we are still handling claims, taking applications, processing renewals and working with your insurance brokers. Learn more at https://brownyard.com/covid-19/."
The firm continues, "The insurance industry is built to help businesses weather their most challenging moments. The cosmetics industry evolves every day to adapt to the changing tastes and needs of beauty consumers. With this resilience built into our business, we expect to integrate this experience into how we serve our insureds, as we do with all major changes affecting the industry."
As for how the pandemic will change the beauty industry, Foundation notes, "Over the next few months—even as shutdowns and shelter-in-place orders ease—we may see fewer people seeking services in salons, spas and other professional beauty settings. We expect this moment will spur innovation in the beauty industry and in cosmetics manufacturing, and we anticipate a greater demand for home care and DIY beauty kits, such as personal hair color kits, nail art kits, sugar scrubs, etc. The demand will be there but how products are delivered may change. Those who adapt to the change will thrive."
Self-Care Shifts Online
Early data has shown that intimate/sexual wellness products have fared well as consumers seek pleasure and stress reduction amid widespread population lockdowns.
"With boutiques selling HighOnLove being shut for the near future, we've taken a focus to online sales (like many businesses), but also to connecting with our customers," says HighOnLove president Angela Mustone. "More than ever, we're looking to have conversations with our audience that focus on what's important to them right now. Self-care, relaxation and stress relief, intimacy and romantic relationships are topics that tie in organically with HighOnLove's product line of luxury CBD-based topicals."
Mustone adds, "To join the conversation and provide something of value to the community, we've organized an Instagram Live session (#StayHomeHaveSex) with sexual wellness expert Kit Richardson, curator of NYC's Museum of Sex. She'll provide helpful tips for self-love as well as for couples looking to improve their bond during these stressful times. This doubles as an opportunity to connect with potential customers and give our brand a voice."
Keeping Connected
"Our entire corporate office has been working remotely since early March, so we've been relying heavily on technology, namely Microsoft Teams, to keep the flow of communication going," says Alicia Grande, Founder and CEO Grande Cosmetics. "We have it structured so that department directors have daily video calls and chats with their team members. At the end of each day, they report back to me on the group's performance. As a result of our daily video calls and group chats, I've been able to see more clearly how all of our departments work together."
Giving Back, Stimulating Cashflow
"This is a time to unite and support each other on a global and local level," says Tim Waller, CEO of Babor Beauty Group Americas. "At Babor, we are embarking on a number of initiatives to support our professional community as well as first responders. Since March 16th, Babor, Europe's leading professional skin care brand, has manufactured disinfectants at the company's headquarters in Aachen, Germany, next to their assortment of creams, serum and ampoules. The hand disinfectants go to various institutions and organizations in the Aachen region—like the police, medical institutions or nursing homes. Additionally, Babor has launched a global solidarity campaign under the name #baborunited, asking our spa partners around the globe to donate disinfectants and masks to hospitals near them."
Waller adds, "Domestically, we are monitoring the development of the situation. We have made some early adjustments to ensure the safety of our employees and partners, as well as supporting our partners' businesses with a comprehensive array of measures to generate sales and drive traffic to their spas after this crisis. Early on in March, we suspended travel and offered the ability to work from home to all employees, while keeping the entire team employed."
Babor has also addressed the needs of the hard-hit spa industry.
"Our partners have always had the ability to participate in our affiliate e-commerce program," says Waller. "Now we have increased their margin to their full margin, cutting monthly checks in order to allow them to generate some quick cash flow. Each e-commerce order above $50 automatically receives a $20 treatment voucher for Babor services redeemable at participating partner spas. We have also launched a new e-learning platform and a closed social community to stay closely connected with all of our partners."
Cioffi notes, "Zotos Professional is working with our parent company, Henkel, to donate vital products and money to those in need. Through our distributor partner, Marlo Beauty, we donated over 1,000 bottles of shampoo and conditioner to seniors in 19 communities in Florida on March 27, who would otherwise have been dependent on salons that have now been closed. We have also donated 1,200 bottles of Better Natured Shampoo & Conditioner to the staff at Stamford Hospital."
She continues, "On a global basis, Henkel has donated 2.5 million pieces of hygiene products and protective gloves, increased soap production output by 30% to meet increased demand, shifted production facilities to produce and donate sanitizers and improved payment terms to the most challenged hairdressers and salon owners."
Ginger King, president and CEO of Grace Kingdom Beauty, notes, "For my consulting service Grace Kingdom Beauty, I offer 30 minutes of free consultation as it is evident that everyone needs to learn how to have multiple flows of income, so when a company shuts down, you have other means of survival. I also entertain the 'bartering' service in exchange for client's specific expertise such as digital marketing. I help with their new brand concept. They help with my digital marketing. The longer-term outcome is we will see even more beauty entrepreneurs coming out after this."
King adds, "For my company, FanLoveBeauty, with the purchase of my vegan lip balm, part of the proceeds will go to Suicide Prevention Foundation, [incidences of] which peak in spring. This is a social cause set out since we started in February 2020. With this new breakout, we are also throwing a sample of developmental vegan hand cream to help relieve dry hands."
Forging Connections in a Crisis
Waller explains, "In addition to the initiatives to drive sales to our partners, we are taking this opportunity to strengthen our connection with our consumers. We are adding more educational, yet informative programming on social media, online consultations and live chats, as well as reviewing all of our internal processes to look for optimization opportunities."
Safety Comes First
"[W]e are committed to global efforts to stop the spread of the coronavirus, while providing the best service experience and stable supply of our natural and safe JD jojoba oil-based products—all under compliance with the National and World Health Ministry's guidelines," says Reuveni.
The executive adds, "Our factory is fully automatic and sterile, allowing the minimum amount of staff required for safety and operational function. This is possible as most of our plant is computerized which enables the staff to work from home and control activities through computerized software."
Reuveni notes, "Necessary staff such as logistics and quality control continue working from our office, under strict Health Ministry guidelines. External visits are no longer allowed to the company and we ensure strict hygiene levels throughout the company. As part of our regular activities, we are fully connected to home-based work, including online meetings, so that ongoing activities are maintained, sustaining an uninterrupted workflow. Furthermore, sufficient stock has been transferred to our warehouses worldwide (United States, the Netherlands and China), ensuring our partners a stable and quick supply."
Near- and Short-term Impacts
"We're seeing retailers putting a lot of energy into their .com businesses right now," says Grande. "With this shift in focus, perhaps we'll see this area stay stronger even after we have bounced back from this crisis."
She adds, "I think there will be more opportunities to leverage technology for virtual shopping and product demos. Right now, consumers are empowering themselves during their time at home though DIY beauty treatments. This trend will probably continue to see an uptick in sales even after we've recovered from this as consumers become used to this."
"We are expecting significant shifts in consumer behavior such as an irreversible acceleration of e-commerce," says Waller, echoing Grande's sentiments. "Consumers will continue to search for connection and high touch. New sanitation standards are certainly inevitable as well."
"We had planned on launching two new products next month, but likely we will have to wait at least another month," says Schenkel. "We think we can ride this out with the capital we have, but the next year will be a balancing act for us to ensure we don't over-produce."
Looking further ahead, Schenkel adds, "I think there has been so much misinformation around this pandemic, that people will be more than ever before looking for truth and transparency about the products they are buying. This will be a time for CBD beauty companies to step up, educate the public about the potential benefits, and be clear about where the ingredients are sourced. We also believe lower-priced products with proven benefits will be more in demand than ever as people try to keep up their beauty routines with more limited means."
Cioffi adds, "We feel confident that after a period of slowed sales due to retailer and salon shut downs, sales will bounce back. Zotos Professional sells products to stylists and extraordinary consumers we call self-stylists who have self-taught hairdressing skills. We are grateful we can supply hair color and hair care to our self-stylists through places like sallybeauty.com and amazon.com so they can reward themselves with self-care and self-love during this extraordinary time. And we know consumers will be eager to book hair appointments the moment restrictions are lifted."
She continues, "We also just launched Better Natured, a new naturally derived, vegan, and clean brand that truly delivers professional results. Better Natured is our first Zotos Professional brand that is sold direct to consumer and salon. Although a global pandemic has put a crimp in some of our launch plans, we are excited to be able to offer such an of-the-moment brand directly into people's hands. And salons that are even stocking up in those states where they have not been closed or for anticipated re-openings."
Elizabeth Kenny, VP marketing and creative at Zotos Professional, explains, "Some beauty regimens will shift to more at-home application as consumers learn new skills ... [A]s people grow concerned about animal transmissions and rejoice in the beauty of our planet when life slows down, I think we will see salons and beauty consumers focus more than ever on products that are vegan, clean, and sustainable."
"We see this challenging era as an opportunity to lead the way, encouraging sustainable practices and usage of natural ingredients," says Reuveni. "In the foreseeable future, we will continue to utilize alternative and new ways of safety, availability and support."
The executive continues, "B2B operations are required to work more on an online basis than exhibitions and face to face meetings. This is a new approach which allows companies to launch new product, create webinars and seminars to customers worldwide, making it more accessible and relevant."
Reuveni adds, "On the B2C side, the latest data shows the demand for skin care products has maintained and has even increased during this crisis, therefore the industry needs to further expand the distribution channels to adjust to unexpected restrictions, like the latter."
She continues, "On the other hand, makeup sales could take a hit. With so many people now working from home and social distancing taking place, consumers may be less inclined to wear and replenish makeup at this time. Some might be looking for makeup that enhances their appearance while video conferencing. Such circumstances can force the beauty industry into coming up with alternative ways to reach customers other than through one on one demonstration and makeovers. Makeup companies will have to be creative in tailoring these types of experiences to generate sales."
Hyp notes, "This will change the industry in a small way to go virtual/digital/teledoc and maybe a little more online purchasing or interaction with customers, but overall this is an in-person and face-to-face industry and will likely move back to that exactly as it was before—maybe with a couple of new innovative twists."
"Quadpack has a flexible business model, designed to provide different solutions and spread risk," says Eaves. "We offer own manufacture, sourcing, assembly, decoration, warehousing/stocking and, in some regions, e-commerce and full-service. Maintaining agility is crucial to our long-term prospects. While we aim to manufacture in the region, for the region, when necessary, we are able to rely on our Asian supply partners to source products for our clients in the West, for example. I also expect that our e-commerce operation, InStockPack, will see an uplift in line with that of all businesses with a strong online presence."
Looking further ahead, Eaves sees industry-wide changes coming: "E-commerce may receive a boost that endures long-term. With so many people being home-based, skin care routines are one way to find comfort and pamper ourselves. Makeup remains meaningful with video conferencing providing the basis of staying in touch remotely. As you [Global Cosmetic Industry] reported yourselves on February 19tha, beauty brands were seeing success in China due to livestreaming and vlogging techniques."
Eaves concludes, "More than anything, however, the current health crisis highlights the importance of human relationships. Younger generations were already pushing trends towards holistic beauty beyond the physical. When all this is over, we will all be embracing the beauty within."
How Do You Stay Focused & Productive?
A crisis on the scale of a global pandemic creates significant stress and distractions on a personal level. We asked executives what they do to remain focused and intentional under such difficult circumstances.
"We find our 'North Star' in focusing on people first and delivering products that truly make a difference in consumers' lives," says Cori Aleardi, president, StriVectin. "By remaining committed to this philosophy, we have found that our team is more energized than ever to develop skin care solutions that will be relevant for the future state of the beauty industry."
"We are connecting as a team more than ever," says Mustone, "using this opportunity to brainstorm and bring new ideas to the table. We've recognized that this temporary slower pace can be a time to make changes—from website redesigns to refreshed imagery and even additional products—that will benefit HighOnLove in the long term."
Grande explains, "Finding ways to maintain mental clarity during this time is very important, so I've been practicing a lot of self-care. Besides creating my own spa and wellness routine at home, I also like to take walks every day with my dogs, reach out to friends, and make sure to carve out special dinner time with my family."
Cioffi explains, "The Zotos Professional team is working harder than ever to creatively help our customers show off their hair game, learn new beauty hacks, and enjoy some me-time. All of our Zotos Professional hair stylists are available to answer questions on line or on the phone, and we will soon be launching video chat in which anyone can speak with one of these professionals about how to achieve their hair goals. Some of our customers see this shut-in time as one in which to try something new and we want to be right there to help."
Levin has her own strategies: "We are so busy … that we hit the ground running every morning to solve these problems. When the anxiety about the uncertainty for business, health and the world hits, I go for a walk with the dogs or FaceTime a friend."
She adds, "Staying informed—of the beauty business and the world—helps us understand when or where we need to pivot."
Schenkel notes, "There are so many webinars, Zoom meet-ups and free content to be utilized right now. We are attending five this week alone on anything from managing cash during this crisis to competitive analysis education for female entrepreneurs to virtual networking cocktail parties. We're trying to fill our calendars with useful things that will help us come back at it with a fresh perspective as normalcy resumes."
Adam Hyp, director of corporate development for Signum Bio, noted, "[W]e are first and foremost ensuring the entire team stays in tact during this time. We are controlling what we can control and honing those skills we were a little less proficient in."
Hyp says these include, "choosing, implementing, and expanding the use of a company CRM (client relationship manager); learning and implementing new digital marketing campaigns and techniques; and studying, reading and planning our next projects, products and services based on industry trends."
He concludes, "We are using this time to move ahead as the world is in virtual standstill so that when things return to normal we are poised and ready like we were shot out of a cannon."
Cherie Buziak, founder of BeautyEdge, also shares her best practices: "Structure! Plan your 9:00 a.m. to 5:00 p.m., 8:00 a.m. to 6:00 p.m.—whatever your daily workday is. Get ready for your Zoom calls—from the waist up, at the least! Connect, connect, connect with your family, friends, peers on-line. Be conscious of 'turning off' ... turning off social media, the news, the negative. Self-care, tea, healthy eating. If no [government] mandates [prohibit it], take a walk outside during the day."
"The best way to go through turmoil and upheaval is keeping our daily routine—focusing on the research, development and production of cosmetic active ingredients," says Liao. "Furthermore, we see great value to support the industry and global community in the face of this crisis. Regardless of how small our role may be in this war against COVID-19, we will continue to diligently monitor and appraise our supply chain so that we can timely supply the market with ingredients which can contribute to skin hygiene management. As unfortunate as this crisis can be, we also see the opportunity to reconsider our approaches to better improvise and keep up with new requirements of this fast-changing market."
Looking Ahead
Levin believes that long-term, her brand will fare well.
"We expect to be well positioned with our retail line in the wake of this crisis," she says. "As consumers look for luxurious brands that might not be as costly, we think we can convert them to long term customers.
She adds, "[With an] increased focus on washing hands, hand hydration helps us. We are developing a moisturizing hand sanitizer."
Reviewing the scope of the industry post-pandemic, Levin says, "Beauty and personal care will always be important, but I think people will pare down their spending. I also think people will want products that are streamlined. Products that do more like multi-use products, for men and women or for whole family."
She adds, "More spending will go online. A paradigm shift is happening with work at home and I think many companies will see that people can be productive at home. This might drive more online purchasing even after the stay at home orders lift."
Reuveni notes, "We at Jojoba Desert continue to move forward with high energy and expand our products portfolio with the new JD Jojoba Oil-based ingredients for multiple uses and new active ingredients that will act as key ingredients for various applications."
The executive concludes, "Our hopes and prayers are that by the time this threat is gone, we will enjoy a healthier life and planet. We would like to take this opportunity to wish everyone political, geographical, financial and personal prosperity."
"We're taking this as an opportunity to audit and improve on both our e-commerce platforms and social media accounts," says Mustone. "We hope to shift to a greater focus on direct-to-consumer sales in the long term."
She adds, "Beauty itself won't be changed, but the way people discover and purchase it will be. The importance of a brand's online presence, voice and connection to its customers has been be highlighted. Social media is the new department store beauty counter—beauty brands need an authentic personality, an attractive offering and an expert voice to replicate that experience online."
"StriVectin is fortunate to be coming into this crisis from a position of strength," says StriVectin's Aleardi. "For the past three years, retail sales have grown steadily and strongly—in the case of full year 2019, at 3x the prestige facial skin care category trend, per NPD Group."
Aleardi adds, "We believe that the drivers of our sustained success—a relentless focus on science and innovation, our entrepreneurial-minded team, our omni-channel distribution strategy, and committed retail partners, just to name a few—are the same 'fundamentals' which will help us adapt during the crisis and accelerate growth in the long term."
Finally, says the executive, "We anticipate that consumers will remain interested in skin care despite their changing lives and priorities, and we believe brands that are based on long-term skin health will be well positioned for the future. StriVectin's scientific heritage, patented NIA-114 molecule, and commitment to clean formulations sits at the expected confluence of clean and clinical trends, creating tremendous opportunity to attract new consumers to our brand."
Long-term, says Alison Yeh, CMO, StriVectin, "We believe the positive habits that consumers are adopting now may become lasting lifestyle changes—from engaging in self-care rituals, to wearing more SPF as people engage in outdoor activities, to wearing blue light protection when they're at home in front of screens and devices."
She adds, "In addition to adapting to changes in consumer behavior, we believe that the way we create, produce and sell products will evolve. As you've already begun to report, new standards of safety and sanitation will likely bring about new ingredients, product categories, packaging, merchandising (particularly testers) and change how training and events are conducted."
King shares her perspective: "In general, the beauty industry will be impacted dramatically due to raw materials sourcing as most of the raw materials used in skin care are from Europe or Asia. This holds true for packaging as well. Cost for products will be increased. Consumers will be shopping more for necessity rather than for luxury for a while. We will also see more encouragement of Made-in-USA products to help our own economy. The United States as a country needs to learn how to be more self-reliant rather than depending on imports or less-expensive labor overseas. Yes, there will be emerging beauty brands but they will pretty much stay in the lane of direct-to-consumer for a while as no one has the 'fat' to share to distributors."
Liao, meanwhile, offers a broader outline of the times ahead: "The global slowdown definitely has long-term negative effects on us, such as a drop in sales and delaying in new product development, because it will be a while for the world to resume its normal production level, let alone for the global economy to recover. Consumers with the COVID-19 experience, especially a quarantine, might tend to reduce waste and choose multi-purpose products while considering ingredient safety, cleanliness and shelf life."
Liao continues, "According to Mintel (www.mintel.com) research on clean beauty, more than one in 10 adults agree clean products expire too quickly. With more concern surrounding contamination and expiration in necessity goods, consumers will be more willing to accept synthetic ingredients when brands are able to provide evidence of efficacy, safety and eco-friendly."
Liao adds, "Corum are sustained by on-going research and clinical testing, as well as highest standard in efficacy and quality control. Because of this, we are confident to offer a full range of extraordinary products and services after this catastrophe come to an end."
As for how the industry will be changed long-term, Liao outlines four key points:
1. People have been going out less and shopping online more as the result of this outbreak. Easy-to-buy has become a key factor influencing consumer buying decisions, and this is especially highlighted by the key feature of online shopping to save time and promote rapid product discovery and comparison. Beauty retailers see the long-term value in increasing their e-commerce investment to build better online infrastructures and enhance online customer experiences.
2. Label transparency in beauty has been trending and will be further augmented, as consumers pay more attentions not only to product function and efficacy but also where each ingredient derives from. In particular, when facing situations like the current COVID-19 crisis, consumers are anxious to know if the sanitizing formulas are actually effective in imparting preventive action against the spread of the virus. Where a product is made and whether it is tested are critical determinants for consumers, and thus manufacturers are set to disclose in-depth information on their product composition, origin, safety and quality management to reassure consumers.
3. Both cosmetic ingredient suppliers and cosmetic manufacturers will be forced to rethink their supply chain strategy and divert their risk in the aftermath of this pandemic outbreak. No one can deny the importance of China in the world's supply chains, but at the same time, the disruptive magnitude to which such a big engine can have on businesses would be unimaginable if we all continue to rely heavily and solely on China.
4. From November 2019 to February 2020, unprecedented bushfires in Australia burned an area about the size of South Korea; hundreds of billions of desert locusts through parts of East Africa and South Asia are threatening crops and livelihoods. Meanwhile, the outbreak of COVID-19 was characterized as a pandemic. Those disasters alert public to recognize that nature plays the important role in our lives. Sustainability will be more heavily weighted in the beauty and personal care industry than ever as environmental concerns are increasingly top of mind for consumers.
Footnotes:
a www.gcimagazine.com/marketstrends/regions/asiapacific/Beauty-Brands-Livestreaming-in-Coronavirus-impacted-China-568012641.html