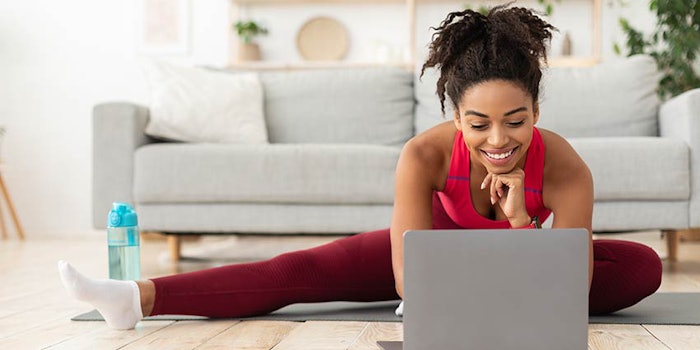 The wellness-beauty revolution is about to move into a new phase, accelerated by the COVID-19 pandemic and pre-existing challenges and inequalities faced by consumers. The shifts ahead could render the category essential to consumers' lives.
As detailed in an eye-opening new Capstone white paper from a group of FIT graduate students in the Cosmetics and Fragrance Marketing and Management program, success will require a rethink for brands from product to retail to staff to marketing and beyond.
Making Beauty Essential
Citing Cision data, the authors write, "With the U.S. corporate wellness market likely to reach around $15.5 billion by 2024, growing at a CAGR of approximately 8% during 2018-2024, the idea of focusing on inner beauty design versus exterior design, has been a major consumer behavior shift."
Therefore, beauty must focus on delivering "sustained, long-term beauty" that is less about the "instant gratification" of makeup than it is about lifestyle rituals that offer lasting, proven results that enhance mental and physical well-being and longevity.
The transition of the beauty industry will require a growing focus on "mental and physical well-being," the authors argue. Indeed, as consumers increasingly face income inequality, exasperated by COVID-19-related job and financial losses, and associated stress, isolation, sleep loss, loneliness and more, the market is hungry for offerings that deliver relief.
Such a rethink will require a focus on proactive holistic care that is preventative, rather than merely responsive. And offerings must be science-backed and demonstrably effective in order to build trust.
This will create a distinct bifurcation of the market between essential and non-essential beauty.
Per the authors, essential products, brands and services will be defined by "delivery of health and well-being" and "claims backed by science." Key claims for this sector will include "hygiene, protection, care and repair," typifying categories such as skin care, body care, body and facial cleansing, and hair care and treatments.
Meanwhile, nonessential brands, products and services will center on "emotion, lifestyle, image," and fast results. This will largely encompass categories such as color cosmetics, hair styling/dye, nail polish, and ancillary add-ons.
To illustrate, the report authors cite an internal Firmenich report prepared for The Estee Lauder Companies: "50-60% of U.S. and U.K. consumers said they used more consumer goods products that treat hygiene, protection, care and repair and 15-30% said they used less cosmetics, makeup, perfume, and hair styling products since quarantine started."
Finally, the authors explain, brands will need to bring offerings to market that are accessible and affordable to every economic tier, ensuring that beauty-wellness longevity is no longer merely a luxury category for the privileged few.
Pushing the Envelope: Spirituality & Micro-dosing
Mental and spiritual well-being are already a strong focus for beauty/wellness brands. This will only increase, say the authors, delivering benefits that support one's emotional and mental state of being for a greater "state of life satisfaction."
Key consumer pain points will include stress, mental performance and joy, the authors note.
This will push the envelope on areas of innovation and product/service claims. Like yoga and meditation, which were once fringe practices in Western markets, spiritually tinged offerings are likely to expand in beauty/wellness.
Regulatory bandwidth permitting, this movement could even open the door to the application of psychedelics, say the authors. Researchers are already exploring the application of low doses of psychedelic substances to address anxiety and depression.
Called "microdosing," the practice avoids hallucinatory experiences while drawing therapeutic advantages from various chemical substances. While far from mainstream, the concept has taken on new life following high-profile publications, including one from author Michael Pollan, whose "The Omnivore's Dilemma" from 2006 presaged the rise in plant-based diets.
Here is a talk from Pollan on microdosing and psychedelics in general:
From Product to Ritual
Product formats will need to evolve beyond topicals, as seen in the ingestible beauty sector, say the authors. Critically, brands will need to generate holistic rituals that consumers can incorporate into their lifestyles to achieve meaningful long-term benefits.
"Brands need to tap into the deep psychological and emotional needs of their consumers and offer them safe, trusted, accessible health care options, complementary to essential and nonessential beauty products," the authors note.
Fulfilling the emotional needs of consumers will boost consumer acquisition and retention, the authors add, with shoppers actively interested in devoting more time to wellness.
Retail & Consumer Experience
COVID-19 has spurred brands and retailers to create new tools for consultations and other intimacy-building services. This mirrors the spike in telehealth, as epitomized by Hims & Hers.
Meanwhile, greater digitalization of channels will draw luxury brands onto platforms and into physical retailers that are not traditionally considered "luxury" channels (particularly Amazon). This will shrink the distinctions between mass and luxury, particularly in wellness, which will need to democratize its offer (pricepoint and availability) in order to be truly impactful.
Brands and retailers will also need to leverage networks of medical professionals and beauty consultants who can offer holistic consultations and services, including developing personalized wellness regimens for everything from skin to diet to sleep to stress reduction and more. Medical professionals would augment this offering by prescribing clinical solutions and medications, when necessary.
What's Old is New: J&J
As the authors point out, this model of the beauty-wellness interface isn't entirely new. Industry stalwart, J&J, has long combined a mix of non-prescription drugs, oral care, first aid and toiletries under its Consumer Health banner.
This included iconic brands such as "Neutrogena, Aveeno, Tylenol, Motrin, Band Aid, Johnson's and OGX," the authors note, demonstrating the effectiveness of the integrated wellness model. 
They point to Nestlé's June 2020 deal for a majority stake in Vital Proteins, which shows the growing momentum in the market.
A Wellness Beauty Checklist
Brands and retailers that will succeed in this new reality will need to address the following key points, per the authors:
Emotional, mental and physical well-being benefits
Scientific, provable claims
Rituals that fit lifestyles
Accessible pricepoints and sales channels
Customer intimacy via digitally integraged platforms (consultations, prescriptions, etc.)