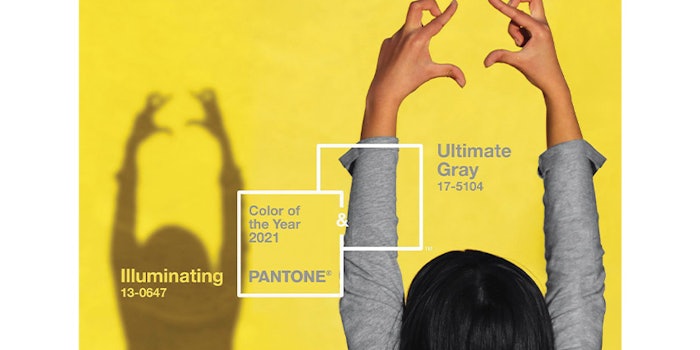 It's hard to know whether Pantone's 2020 color of the year, Classic Blue, resonated in a year of unprecedented challenges and societal upheaval. But the company's 2021 picks, 17-5104 Ultimate Gray and 13-0647 Illuminating, which "highlight how different elements come together to support one another," certainly evoke the challenging but resurgent year to come.
Pantone describes the colors as "rock solid but at the same time warming and optimistic," radiating "strength and positivity." They also conjure happiness, aspiration and fortitude, per the company.
All of these emotional cues are sorely needed as we kick off a new year amid the ongoing pandemic. With vaccines making their way through populations and predictions of "normalcy" ahead, it's time to look at who we've become in the last year.
Indeed, we learned new habits and mindsets in 2020. Many will be here to stay in the year to come.
Tik Tok, which exploded last year, is the new growth playground for brands amid saturation on Instagram and other platforms.
Health and well-being are now front-and-center in consumers' minds, as well as those in the worlds of beauty, technology and wellness, driving new innovations.
Human ethics are no longer a nice-to-have, occasional nod toward "inclusivity." Following the Black Lives Matter surge and countless exposés on employee treatment by legacy and upstart companies alike, true representation and management behavior will be under the microscope, driving consumer sentiment and purchasing decisions. This will be particularly critical in addressing the skewed impact of COVID-19 on communities of color, as well as the 2.2 million women in the United States alone who have fallen out of the labor force due to business closures and the uneven distribution of domestic demands.
Sustainability, powered by technical breakthroughs in ingredients, packaging and infrastructure, has become unstoppable. Expect to see a positive war of escalation of companies all striving to outdo the competition on commitments and technical advancements.
Digital-first advancements will expand as consumers' newfound enjoyment of buy-online-pick-up-in-store and other omnichannel conveniences forever shape the nature of retail.
Finally, brands and retailers will need to determine how they will address the chasms in societies that increasingly disagree not only on issues but on basic matters of fact. Many will find remaining neutral difficult.
There is much to be hopeful for in 2021. Most of all, I await the time when we can all come together again to connect and celebrate. I truly hope to see you soon.
Be well,
Jeb Gleason-Allured
Editor in Chief
jallured@allured.com