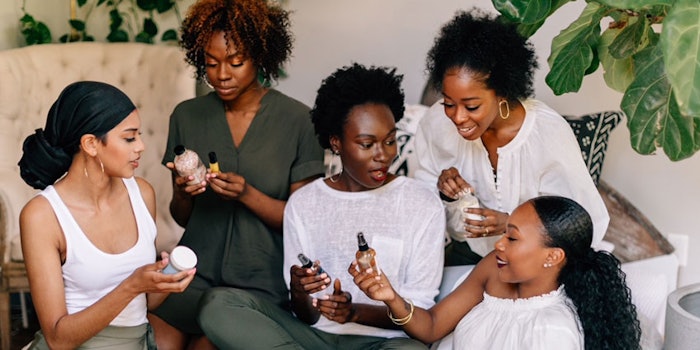 Kristian Edwards, DrPH, founder of BLK + GRN, has created a space for Black women entrepreneurs who create all-natural products to connect with consumers. 
Edwards, a public health professor and a graduate of Yale and Johns-Hopkins University, found the need to promote beauty products that would specifically benefit Black women without any of what she saw as the typical harmful ingredients found in conventional products.
For BLK + GRN, finding the perfect brand to collaborate with is essential. Edwards gave us the run-down of how exactly she selects her brands and how brands can find their place in BLK + GRN.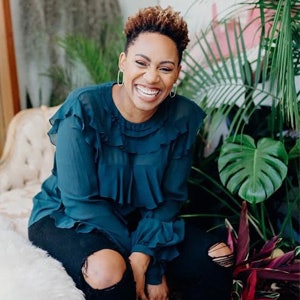 Who is your typical shopper?
Kristian Edwards [KE]: At BLK + GRN, our marketplace connects Black women with natural lifestyles to high-quality, toxic-free brands that share in our mission of health, wellness and community cultivation. 
Black women are looking for higher-quality Black-owned products, but there isn't an easy way to purchase these green products. 
Black women spend twice as much on personal care products, yet 75% of the products marketed to Black women are formulated with ingredients that are considered toxic and linked to cancer, hormone disruption and reproductive damage.
Where do you get your inspiration and information?
[KE]: My background is in public health and I worked in hospital administration. My research interest has always been health disparity, particularly looking at Black women, and why our health outcomes seem to be worse even when you control for things like age, insurance and income.
It was challenging to me, and I wanted to figure out what was happening. At the same time, I just happened to be going on my own personal wellness journey, trying to be more conscientious about what I was eating, the products I was using and moving my body. 
So, I said, "I want to do an even better job at selecting products that are natural and organic." With BLK+GRN, we solve two problems: one, Black women's lack of access to high-quality non-toxic products, and two, Black artisans lack access to retail platforms to scale. 
[At] BLK + GRN, our marketplace connects Black women with natural lifestyles to high-quality, toxic-free brands that share in our mission of health, wellness and community cultivation. BLK + GRN currently carries products from over 70 Black women artisans ranging from body scrubs, multivitamins and sunscreen, to natural deodorant and laundry detergent.
What do you do to try to reach your consumers?
[KE]: Social media, newsletters and SMS.
How do you influence shopping trends?
[KE]: We don't. We try to have everything available that customers are looking for that can be made non-toxic. We are not just beauty, we are personal care products, because we sell everything from shampoo to all-purpose natural spray cleaner.
How has COVID changed your business?
[KE]: All of the products we sell on our marketplace we purchase from Black women entrepreneurs. Our goal is to help Black women entrepreneurs thrive by wholesaling their products and buying in bulk. COVID-19, combined with our indie Black-owned brands' inability to create products combined with a nationwide bottle shortage, made obtaining products hard.
What are you doing to navigate the new normal?
[KE]: Expecting delays and being transparent with our customers when delays happen. We have an amazing customer base and they have been nothing but supportive and understanding the "new normal."
What do you look for from your brands?
[KE]: At BLK + GRN, our all Black artisans are carefully chosen by Black women's health experts who know what an all-natural product truly looks like. 
We've seen firsthand the damaging effects harmful ingredients and practices have had on our community. Our marketplace connects Black women with natural lifestyles to high-quality, toxic-free brands that share in our mission of health, wellness and community cultivation. 
We promise to maintain that connection by curating, crafting and consuming consciously for you.
How can brands better support you and better succeed?
[KE]: The best way brands can support our ethos is by formulating and creating non-toxic products.
What surprises has Covid brought you, good and bad?
[KE]: COVID has made us pay attention to our data more and learn what products our customers want the most so we can make sure we always have the products they want in stock and order in larger quantities.
Do you have plans for growth?  If so, what?
[KE]: Yes, we are working on opening a brick and mortar in Maryland that is a marketplace and a wellness space.
Who do you think are the most influential celebrities among  your customers?
[KE]: Our most influential customer that we know of is Tatyana Ali and she is absolutely amazing.
Kristian Edwards' 4 Steps to Make Your Brand More Marketable
Step 1: Discover
We love finding small Black artisan brands that are high quality and really meet a unique need. We have hundreds of artisans that we have discovered, but we are not interested in carrying every product possible; we curate our selection to include only the best of the best of Black-owned brands.
Step 2: Alignment
We only partner with artisans that have built their brands on the values at the heart of BLK + GRN: health, wellness, and community cultivation. We go deeper with the Artisan, asking questions about sourcing, packaging, personality and community responsibility.
Step 3: Quality Assurance
We wouldn't bring anything that's toxic into our home or yours. We check each product ingredient against our Never List, which was developed utilizing the latest research, and we ensure that nothing scores above a five for toxicity. We want to be absolutely sure we're offering you the cleanest plant-based products on the market.
Step 4: Test
Once we've ensured safety, we test for effectiveness. For this, we turn to estheticians, dermatologists, makeup artists and other professionals to use the product and report back on effectiveness and quality.