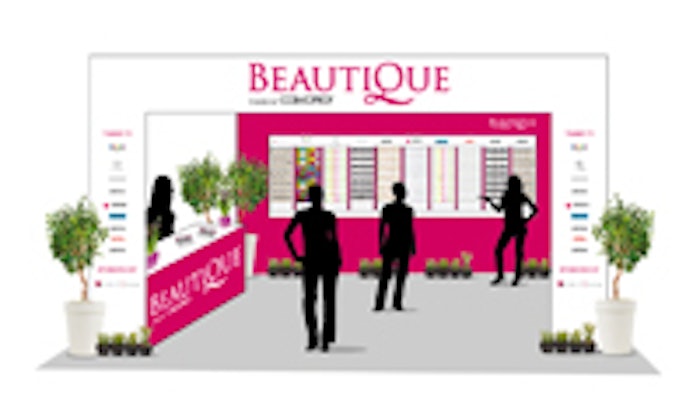 The 2013 edition of Cosmoprof North America (CPNA), taking place July 14–16, 2013, at Mandalay Bay in Las Vegas, is featuring a beauty sampling pavilion called Beautique. Located on the main show floor, the Beautique pavilion will be a one-stop beauty shop for attendees who are looking to pick up deluxe-sized samples, including cosmetic, skin care, nails, hair care and other beauty products. In the pavilion, attendees will be able to choose seven deluxe samples from 20 featured CPNA exhibiting brands for a small fee of their choice, with the proceeds going to benefit charity.
GCI magazine spoke with Daniela Ciocan, director of marketing for SoGeCos Americas/Cosmoprof North America, to get more information on what's behind this new effort from Cosmoprof.
GCI magazine: Can you tell us a little more about beauty sampling programs as you see them?
Daniela Ciocan: Curated boxes featuring sample-sized beauty products is one of today's hottest trends with numerous companies offering their own unique variations. Cosmoprof North America is the first trade show to bring a customized one-stop beauty shop to its attendees. Beautique is a sampling bar that will feature 20 exhibiting brands including the latest in up-and-coming cosmetics, skin care, nails, hair ... and some classic beauty favorites. Attendees will be able to hand-pick seven deluxe samples for a nominal donation of their choice and the proceeds will benefit City of Hope.
GCI: What are the benefits of beauty sampling programs for beauty brands? And what are the benefits for participants?
DC: With a show that has about 900 exhibitors, some great brands might be missed by retail buyers and distributors just because of the massive size of the show floor. Beautique gives these brands a better chance to be discovered. The participating exhibitors will get to enjoy simultaneous interaction with buyers through different means before and during the event across multiple channels for consistent brand awareness and education. The benefits are many, including additional exposure on the show floor and in all event marketing materials distributed on site, prime visibility and branding, targeted product sampling and the ability to obtain qualified sales leads.
GCI: Why do you think beauty sampling programs are so popular right now?
DC: I feel people love the concept of travel-size beauty samples delivered to their home as well as the curated selection of hard-to-find brands not easily found at mass retailers. The boxes make it easier for consumers to try new brands and hopefully find a product they love that they can then buy and use in the future at a relatively low investment.
GCI: Can you tell me more about Beautique? What makes it unique?
DC: The uniqueness stems from the fact that it allows attendees to easily find in one spot many brands that they may not otherwise get to find as part of their show visit. From the perspective of the participants, it allows those companies to distribute samples to only those buyers who specifically want to try it rather than mass sampling to all attendees.
GCI: How is Beautique being presented at Cosmoprof North America?
DC: The beauty sampling shop will be located on the main show floor inside pavilion A and will be open throughout the entire show. We decided to go with an open layout and bright pink visuals with a fun and modern decor that encourages play—there will be clear dispenser displays positioned alongside a wall with an open-sell feel and a staff to help put the Beautique packages together. The entire presentation is very luxurious including all the materials provided—the box was custom made for this project by HCT Packaging.
GCI: What benefit does Beautique offer CPNA?
DC: The program is another example of how the show remains relevant to the industry and is always on the cusp of innovation, constantly bringing fresh concepts to its attendees. This project allows exhibitors the opportunity to gain additional exposure and targeted interaction with buyers while for the attendees it offers the opportunity to discover products they may not otherwise get to find. Lastly it allows us the opportunity to embrace and support a great charity cause as all funds collected onsite from the attendees are donated to City of Hope.
GCI: What can CPNA attendees learn from Beautique?
DC: I think the main characteristic of the project will be the wide coverage of product concepts showcasing industry trends. Attendees will get to see what's new and hot, in addition to new launches from established beauty brands all in one area.
GCI: Do you have any future plans for Beautique's development?
DC: Since this is our first year, the options are limitless. Stay tuned for updates!