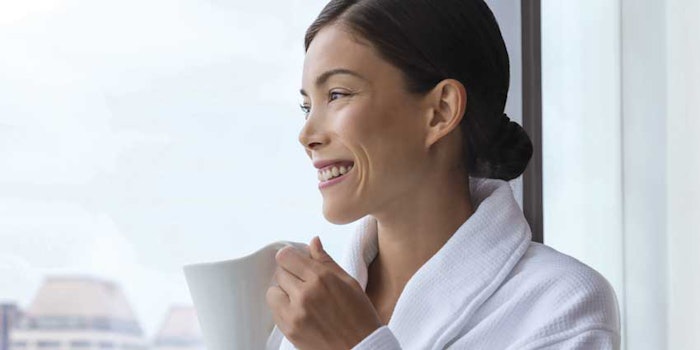 Consumers love to try something new for free, which is why sampling is a vital component of any marketing plan. Most brands spend thousands, if not millions, on trial at the point of sale, whether it's a gift with purchase or a beauty box subscription. Depending on the space you're in, these methods are a solid part of the marketing mix, but it's time to look beyond.
Consider this: Where can you sample a beauty product to a potential customer in the same room in which they will actually use it? A hotel amenity program is one of the most compelling and forward-thinking sampling opportunities today, and it should be on every marketer's radar.
Elevating Experiences, Brands and Profitability
Amenities, by definition, are the identifiable and unique extras that hotels provide guests to maximize comfort. In personal care, it's the tiny sized products found on the bathroom vanity, in the shower, or sometimes even bedside, if you're staying at the Westin.
According to a 2016 study conducted by Deloitte*, travelers are seeking brands that offer outstanding service individualized to their particular needs. Hotel amenities, in particular, are a great opportunity for both sampling and brand experience.
Shampoo, conditioner, body wash, bar soap, lotion and sunscreen are no longer plain label commodities haphazardly strewn on the bathroom counter—they are high-powered brand partnerships, carefully crafted to elevate the guest experience. And, of course, they boost the profitability of the brands involved.
Amenity partnerships are lucrative for the beauty brand and the hotel partner alike. According to research conducted by a private firm and shared with me, more than 40% of hotel guests surveyed say they have purchased a personal care product that they first tried during a hotel stay—and typically, they do so within 90 days.** Even the most sophisticated sampling program would be hard-pressed to yield anything close to those results, let alone drive that kind of exposure 365 days a year.
If you're considering an amenity program, or are just curious, here are a few guidelines to create a solid program with standout results.
3 Steps to Launch Your Hospitality Partnership
1. Plan
The Bliss brand was a pioneer in creating a robust hospitality program with W Hotels and strong co-marketing to back it up. I, along with countless others, first experienced the brand during a hotel stay and became a big fan. At the time, Starwood owned Bliss, so the synergy was a no-brainer. But, ownership aside, it all started with a shared set of core values. With proper planning, a beauty brand can find that sweet spot in the right partner.
Research hospitality partners that share your brand's vision, mission, demographics and design aesthetic.
Consider partners that offer enhancements for your already-established core audience, not a divergent consumer group. Hospitality programs are best used to complement your brand, not revamp it.
Run the numbers and offer products in your brand that have healthy margins and wide appeal. Keep in mind, some hotel partners may have refined taste on a limited budget.
2. Prepare
Amenity programs, like everything else, depend on successful execution. Before you reach out to hotel partners, it's essential that you line up your operations support ahead of time. Leave the sparkly stuff for later.
Find a manufacturing supply chain partner like KIK Custom Products, Guest Supply or other group to partner with. Experts will help alleviate the pains associated with trailblazing a new relationship of this scale.
Create a short but powerful presentation that showcases the best your brand has to offer. Include the founder's story, brand vision, demographics, top sellers, product awards, press, social media following and media.
Develop a prototype package, usually less than 1 oz, which complements your brand and products. Be mindful of cost, washroom merchandising and recyclability. Make it functional—a clear or translucent package is often preferred by hotels, so their housekeeping staff can determine if a bottle is new or needs to be replaced.
3. Partner and Promote
Multi-year, exclusive amenity programs for large global brands are now the norm. Be prepared for your amenity program acquisition phase to be a marathon, not a sprint. The more you can understand about a potential partner and work with them across multiple channels, the more likely you are to win favor.
Be of service and consider ways you can partner with the hotel brand to drive a memorable experience. Do this through custom promotions, special events, new product exclusives and social media partnerships that don't just give love to the launch, but add value for the long term.
Get help from the inside and look for ways to involve team members from a variety of disciplines on both sides. Often, hotel brands have a task force of well-respected franchise owners or hotel managers that offer incredible guest insights. Take the opportunity to get feedback from this group on how to make the partnership work seamlessly.
Tap into the media to promote engagement opportunities from the launch and beyond. Social media takeovers and influencer marketing programs are excellent ways to amp up the exposure and generate excitement for all brands. The direct-to-consumer engagement can also be tracked and followed up on much better than traditional advertising.
Expand Your Brand Reach
Embracing the right amenity program for your brand can dramatically increase your product's reach, add meaningful revenue to the bottom line and increase trial. We all know that customers are more likely to purchase a product after trying a sample. With hotel amenities, you can expand your reach and place your brand in the right place at the right time for a future sale. What could be more hospitable than that?
________________________________
Nikola Cline (nikola@brandettes.com) is the award-winning founder of Brandettes, an LA-based agency that supports CPG brands with brand strategy, product innovation and strategic partnerships. Nikola secured the largest global amenity partnership active today, between Paul Mitchell and Marriott International, during her 10+ years leading marketing for John Paul Mitchell Systems. She continues to work with brands, large and small, to drive brand growth through clever programs and creative marketing.
Footnotes:
*www2.deloitte.com
**1,000 occasional to frequent travelers between the ages of 25 and 54, showing household incomes of $75k+ (2013)