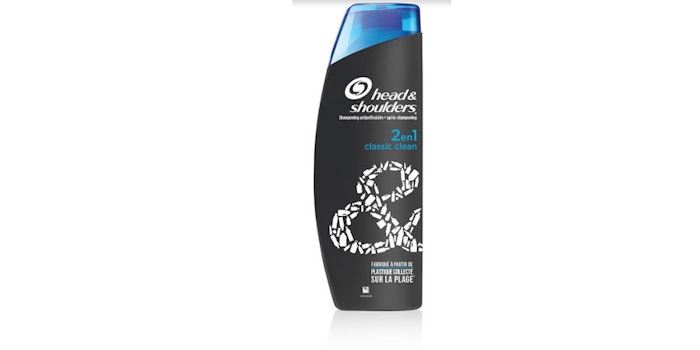 Shailesh Jejurikar, executive sponsor for sustainability and president of global fabric care at P&G was recently quoted saying, "We are accelerating progress toward our long term vision and pushing ourselves to do more – with less waste." Not long after Jejurikar's statement, P&G announced the creation of Head & Shoulders' shampoo that will be made of up to 25% recycled beach plastic.
It was also announced that in Europe by the end of 2018, more than half a billion P&G bottles each year will be created with up to 25% post-consumer recycled (PCR) plastic. This will represent more than 90% of all hair care bottles sold in Europe and includes brands such as Pantene and Head & Shoulders, according to the company.
The creation of these bottles is unique, in that thousands of volunteers and hundreds of non-governmental organizations (NGOs) are responsible for collecting plastic waste that is found on beaches and will require a supply of 2,600 tons of recycled plastic.
The limited edition Head & Shoulders bottle, made possible by a partnership with TerraCycle and SUEZ, will be available in France this summer in Carrefour.
Virginie Heias, vice president of global sustainability at P&G, stated, "At P&G, we believe that actions speak louder than words. The increased use of PCR plastic across our hair care portfolio of brands, demonstrate our continued commitment to driving real change. The Head & Shoulders recyclable shampoo bottle made with beach plastic is a world's first in the hair care category. Increasing the use of recycled plastic in the packaging of our flagship brands, like Pantene and Head & Shoulders, makes it easier for consumers to choose more sustainable products, without any trade-offs. So while we're proud of what we've done and what we're doing, we know there is much more work ahead."