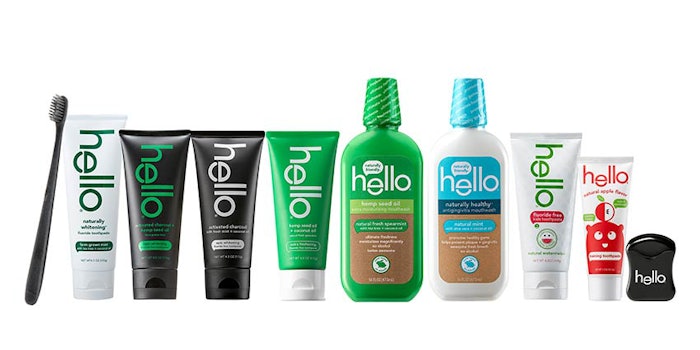 Colgate-Palmolive Company is acquiring natural premium oral care brand Hello Products LLC, which manufactures adult and kids toothpaste, mouth rinse, and toothbrushes and floss. The terms of the deal were not disclosed and will close by February 2020.
Founder Craig Dubitsky and CEO Lauri Kien Kotcher will continue in their roles.
Further reading: Oral care and the clean beauty movement.
Noel Wallace, Colgate's president and CEO, said, "We are excited to welcome Hello to the Colgate family and are especially pleased that Craig and Lauri will continue in their leadership roles. We have great respect for the Hello team and their impressive product line, and value the strong connection they have made with younger consumers. With its distinct on-trend positioning, Hello is a terrific complement to our Colgate and Tom's of Maine brands and we look forward to supporting its continued growth and success."
Dubitsky said, "Colgate is the ideal partner for Hello with a like-minded commitment to the best consumer oral health, the environment and our communities."
Kien Kotcher, noted, "Seeing how they have helped other companies grow and thrive in their portfolio, we are even more excited to join forces."