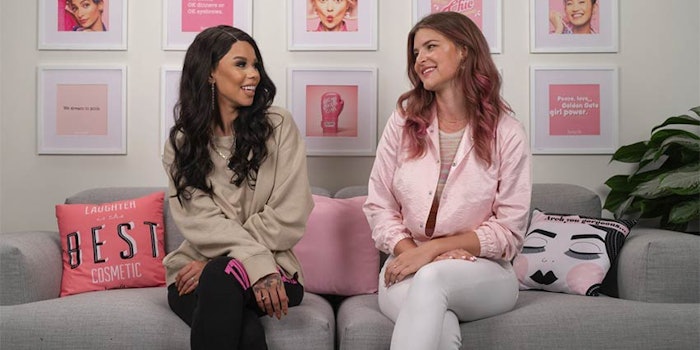 Global esports organization Gen. G has partnered with Benefit Cosmetics to connect the beauty and gaming communities and encourage female gamers to find their "Game Face."
Related: Are Esports Stars the New Influencer?
As one of the first cross-industry campaigns for beauty and gaming, which will reach more than 15 million women online daily, the digital partnership will feature a weekly video series capturing beauty routines and real stories of four professional female gamers and streamers.
The videos, which will offer an in-depth look at the day-to-day realities of being a female online, both in the gaming and beauty communities, will be posted to Benefit's Instagram and YouTube channels. The series will take place over the course of two weeks.
Eleanor Barnes, the influencer known as Snitchery who blends the worlds of beauty and gaming, will be the campaign's host. The four gamers/streamers featured in this campaign are: Kristen Valnicek (@KittyPlays), Gina Darling, (@MissGinaDarling), Nicki Taylor (@nickitaylor) and Jayden Diaz (@Your Princess).
In each episode, Barnes and the gamer guests will open up about what it's like to be a woman sharing their lives online, and teach each other more about their daily trials and triumphs. Barnes will create a customized makeup look for each of the women based on their individuality and what makes them feel empowered, AKA: their "Game Face."
To start the series, the first episode will feature one of the world's most popular players, Valnicek, was also named Gen.G's Head of New Gaming Initiatives in 2019.
"After serving women for more than 40 years in the beauty business, we at Benefit know how empowering makeup can be when women use it as a tool for expression, creativity, and self love," said Lisa Li, director global digital marketing, Benefit Cosmetics. "Women make up almost half of the audience watching and playing games. We are so excited to share these episodes with both the gaming and beauty communities through this work with Gen.G and these women who are leading the industry forward. To us, putting on your 'Game Face' means getting ready to own your day."
"I'm thrilled that Gen.G and Benefit are working together to bring a sense of belonging and community within gaming for women," said Valnicek. "There are so many amazing women in the gaming community, and I am excited that through partnerships like this, women can take the spotlight and feel confident about their gameplay."
"We want all players to feel like they belong in the gaming community regardless of gender," said Gina Chung, Gen.G vice president of brand, activation and apparel. "Our vision is to create an inclusive environment for all, which is why we prioritize initiatives focused on equality and fairness. Working with Benefit is a great example of how the gaming audience is vastly growing and how esports organizations can step up to create positive communities for female gamers."